Famously known as the bride-to-be's farewell into married life, bachelorette parties are all about one thing only—having a blast with your favorite ladies. However, there are two non-negotiables for making a genuinely memorable bachelorette celebration:
Rule Number One
The maid of honor should make the entire bachelorette day personal to the bride. After all, if you're the maid of honor to be, you know your BFF the best, so tailor the party and its details to create a custom-made celebration for her.
Rule Number Two
Throw out the window all the traditional previously seen bachelorette party ideas and get creative with your friends. A bachelorette party can be anything you want it to be!
Here are four bachelorette party ideas to have a blast with your friends and bid your farewells to the Miss that's about to become a Mrs.
Host A Murder Mystery
If you and your girls are into playing games and solving mysteries, you can host a murder mystery game. In this game, a gullible victim will fall foul to a dreadful crime, and it's your and your friends' job to find the clues and comb out the killer.
After you're done solving the mystery, you can sit down for a cocktail or five with your friends, deal a round of simple card game or engage in jigsaw puzzle as it's the perfect game for a group of any number where you can casually chat while playing and enjoy a fun-filled bachelorette party.
Photos from Tripadvisor, Melike Benli & Sergey Torbik from Pexels, and Complete Weddings + Events
Book A Spa For The Weekend
Booking a bachelorette party at a local spa for the weekend might be the perfect getaway for the bride who loves a bit of luxury in her life. Is there a better way to send her off before her big day than by getting some rest and relaxation while sipping on Moet at a fancy hotel?
Regardless of your location, there are many bachelorette-friendly spas all across the U.S., many of which offer fantastic packages for bachelorette celebrations.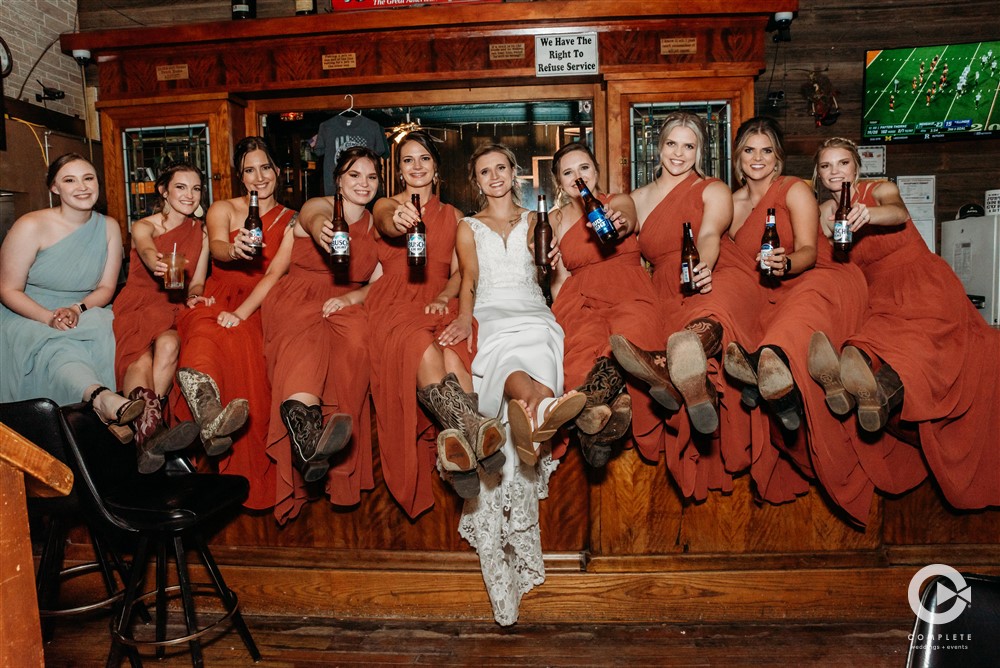 Photo by Complete Weddings + Events
Throw A Cowgirl Bachelorette Party
After all, what is a bachelorette celebration without the celebrated pink cowgirl hat? There's something about donning a cowboy hat and boots that brings out the fun—regardless of where you plan the bachelorette party to take place.
The cowgirl bachelorette theme party is particularly a good idea for a desert bash, which is the perfect location for enjoying that good old wild west vibe with a twist!
Makeup Masterclass Party
Is there a single better way to glam up the bachelorette party (and learn some new skills along the way), than with a makeup masterclass?
Makeup artists, stores, and salons in most cities in the U.S. offer makeup classes for groups. After completing the course, you can go one step further and opt for a glam photo shoot and get some super fun snaps while you're at it.
Photos by Kinkate Gruber from Pexels and Complete Weddings + Events
Final Thoughts for Bachelorette Party Ideas
In the end, the whole point of bachelorette parties is for the bride to hang out with her besties and have a good time. It's hard to go wrong when you choose an activity you know the bride will enjoy. Whatever path you decide to go, the most important thing to keep in mind is to have fun with your friends while it lasts!
Find more ideas for a bachelorette party in these cities:
Albany, NY
Branson, MO
Jacksonville, FL
Milwaukee, WI
Omaha, NE
Orlando, FL
Looking for more bachelorette party ideas? Find dos, don'ts, and destinations for hosting a bachelorette here.