When you close your eyes and dream of your big day, and the color pink is making an appearance, this post is for you! From fuchsia to blush, we find pink makes a feminine moment complete. We have wedding color schemes and real wedding photos all involving the fabulous pink. Find the best colors below that pair with the pink of your choice for your celebration.
Pick Your Best Pink
Plain Pink
The most common pink is your classic pink shade, a perfect blend of white and red.
See David Bridal's Ticked or Azazie's Candy Pink for reference: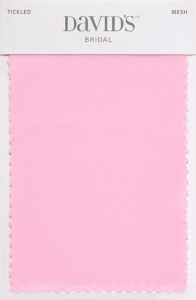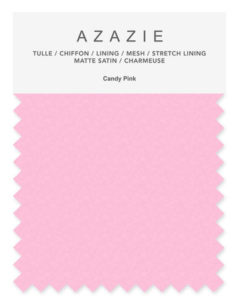 Blush
This pale shade of pink has been the most popular the last few years and would be considered the most neutral version of pink we have listed. Whether you want a mostly neutral wedding or tons of greenery, blush is an easy way to subtly bring in a bit of color to your day.
We suggest Birdy Grey's pale blush: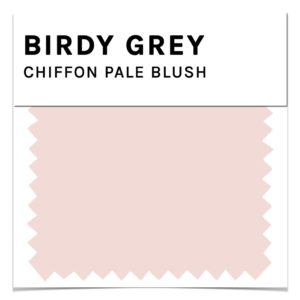 Rose Gold
A touch of glimmer never hurt! This shade is the girly version of gold or the metallic version of blush is having a moment! While it may be difficult to find fabrics, accessories, or decor in this specific shade of gold, the rareness of it makes your day a unqiue day!
See Azazie's Dusty Rose for reference.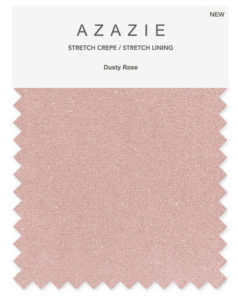 Fuschia
Fuschia is a bold pink that is loud and proud! It brings a vibrancy to bouquets or can help bring life to  a room in lighting.
We suggest David's Bridal begonia or Azazie's Fuschia for reference:
Wedding Color Palettes with Pink
Navy + Pink Wedding Colors
Will navy blue and pink ever get old? We love the balance of blush bridesmaid dresses again the groomsmen's dark navy tuxedos below.
Is Navy catching your eye? Dive more into our navy wedding color palettes post!
Orange + Yellow + Pink Wedding Colors
Since they're all warm tones, pink, yellow, and orange all work well together in tablescapes, bouquets, or anywhere that could use some color. This color scheme reminds us of spring or summertime and helps to bring energy into an indoor space or to complement the setting sun.
Pink + Green Color Scheme
When we say green here, we mainly mean greenery. The biggest accent of weddings (that is no longer taking a backseat) is greenery! Greenery helps to bring the natural, elegant, or even whimsical look to your  day; really any style can be elevated with greenery. From the cake and centerpieces to floral arrangement filler, you can add a touch of greenery almost anywhere, plus it's typically more affordable than actual flowers.
Pink + Maroon Shades
Since these colors are both in the red family, these dark and lights shades pair great together! Mix these two colors together in your floral arrangements, bridesmaid dresses, or the groom's boutonniere (or printed tie)!
Shades of Pink
Pink on pink on pink! If you can't choose just one favorite shade of pink to fit for your day, a full on monochromatic look can be pulled off with varying hues of pink. We've mentioned a few options already, like blush, fuschia, and candy pink, but there are many more shades, like mauve, rose, peach, salmon, or pearl, to consider when creating your pink-only color palette.
Once you've picked the pink that fits your best life, contact us to see how Complete Weddings + Events' wedding lighting can help transform your space, and our cinematography team can capture the dream day to relive for years to come!