Uplighting is a popular light effect that we create by placing a light fixture on the floor and then pointing them toward the ceiling.  That's where the term "up lighting" came from.  Your light is facing upward.   Pretty clever, right?   Uplighting at a wedding is the most cost-effective and efficient way to dramatically change the ambiance of any venue.
What is Uplighting At a Wedding?
Uplighting at a wedding is not to be confused with the dance floor lighting that the DJ may bring.   When the DJ brings dance floor lighting, this type of lighting typically changes color and moves to the beat of the music.  These lights are pointed toward the dance floor but most of the time they spread to the walls and ceiling.
You may be wondering; will uplighting work at my wedding.  The answer is YES!  Uplighting will transform your venue.
Will the lighting look tacky? 
The answer is Probably?   There are so many ways to turn a relatively easy addition to a waste of money.  The first is not having enough lights.  Uplighting is inexpensive for the impact the lights will have on your overall décor.  Going cheap will turn that WoW factor into a no factor.  Listen to your lighting technician's suggestions and get the proper number of lights.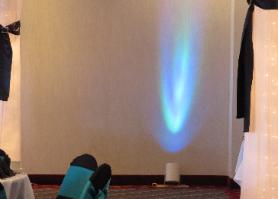 Do not DIY.   
Uplighting sounds simple, right?  Get some lights on Amazon and have your cousin bring them to the reception hall.  Turn them on and bask in the glow.  Things are not as simple as they seem.  Not all lights are created equal.  Most of the inexpensive lights that you fine will look great in your bedroom but will not be powerful enough for your banquet hall that seats 100+ guests.
Inexpensive LED lights flicker.  This is not noticeable to the naked eye but if you have a videographer recording your nuptials, the walls will flicker.  I'm going to nerd out for a second.  The inexpensive lights are actually not a steady beam of light, they pulsate at a rate faster than the human eye can see but slower than the rate that video is recorded.  Therefore, when you playback your video you the lights will appear to flicker.
A professional lighting company will use wireless LED lights that will last all night long.  Image spending all that time and money creating the perfect décor and ambiance, then walking into your reception room and see cables snaking out of every outlet.
Color Choice
If you are wondering which color to choose, you should consult a professional lighting technician.  When in doubt, you will never go wrong with "amber" or "gold".  Believe it or not, they go with everything.
Other things to consider
There are two distinct focal points in a wedding reception.  Those areas are the sweetheart table and the cake table.  When you speak to your lighting company, ask them if they can use lighting to emphasize those areas.  One great option is to use white linens on those tables and place the wireless LED lights under the table.  This will create a glowing effect which is great for pictures and video.
Uplighting is designed for esthetics only.  You will need another light source if you want your guests to see where they are going.  Most ballrooms have chandeliers.  I suggest you utilize them but you can put them on a lower setting so you can still have a beautifully visual experience.
If you stand within 10 feet of the up light, you will glow the same color as that light.  You are like most brides and plan on taking pictures throughout the reception.  You just need to be observant and take your pictures 10 feet or more away from any of the up lights in the room.  This is typically only a problem when going around to all of the tables to greet your guests.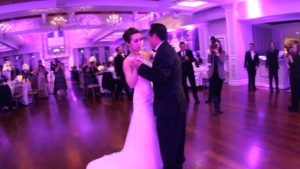 A professional lighting company will help you create the ambiance you want.  They will handle all of the details.  They will make sure the room looks gorgeous.  All you need to do is just relax and soak up the light 😊
Complete Weddings + Events in Fort Lauderdale and South Florida Areas
If you're planning a wedding in Fort Lauderdale, FL, then you've landed at the right place! Now that you've said YES! to spending your life together, you have some exciting decisions ahead. At Complete Weddings + Events planning, wedding events are what we do best.  Complete Weddings + Events, Fort Lauderdale's leading provider of event and wedding photography, videography, lighting, DJ services & photo booth rental.