Nothing breaks the ice at an event quite like a photo booth. A fun backdrop, a few comical props, and in no time you'll have everyone mingling in front of the camera. It's especially great to treat friends to a photo booth when it's a formal event. After all, it's not every day you get red carpet ready in a nice outfit—friends will love the opportunity to capture the moment!  Whether you're renting or DIY-ing, get inspired by some of our favorite styles below.
What is a Photo Booth?
This allows people to take pictures of themselves, looking their finest, with minimal effort. It saves you time photographing everyone in creative ways. Wedding photo booths can even be customized to fit any venue and theme.
Where should it be placed?
Start with choosing out a spot at your reception. Your photo booth location should be one people can easily find, but not one that disturbs the flow of your event.  Unused corner areas, dance floor corners, coat closets, or the wide-open outdoor space can all be great possibilities. Once you find a suitable area, take a few measurements and let the picture planning begin! 
Photo Booth Fun Ideas for Weddings, Parties, & Events in South Florida
Traditional Photo Booth
Nothing works better than a classic photo booth. Everyone knows what they are and how they work. This style is compact and clear, keeping everything together. Having it at the reception allows guests to use it at their leisure.
There will always be a few folks hogging the machine. Trust us.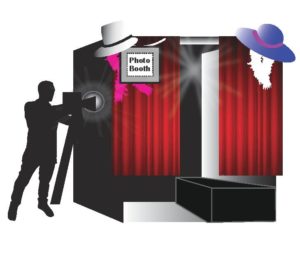 Photo Booth with Curtain
Having a simple booth with a curtain gives privacy to those who wish it. Not everyone at an event would prefer to photograph themselves in front of a large crowd.
The curtain theme can match the event, and the booth can even be a simple design.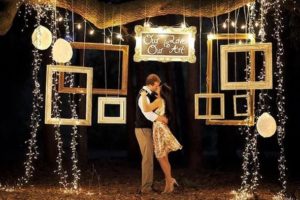 Inflatable Photo Booth
Easy to setup – The booth comes with an inflation fan mounted already inside of the balloon. Just plug into an electrical outlet and the booth will inflate into position. These usually come with LED lights to give it enhanced ambiance with the color of your choice.
One negative – This style takes up the most floor space out of all styles in the list.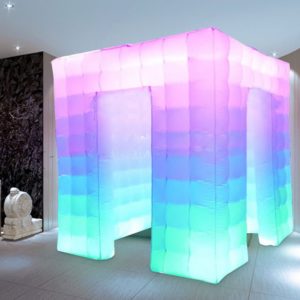 Faux Framed Backdrop
A faux framed wall is a great way to offer a backdrop for wedding photo booth images. The wall is open to interpretation, so you can design and make it as you wish.
A couple of chairs and a table can even make it seem like a room, adding a humorous component to the pictures. Even better –  a wall framed with holes for others to stick their head through!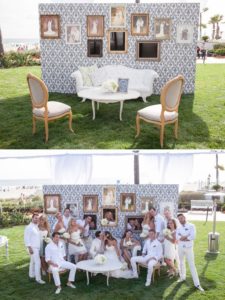 Quick Tip:  make it along the same theme as your event.
DIY iPad Selfie Station
Each event is different, each will demand different designs, equipment, and attention. The photo booth you choose doesn't need to be expensive, nor over the top glamorous. An iPad on a tripod is enough to capture hundreds of guests.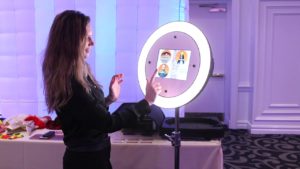 Most people know what to do, and added filters can make a more personal touch. You can combine these with props and a cool setting. This DIY photo booth idea is also portable, allowing you to change the scenery as often as you like.
You'll need an iPad or tablet, with a large ring-light encircling it. With the iPad facing the users, they are free to pose and frame themselves. The ring-light will be enough to highlight the guests without becoming overexposed.
Alongside this Photo Booth, you'll need an app, you can find here for Android or Apple.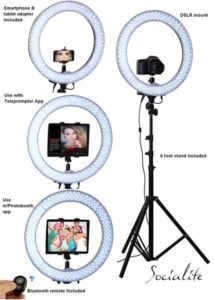 Props from Trees
If you're going to have an event outdoors with an amazing backdrop that's already been masterfully created by mother nature… Take advantage of it! You can hang décor from a tree, such as floating frames below.
Hanging Frame
Hanging frames aren't just for displaying your photos—in a DIY photo booth they're also good for getting a great shot. Without the glass, behind a large photo frame creates a unique place for guests to strike a pose. Purchase a few frames in different sizes (bigger is better, in this case), remove any plastic or glass and backing, and you have another easy DIY photo booth backdrop/props.
Chalkboard Backdrop
A chalkboard is a very simple and inexpensive way to create a backdrop for a photo booth. The design can be as interesting or as minimal as you prefer. The chalkboard also works great as a theme. For example, a marriage between teachers or a graduation party.
As long as you've got a damp cloth and chalk pieces; everyone can create their own texts.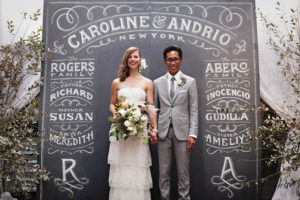 Stand-Up Board
Everyone loves a stand-up board. They're a fun way to make everyone laugh and capture treasured moments. The stand-up board can have any design you imagine, with as many face-holes as you want, in the same theme of the event. As long as you make it yourself, that is. (Designer stand-up boards can get pricey).
You can also make more than one and dot them around the reception.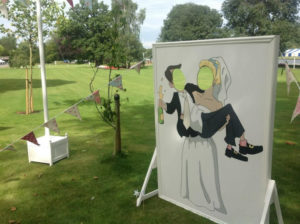 Polaroid & Cut-Out Frame
Guests love Polaroid pictures, and the white border is synonymous with instant prints. They are very portable; allowing the guests to photograph each other in different places.
The best thing about this is you can design the text for under the image, using the names and date for the wedding, for example. It's the small details that really make a wedding photo booth work.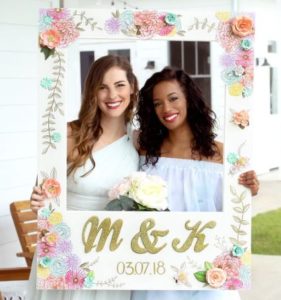 Want a photo booth frame that's more personal to your occasion?
Try one of the following ideas:
Cardboard: Cut a frame shape from cardboard, then decorate it with faux flowers, ribbons, and other embellishments matching your wedding day décor.
Circular: Who said a photo booth frame has to be square or rectangular? Circle your wedding guests with a round frame made from a hula hoop. Wrap the hula hoop in yarn, ribbon, rope or decorative tape, and then stick on embellishments.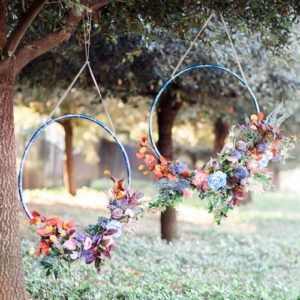 Holiday spirit: If you're getting married during the holidays, use the seasonal décor to create a festive frame. Wreaths decorated with ornaments or a cardboard cutout wrapped up like a present are perfect.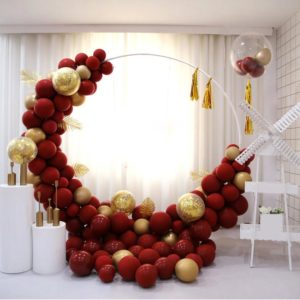 Guest Memory Book / Scrapbook
A photo booth scrapbook is such a great idea. Fun and creative. Colorful and loaded with memories. … As your photobooth attendant adds a copy of your guests' photo strips to your scrapbook, guests can leave handwritten messages alongside their photos. Your daughter's wedding.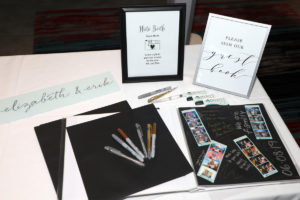 Wedding Hashtag
One way to create a wedding non-photo booth is to utilize the modern social media outlet that is Instagram. If you set up a specific hashtag that people can use, they will attach it to your images. These will appear on Instagram, where everyone can view the images of the day in progress, in real-time.
With this, you can easily set up a laptop connection, showing the guests a slideshow of the images as they are taken.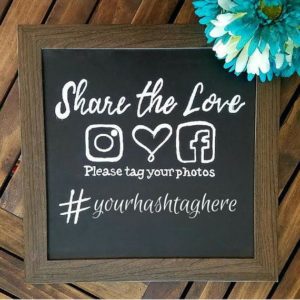 Photo Booth Fun Ideas for Weddings Props:
The vibe of your DIY photo booth should be the very opposite of prom-style "stand here, pose, and smile" pics. That's where props come in. Costumes, sunglasses, toys, hats, masks, paper speech bubbles, and anything else your creative mind can imagine can help guests let loose and get silly.
If you're not the crafty type, a computer, printer, some precut dowel rods, and glue or tape will be your best friends. Purchase downloadable photo booth prop designs (Etsy has lots!) to print out and stick to dowel rods. It's really that easy. Even easier—find a crafty friend or family member and ask for their help making your DIY photo booth props.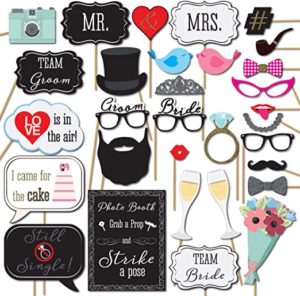 Complete Weddings + Events in Fort Lauderdale and South Florida Areas
If you're planning a wedding in Fort Lauderdale, FL, then you've landed at the right place! Now that you've said YES! to spending your life together, you have some exciting decisions ahead. At Complete Weddings + Events planning, wedding events are what we do best.  Complete Weddings + Events, Fort Lauderdale's leading provider of event and wedding photography, videography, lighting, DJ services & photo booth rental.