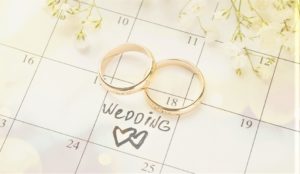 Budget-Friendly Days To Get Married in South Florida
Timing is Key – How Seasons of year, Dates & Times can Affect Wedding Costs:
The duration of "wedding season" refers to the months from October through mid-May, when the weather is lovely and most of the couples that are engaged choose to get married.  As with any other type of period (swimsuit season, fashion week, NYE, etc…), everything is more expensive when it's at the height of its popularity and at a discount during the off-season.  Just like the basic economic notion of supply & demand – if you want to get married during the most in-demand time, the price of everything will be higher than if you were to get married during a less popular time.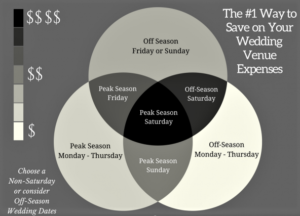 The Least Expensive Time of Year to Get Married –
As mentioned previously, the Fall through Spring covers the most popular time to get married. This means that if you're planning a wedding between October and May, you can expect vendors to charge more and to be booked quickly. February and December are the most in-demand months to tie the knot thanks to Valentine's Day and Christmas season. Therefore, the cheapest months for your wedding would be in the summertime, (June to September). During these months, vendors are typically more available and less expensive. If you're planning on getting married indoors and the weather won't impact your day much, then having your wedding during the off-season is a great way for you to save on your budget.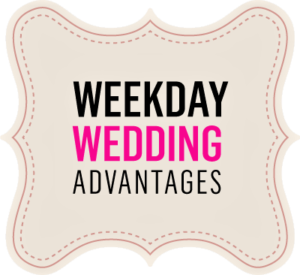 Pros & Cons to each Day of the Week –
If you're considering a traditional wedding day, it's worth comparing the pros and cons before making a decision. The sections below give a summary for other the days of the week to guide your choice.
Do you have to get married on a Saturday?
This day is still a favorite by many because it is the day that most people have time to attend. On a Saturday, your wedding guests will have fewer time constraints. The ceremony can start earlier and the reception can run later into the night without guests having to leave.
You do not have to get married on a Saturday. Your guests may be able to request the day off with enough notice for another day. Or, if you're having a destination wedding and you already know your guests are willing to travel, then having your wedding on a weekday could be a huge money saver versus having it on a weekend.
If you are considering opting against this traditional wedding day, it is worth thoroughly comparing the pros and cons before making a decision. The below sections give an overview for other days of the week to help guide your choice.
Sunday Weddings
Sunday weddings are increasingly becoming more popular as venues can be cheaper than Saturdays & Fridays. And will often have more last-minute availability, (if you're the type to procrastinate on booking a venue in advanced time). Also, as it is still the weekend, your guests will be more likely to be free and able to attend.
If opting for a Sunday wedding – we recommended getting wed earlier in the day to maximize time with your guests. Sunday brunch celebrations are a delightful wedding trend people love. Vendors should be less expensive. Your guests will be able to attend without having to give up their Sunday night, and you get to serve delicious brunch foods and mimosas!
Marrying on Monday
Honestly, the choice of a Monday wedding is still a somewhat rare option, as it can cause significant inconvenience for guests. (Unless it's a federal holiday. So check your calendar for those options). For you, the marrying couple, a Monday ceremony can be an absolutely inexpensive day. Even the most popular venues will often have Mondays open throughout peak season. The difference in costs can enable those on a budget to have their dream venue at a bargain.
However, marrying on a Monday will mean that the majority of your wedding guests will need to take time off work which will reduce their PTO at work. If a Monday is a must due to budget or timeline; it is worth adding more high-end touches for your guests to make them feel cherished.
Midweek Pros and Cons
Midweek weddings are usually considered to be good for the bridal couple, but more difficult for their loved ones. You'll be able to make substantial savings or be able to budget for a more lavish day for the same price as a basic wedding pkg. on the weekend.
Having a midweek wedding is also a good plan if you would prefer an intimate micro wedding and more guests for the evening portion. However, a midweek wedding will require that your ceremony guests will need to book time off work and reschedule possible childcare.
If opting for a midweek wedding, choosing a venue close to where you live can allow guests to make it a day trip rather than an overnight stay.
If you're having a destination wedding and you already know your guests are willing to travel – then having your wedding on a weekday could be a huge money saver versus having it on a weekend.
Thursday Weddings
Venues and vendors normally have the same discounts for Thursdays as midweek weddings. For guests, Thursdays are perceived to be an early start to the weekend. This means they're less likely to be put off by your choice of day, and give themselves an extended weekend!
If opting for a Thursday wedding, it's wise to start your ceremony later in the day so that guests can take a half-day off work only. You can also plan a brunch on Friday morning, as a gesture to thank your loved ones. Like with other weekday weddings, do expect some wedding guests to leave early.
Friday Weddings
This is the last day of the working week, and most people are ready to celebrate! If you want to pick a weekday wedding – this option allows people to still enjoy their typical weekend – with the bonus of your epic wedding to kick-start it all. It also means that guests will not be dashing off early, as everyone will have that 'Friday feeling'.
If opting for a Friday wedding – it is worth pushing back your ceremony, so guests can potentially take a half-day off work and then have a long weekend. It is also recommended to check that your venue will have a space for extra luggage & changing, as guests may be coming straight from work.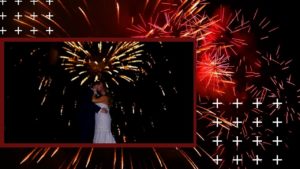 Is a Holiday Weekend a good option?
Federal holidays are a clever way to beat seasonal price increases. Do look at the holiday dates like the Forth of July for your wedding year and consider the Sunday prices as a possible alternative to the traditional Saturday.
Cheapest Time of Day
We've already established that Saturdays from mid-October through May are the most popular days to get married, and as such are generally the most expensive. But what about the time of the day? The customary wedding includes dinner for each guest, either as a plated or buffet style. On top of the meal, you may also include drinks and hors d'oeuvres during a cocktail hour & alcohol for the remainder of the night. Food (including the cake) and beverages can quickly become one of the biggest expenses for events, and the time of day that you choose to hold your celebration can greatly reduce the total cost.
Breakfast and lunch are lighter meals that cost less than dinner. Guests tend to drink less during daytime gatherings, so your drinking costs will also be lower. Or, you could host a late afternoon wedding that is followed by a happy hour-style cocktail party, serving hors d'oeuvres, finger foods and drinks.
By wisely choosing the time of day and type of reception you have, you'll be able to spend a fraction of the cost at your wedding!
Any other tips?
We hope you now understand how dates and times can significantly affect how much things cost for your special day. There are a few last things that you should deliberate. For example, is staying on a budget your number one priority? If so, then choosing an off-peak date & time will be the best option for you. If you have some flexibility with your budget, then you can shop around with venues, DJs and other vendors to see how much their rates vary from date to date.
Your guest list should also be considered when planning an off-peak wedding. If your guest list is on the smaller side and consists of people that would be willing and able to take time off work to come to celebrate your love – then a weekday wedding might work well. If you have a large guest list, or have many people attending from out of town – you may want to stick to a Saturday ceremony for convenience. However, opting for a morning event would be a great way to cut costs.
Complete Weddings + Events in Fort Lauderdale and South Florida Areas
If you're planning a wedding in Fort Lauderdale, FL, then you've landed at the right place! Now that you've said YES! to spending your life together, you have some exciting decisions ahead. At Complete Weddings + Events planning, wedding events are what we do best.  Complete Weddings + Events, Fort Lauderdale's leading provider of event and wedding photography, videography, lighting, DJ services & photo booth rental.