Live Band vs Wedding DJ Pros and Cons
Budget
Prices will vary depending on the day of the week, duration of time that you need them, and how large of a room they are playing in.
Let's assume that you are deciding between a quality, professional, well-known wedding DJ company and a quality, professional, well known 10 piece band.  The price range can be between $1,000 – $1,500 for the DJ and $800 – #1,200 per person in the band ($8,000 – $12,000 total)
Vibe
The type of music you pick can set the tone of your wedding.  Think about what musical genres best reflect your personality & creates the ambiance that you want for your reception.  The type of music you want may also help you decide who to go with.  A Big Band usually generally sounds the best live while electronic/dance/EDM music is typically delivered best by a DJ, for example.
Space
An eight-piece band is going to need roughly 30-40 feet of space for their equipment, speakers and "sound man", right by the dance floor.  Do you have that much real estate at the venue?  You should also check if the reception venue has restrictions on the number of musicians or pieces of equipment.
A band will also draw more power than a DJ.  Ask the venue if they have the power to accommodate your DJ or band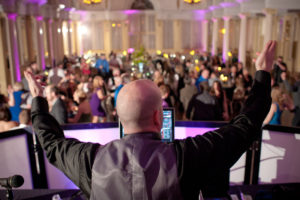 ——————————————————————————————————————–
Cons of hiring a Wedding DJ
DJs now are artists, not button pushers.  They offer perfectly blended mixes, are able to bounce between genres and cater to musical styles for all ages. The songs played will sound exactly as you hear them on the radio or Spotify, encouraging sing-alongs, improv, and interactions.
Cons:  A DJ is a 1 (or 2) person show.  If you or your guests don't like their personality, voice, or overall delivery, you don't have much you can do to change that.  The word interaction can be interpreted as "cheesy".   You need to be clear what interaction is off-limits or you could find yourself in the middle of the "Chicken Dance".  Make sure your DJ knows whether you Love it or hate it.
Cons of hiring a band
I'm sure you've seen that incredible live wedding band that always gets a crowd excited and create a sense of sophistication.  A good bandleader will pay attention to the "feel" of the room and selecting music accordingly.
Cons: No matter how great the band, they can't have the repertoire of a standard DJ, who can keep millions of songs on hand.   Also, you are hiring artists.  They may know your favorite songs but they will deliver their "artist rendition of that song.  If you want to hear a song the exact way the original artist performed it, you may not get what you want.
——————————————————————————————————————–
Pros of hiring a DJ
A charismatic DJ can command a room, keep your guests entertained and interact with your guests while playing all of your favorite songs.  They are also able to take requests and play them for your guests. With their excellent emcee skills, they will really set the mood and keep the party going.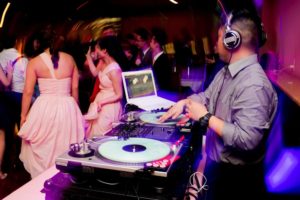 Pros of hiring a Band
Live music is, ummmm…..well, live.  You and your guests will experience the pleasure of many talented performers that have mastered their craft and delivery a seamless performance at your wedding.  Your wedding reception is a mini-concert where anything can happen to raise the excitement level.   How about an infectious horn section interlude or a Michael Jackson song that keeps the dance floor packed for 10 solid minutes?