Having a photo booth for your event can be the perfect entertainment option for your wedding guests. Give them something to do while you make your way through the crowd greeting everyone, or when they want to take a break from the dance floor. Our operators will also be there to help bring your theme to life with props, backdrops, and even customized photo strips. Still haven't decided if you want to add a photo booth to your event? Hear what our recent clients have to say about their experiences.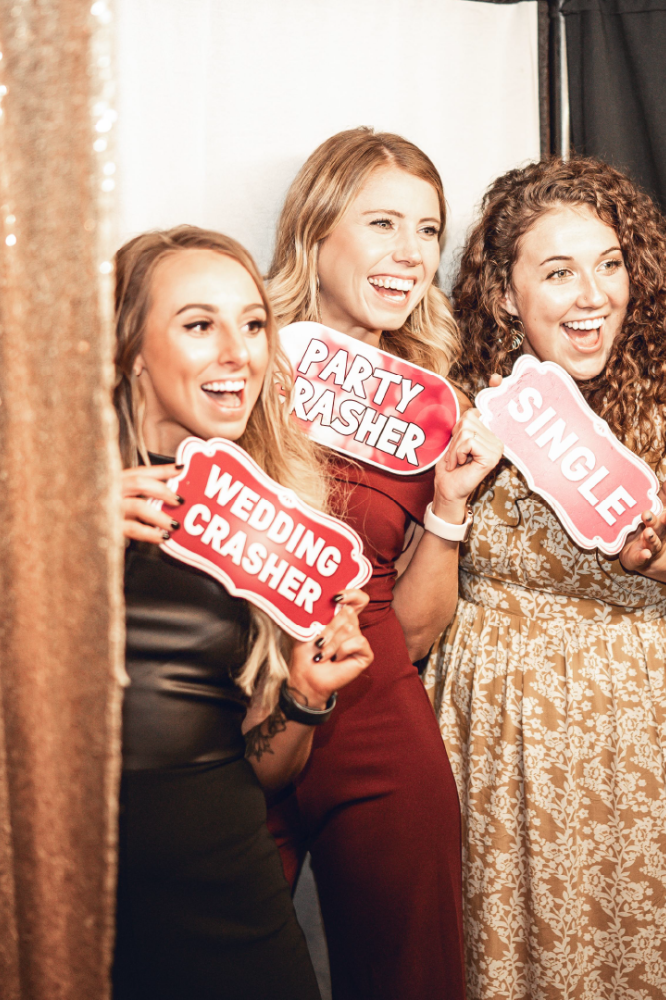 The Photo Booth Experience
It's more than meets the eye! You'll get a scrapbook, props, and much more.
"Our photo booth was the talk of the night and the week following our wedding! Guest had so much fun grabbing a group together to take photos and write a message to us for our guest book." Abigail B., 6.8.22
"Having a photo booth at our graduation party was a HUGE hit! As parents, we loved it because we didn't have to take pictures of everyone, the kids loved it because they got copies and got to leave little messages for the graduate." Alexis, 5.31.22
"Photo booth was awesome and the tech was great! It was a super easy setup and we didn't have to worry about a thing!" Makayla W., 5.18.22
"I had booked a photo booth as a wedding gift for a friend. They loved the idea and the gift. Best decision I have made and the best gift ever." Brydon S., 4.18.22
"My absolute favorite thing about your service was the number of photo booth prints that you offered. In the past at weddings, we have run into the issue of only receiving 1 copy for all the people that were in the photo, and by printing as many as needed, that placed Complete Weddings + Events WELL ABOVE any other place. After inquiring a few, I realized you were the only company that did that, and that made my decision so easy!" Olivia O., 3.8.22
"Tristen did a great job as the photo booth manager, encouraging guests to enter and get photos. The props were great and the backdrop was set up wonderfully with our wedding colors. Tristen gave us a USB drive at the end of the night with everyone's photos on it, which turned out great! We also received a call about the photo booth in advance to discuss what all we wanted and it turned out exactly as we asked." Steven R., 3.7.22
"We had a great time with the photo booth provided for our daughter's wedding! Complete's design team was great to work with as they helped customize the photo strip with just the right colors. I appreciate their patience with me as we worked through the process." Susan A., 1.25.22
The Operator
They'll be there to make the process go over smoothly!
"We were over the moon impressed! The music was perfect, he was perfect, and the night was perfect. The photo booth attendees were very kind and friendly and did a phenomenal job as well. You guys deserve more than a 10. You will be highly recommended by us. Thank you for helping make our day complete and memorable." Jamie R., 6.6.22,
"We rented the photo booth for my wife's 40th birthday. It was a hit! The staff was super friendly and kept asking to go above and beyond to help us with anything we needed. Highly recommend!" Joe, 6.6.22,
Alyssa was amazing! Great communication for setup, and exactly what we wanted on the photo strip. It was busy the whole time. She even made sure to get our whole family in some pictures (not an easy task!). I would definitely recommend it!" Alexis, 5.31.22
"Such an amazing experience from beginning to the end! Super professional and the photo booth attendant at my wedding was such a sweetheart, she always made sure the area looked nice and was always there to help get everything set up for all the guests! Thank you for all the hard work to go into this experience, forever grateful" Rachel J., 4.11.22
"The photo booth operator was very attentive and professional! The DJ played a very good selection of appropriate music!" Brittney H., 3.15.22
"Photo booth was so much fun and our technician was super helpful and kind. So many compliments on the photo booth." Jessica S., 3.14.22
"We had a last-minute cancellation of a photo booth less than 2 weeks before my sister's wedding. I reached out to Complete Weddings + Events at the last minute and they were remarkable. They were able to book the photo booth, work with the bride on setup, provide additional staging equipment she requested and customize photo strips. It was a huge hit at the event! It looked wonderful and so many guests had such a great time with it! Afterward, they were responsive to follow-up questions and worked out with me how to have hard copies printed and shipped in addition to the digital copies already provided. It has been an absolute pleasure working with them and I would recommend them to anyone!" Jane ℅ Ana Hill., 3.3.22
"The lady who ran our photo booth was so lovely. She was kind, polite, and patient. Very grateful!" Audrey N., 2.14.22
Teamwork Makes The Wedding Work!
Bundle your photo booth with one of our other wedding and event services: DJ, Photography, Videography, Coordination, and Lighting!
"We loved the staff that we worked with. It was extremely convenient to have multiple services from one company. We also really appreciated the frequent check-ins from staff and prompt responses. The process was easy, convenient, and cost-effective. We are very happy we selected Complete Weddings for our DJ, photography, videography, and Photo Booth!" Cindy C., 6.7.22,
"The photographer, DJ, and photo booth people were all very friendly, and knowledgeable, and made my the event easy. More importantly, they made sure that the bride and groom were taken care of and made their day extremely special. Thank You!!" Russel + Chanda, 5.5.22
"Absolutely amazing! The DJ service was outstanding. The photographer was fantastic! The photo booth was perfect." Caitlyn B., 4.26.22
"Both the photo booth attendant and DJ were very professional and everything was set up in plenty of time beforehand and then quickly taken down afterward. Everyone had so much fun with the photo booth. We love looking at all the pics our guests took. What a wonderful alternative to the traditional guestbook. DJ Reid kept the dance party going the entire night and did a great job emceeing the different dances and moments we'd requested. Just a wonderful night all around and Complete Weddings + Events played a crucial role in that." Nicole Alley, Salt Lake City, 4.19.22
"We used Complete Weddings + Events for the DJ, photo booth and photographer services for our wedding. Each one was wonderful leading up to and on the day of! Everything ran super smooth and we couldn't be happier with our experience with them" Marissa M., 4.4.22
"My wife and I loved everything about working with Complete Weddings + Events. Our event team did an amazing job. We had DJ, Photo, Video and Photo Booth. The music was on point. Everyone enjoyed the photo booth and we also purchased the scrapbook. It has already provided such fun memories. The sneak peeks of our photos were unbelievable. We have had so many compliments on the photos. We can't wait to see the rest of them. I was even able to see some clips of the video and it is going to be great. I would definitely recommend packing services to save money and get excellent service along the way." Cindy S., 3.8.22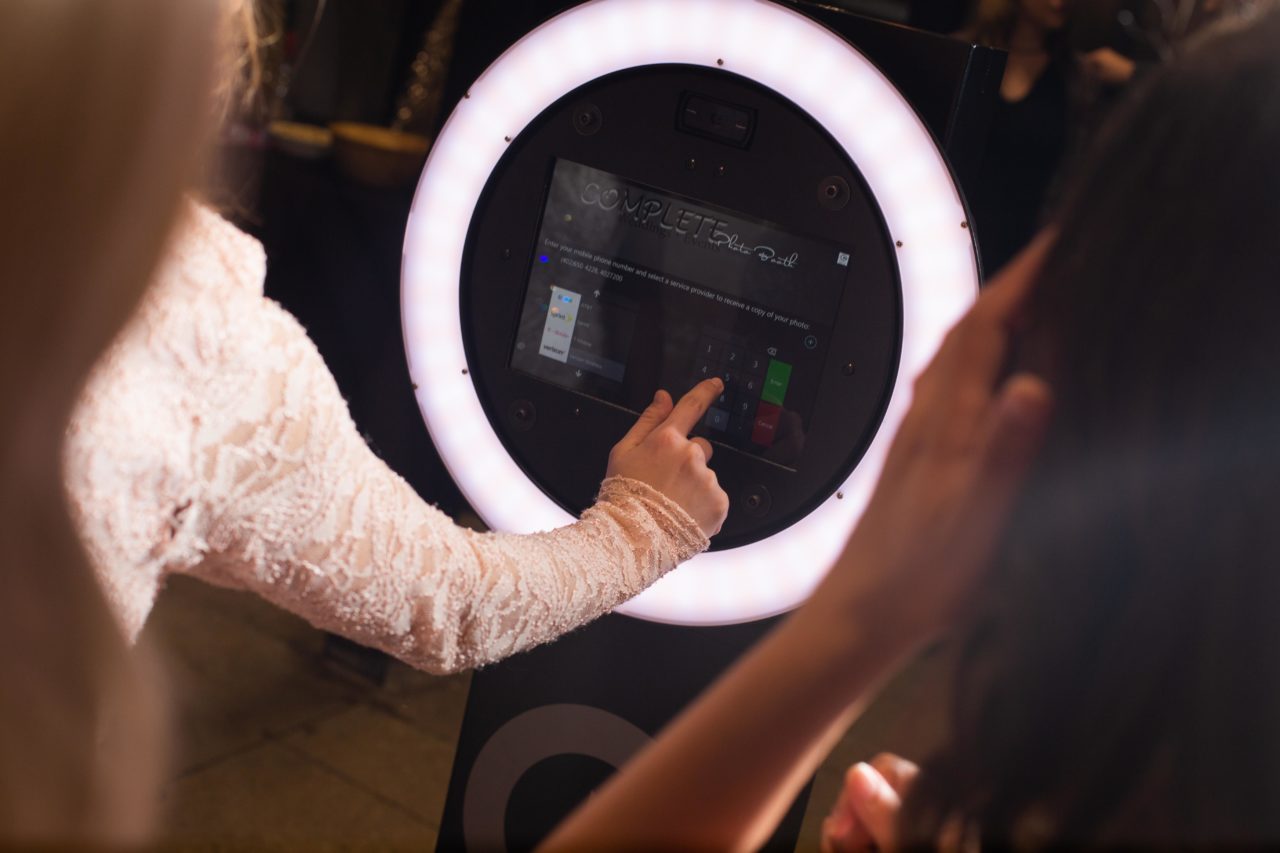 Complete Weddings + Events
Each wedding brings us moments captured in photography that leave us astonished and inspired! Find more wedding and event inspiration on our blog here, and contact us with your questions for your upcoming event!