NOW BOOKING FOR 2024 & 2025 • REQUEST PRICING NOW
Complete Interactive
Custom Interactive Wedding Experiences
Wedding Guest Entertainment
Complete Weddings + Events offers Complete Interactive – fun, fresh activities to get all your wedding guests involved. For each custom interactive wedding experience, we use online platforms and digital interaction to level-up your wedding reception!
With Complete Interactive, your wedding emcee and DJ will introduce your custom couple questionnaire, trivia, song selection poll, and social media wall to help keep the energy and engagement high at your reception, while also making any necessary dinner or speeches announcements. Trivia, crowd polls, or couple questionnaires work great during cocktail hour or right before or after dinner, while the interactive social media wall is great to have up all evening displaying fun photos instantly from the night!
Request Pricing & Availability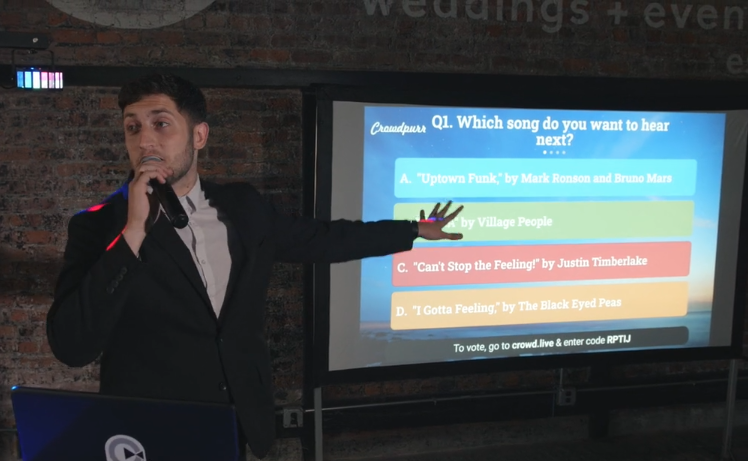 1. Social Media Wall
Allow all your wedding guests to experience the virtual social media stream of your event, group meeting, or activity. The social wall lets you submit photos and/or messages from your custom url or hashtag to display at the event virtually, or you can integrate Twitter or Instagram so those posts with your hashtag will be displayed.
2. Crowd Questionnaire
A fun questionnaire on the couple is always a great way for guests to learn more about the couple or see who knows them best!
3. Music Selection Polls
With polls, guests can vote on their favorite songs to help tailor the soundtrack of the evening to the liking of the crowd (with couple-approved choices of course)! Receive instant answers from the audience as they interact with the platform on their phone varying voting options like multiple choice, a typed text-answer response, numerical answer, or like/dislike.
4. Trivia
Get your wedding guests involved with trivia! Table trivia is great to battle to see who may go to the buffet line first or to win bragging rights for the evening. With Complete Interactive, we can show the live rankings on the screen to let everyone know who's in the lead!
Wedding Experience Elevated
Complete Weddings + Events has the resources to help you plan the wedding best suited to meet the needs of you! Contact us about hiring our DJs and event emcees to implement Complete Interactive at your wedding!
Learn more about our other wedding services like lighting, photographers, videographers, and photo booth rentals that can make your planning easier with one contact for multiple services.