In this digital age, social media has become an integral part of our lives. It connects us with friends, family, and even strangers around the world. Weddings are no exception to this trend. Couples and guests alike have embraced the power of social media to capture and share the magical moments of their special day. In this blog post, we will explore five unique ways to leverage social media to enhance your wedding and create lasting memories.
1. Personalized Hashtag
Create a personalized wedding hashtag that reflects your unique style and personality. Encourage your guests to use this hashtag when posting pictures and videos from the wedding on social media platforms like Instagram and Twitter. This helps track content and fosters guest interaction, reliving beautiful moments.
2. Live Streaming
Not all your loved ones may be able to attend your wedding in person due to various reasons. Fortunately, social media platforms like Facebook, Instagram, and YouTube offer live-streaming options. Take advantage of this feature to broadcast your ceremony, speeches, and other important moments in real-time. This way, distant friends and family members can be a part of your celebration, no matter where they are in the world.
3. Create a TikTok Moment:
Tap into the creativity and fun of TikTok by choreographing a dance or creating a special wedding-themed challenge. Invite your guests to participate and capture these moments on the popular video-sharing platform. This not only adds a unique and entertaining element to your wedding but also provides a lighthearted way for your friends and family to bond and showcase their dance moves or creativity in a memorable way.
4. Create a Wedding Photo Scavenger Hunt
This is a fun way to get guests to interact with each other while also capturing lots of great moments! You can provide a printable checklist for the guests to pick up on their way into cocktail hour. This will give guests something to do while they wait for the fun to begin! Some checklist suggestions: "dancing feet", "a candid of the bride", "dessert table", "group shot of your table", "something blue", etc. And don't forget to include your wedding hashtag on the checklist!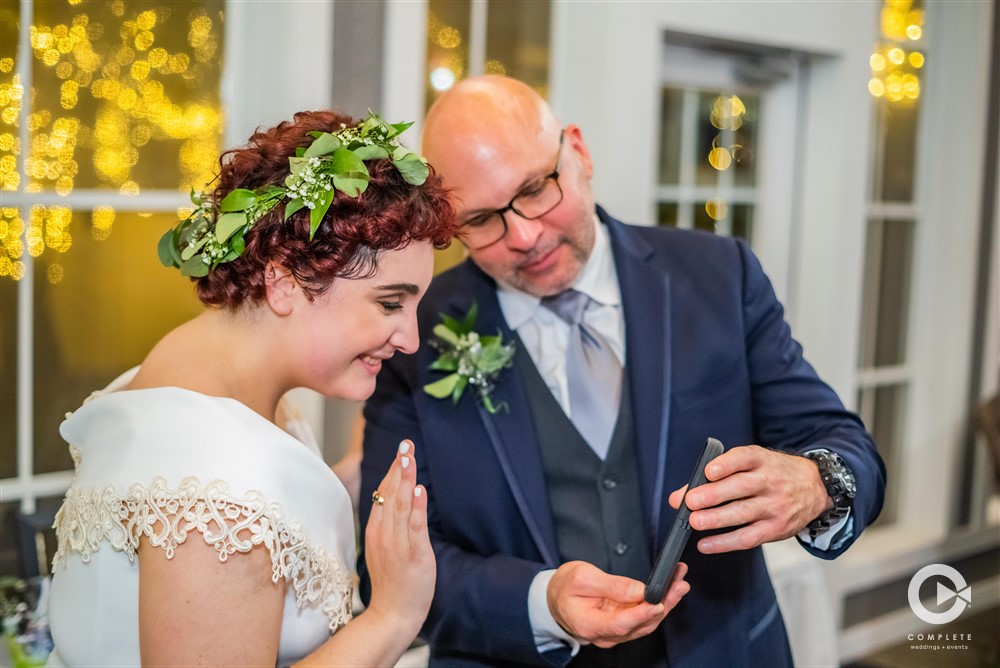 5. Set up a Captivating Social Media Wall
Transform a designated area at your reception into a captivating social media wall. By displaying a live feed of photos and posts using your personalized wedding hashtag, you can create an interactive and visually stunning focal point. This encourages your guests to actively post and engage with your wedding content, sparking conversations and connections among attendees. The social media wall serves as a delightful backdrop and conversation starter, amplifying excitement and fostering an immersive experience for everyone.
Social media has revolutionized the way we document and share our special moments, and weddings are no exception. By incorporating social media into your wedding experience, you can create an interactive and immersive environment for both you and your guests.
Complete Weddings + Events Grand Rapids, MI | Photographers | Videographers | DJs | Photo Booth Rental | Coordination
Complete Weddings + Events can help you leverage social media to elevate your wedding day. Contact us today to kickstart your wedding planning with our photography, videography, DJ, photo booth rental, and coordination services in Grand Rapids, MI. For more wedding inspiration, head over to our blog page.