Changing your wedding date is a difficult decision to make, but sometimes you are left with no other option.  Setting a new date is the first step in replanning your wedding. Afterward, though, there are many more important steps. Here is the order we recommend to keep your wedding on track after you change your wedding date.
What To Do After You Change Your Wedding Date
Notify the Vendors
The first step after deciding on your new wedding date is to notify your vendors, venues, caterer, etc. They need to be aware that their services are no longer required on your day.  This allows them to book other clients.  It is a good idea to review your contract prior to contacting them to determine the policies on your deposits.  Most vendors require nonrefundable deposits, but that is not always the case.
Ask about their availability for your new date at this time, too. You work hard to select the companies you trust. It is great if they can still work at your wedding just at a different time. Be understanding if they are already booked, though.  Consider asking for their opinion on another vendor or venue for your new search.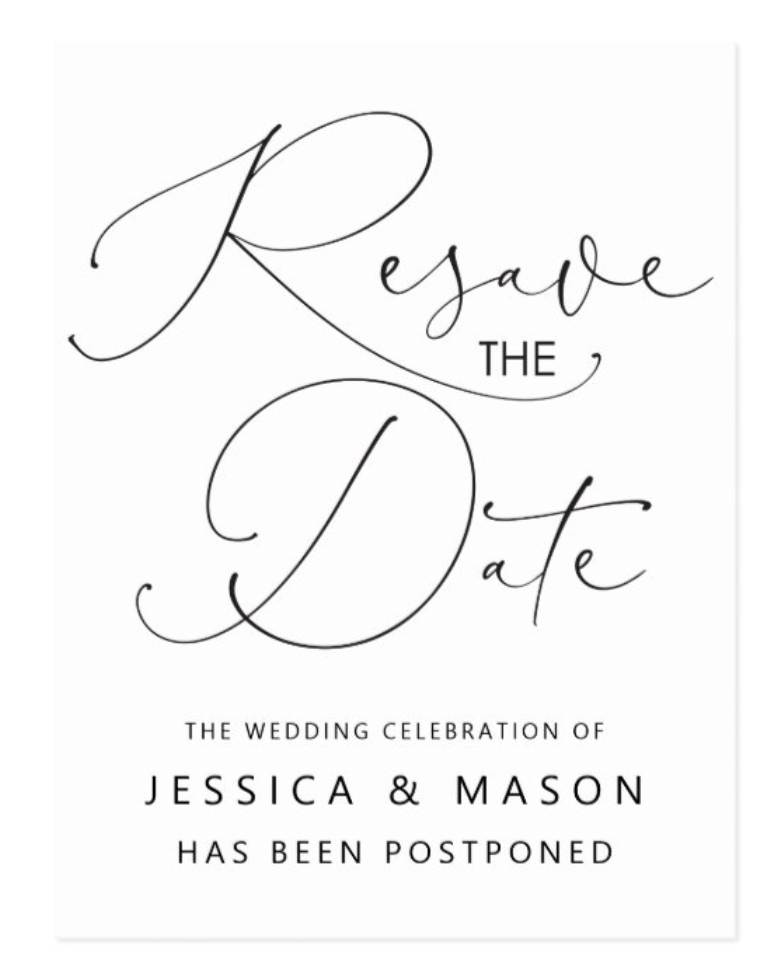 Notify Guests 
The next step in your replanning journey is to let your guests know. Your out-of-town relatives and friends need to make new arrangements. It is a good idea to send out a notice that your date has been moved and new invitations as the wedding approach to ensure that everyone knows that there is a change in plans. Poor communication causes a lot of frustration among guests.
Decide what kind of announcements you want to send out. Most couples opt for a change-the-date, similar to a save-the-date.  It also leaves the option for a follow-up invitation like a regular save-the-date.  Some people prefer to send out email notices for the change to reach everyone quickly and affordably.
A light-hearted approach is usually preferred with a cute message like "As usual, we're running late, so we had to change our date!" Another good option is to use your welcome gifts that are for your original date and repurpose them into invitation gifts.  A monogrammed koozie or glass can become an announcement and a humorous gift by striking out the original date and putting the new one underneath. This excites your friends and family and saves you money by using something you already have.
Consider Changes
Wedding styles depend on seasons and personal tastes.  A date change means that your theme could possibly need to be re-evaluated. Postponing by a few months means that your wedding takes place in a new season, which influences your decorations, color scheme, and sometimes the venue. For instance, an outdoor reception is not always feasible in the winter and may need to be moved indoors or have heaters added to the perimeter of the venue. Burnt orange and burgundy are gorgeous colors for an autumn wedding, but they need pastel colors to lighten it up for a spring ceremony.
Take inventory of what you already purchased. Returning some items is necessary but most of your decorations are gorgeous despite a seasonal change.  Lights, signs, and table numbers tend to be reusable, but centerpieces and alters need to remain on the theme. Also, contact your wedding party about theme colors or outfit changes that occur as you redesign your new wedding. Your bridal party may need new shoes and accessories if they are purchasing their own, and bridesmaids tend to pay for their own nails, which need to coordinate with their dress.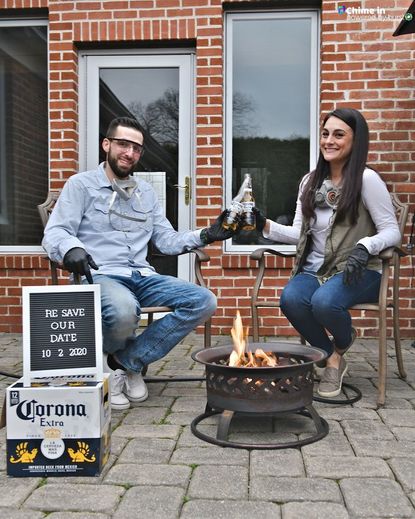 Re-evaluate Wedding Activities
Don't forget about the other activities that come around your wedding.  Travel arrangements and hotels require readjustment as well for both you and your guests. Your honeymoon details need to be replanned, too, if you want to continue with a traditional trip after the wedding. You have the option of booking a flight and hotel at another time or choosing a honeymoon destination that had not been viable before.
Another set of activities to consider are your bridal and wedding showers and bachelor and bachelorette parties. Most couples prefer to have these events closer to the date, so consider moving these occasions in accordance with your new wedding plan. Having another round of parties is also a good idea if you have already celebrated with your guests to reaffirm your new date.
Changing your wedding plans is difficult, especially too close to the date. However, following these steps will guide you through the process of reestablishing your decision. A clear plan and constant communication help keep you, your vendors, and your guests on the same page. This is key to creating your dream wedding no matter the date.
Complete Weddings + Events in Fort Lauderdale and South Florida Areas
If you're planning a wedding in Fort Lauderdale, FL, then you've landed at the right place! Now that you've said YES! to spending your life together, you have some exciting decisions ahead. At Complete Weddings + Events planning, wedding events are what we do best.  Complete Weddings + Events, Fort Lauderdale's leading provider of event and wedding photography, videography, lighting, DJ services & photo booth rental.