As the saying goes, planning the party is more fun than the party itself. Weddings are the same way, especially theme weddings. Every wedding needs a theme, something that is new, exciting, and different. The most trending theme is bringing the outside world into your little love nest without actually bringing the world there. Here are some wedding themes that are trending this year.
Wedding Themes That Are Trending
Rustic Wedding Theme
Rustic style weddings are all about mixing romance and nature using hanging tree lights, wooden bridal bouquet, twig candles, and vine centerpieces for decor. Herbs and greenery like roses, peonies, rosemary, and lavender give your wedding a fresh but modern feel to it. Rustic colors like whites, champagne (blush + peach), and dusty rose to bring out a contrast of neutral but bright colors on your wedding day. As for the setting, campgrounds, barnyard, and glasshouses are perfect for the great outdoors in the summer and fall.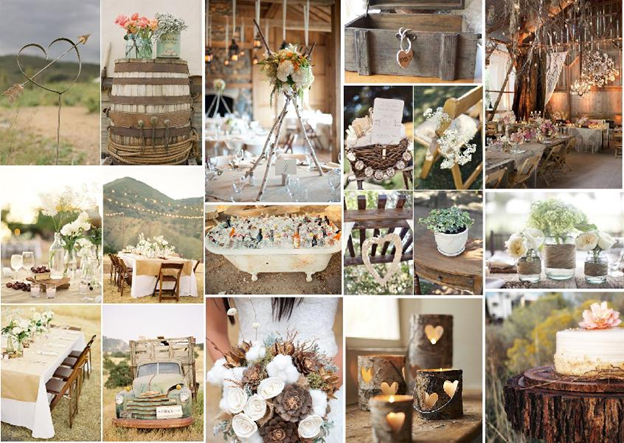 Garden Theme
Perfect for springtime lovers, garden themes are by far the most elegant and colorful weddings to date. You don't need much for this theme, just a natural arch or backdrop with moss and vines that bloom with roses, calla lilies, and peonies. To make it more interesting, picnic-style receptions serving veggies, fruits, and floral theme cake is the way to go. From botanical gardens to conservatories, color palettes like blushes, grays, white, and ivory makes you look feminine but soft as you walk down a flower petal aisle.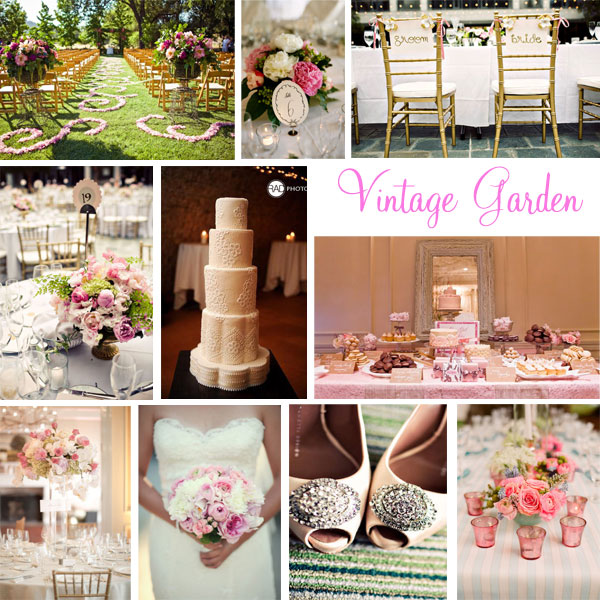 Fairytale Theme
Candelabras, silk flowers, and horse-drawn carriages are everything you need to make this wedding a dream come true. The running theme within fairytale weddings is seasonal. Winter Wonderlands include white naked tree branches, faux snowflakes, and blue crystals garlands. Summer and Fall theme begins with the enchanted forest as the backdrop with floating tealights, branch/vine arches and pathways, wildflowers, and greenery hanging down with lights. A colorful palette like deep red, blacks, earth green, and gold to give a classical elegance.
Mirror theme
Mirrors are quite popular among decor in homes, offices, galleries, even weddings. The idea gives a sense of a glamorous atmosphere with table decorations, glasses, centerpieces, and invitations. Some ideas range from written wedding vows, seating arrangements, and invitations. Soft colors can bring your mirrors to life with LED or lighting candles in the backdrop. The best thing about the idea is that you can have it anywhere regardless of the ceremony is indoor or outdoor. One simple tangible idea turns your wedding into greatness.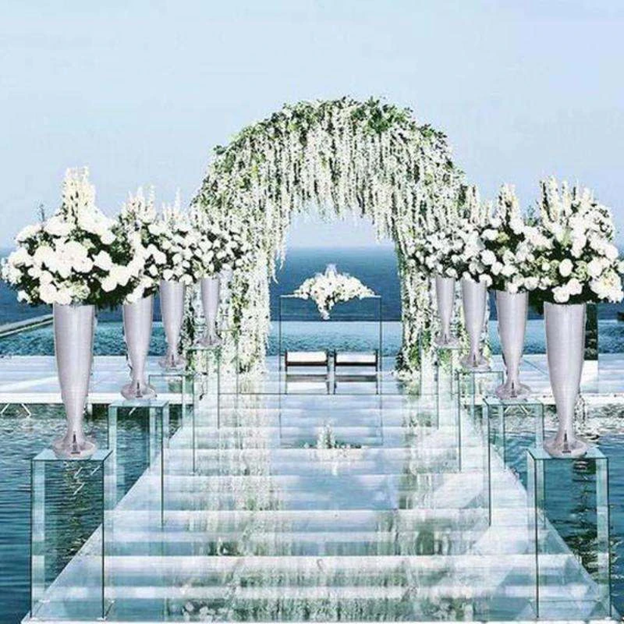 Tropical theme
Wanna bring the beach to your wedding then go big and bold with tropical glassware, gold accents, pineapples, and coconuts as aisle markers. No color is too bright with vibrant orange, aqua blue, flamingo pink, and lush or neon green. Palm tree leaves are the main ingredient that mixes well with tropical flowers like hibiscus and orchids. Bamboo tables and gold chairs with giant palmetto leaves give a Hawaiian/Tahitian feel to your wedding.
Moroccan theme
Want to feel like royalty, then try a Moroccan themed wedding. Moroccan weddings attract lots of attention with bright and moody colors like dark pinks, oranges, and Fuschia. If you wanna go super traditional, then try gold scroll wedding invitations, hanging lanterns, and hurricane candle holders as centerpieces. Belly dancers are a great way to entertain your guest as well as a henna artist station.
Trendy themes are changing but not that much. Choosing a theme helps shape the look and feel of your wedding day but it takes more than picking out colors or table linens. Most couples don't want just one theme, they want to combine multiple ideas to create something new and unique. So don't follow the rules, make your own with a theme so out of the box, you'll create not a wedding but a celebration for all to see.
Complete Weddings + Events in Fort Lauderdale and South Florida Areas
If you're planning a wedding in Fort Lauderdale, FL, then you've landed at the right place! Now that you've said YES! to spending your life together, you have some exciting decisions ahead. At Complete Weddings + Events planning, wedding events are what we do best.  Complete Weddings + Events, Fort Lauderdale's leading provider of event and wedding photography, videography, lighting, DJ services & photo booth rental.