Every couple wants their wedding to be more special and something that feels more like them. Something every nature lover might dream of would be an outdoor wedding. How glamorous and peaceful would be a wedding at the beach with wind slighting blowing and the sweet melody of the waves at the back. Doesn't it sound just perfect? It sure does, but what comes with this is the drill of planning an outdoor event. Well, it is not a child's play to plan a wedding however, an outdoor wedding in South Florida without a doubt using twice your energy and work than a typical indoor wedding might take to plan.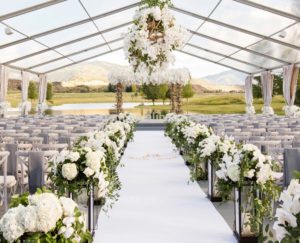 Planning An Outdoor Wedding in South Florida
Permits
If you are planning your wedding at a public place, you must get a permit for it as soon as you decide the location. Permit for parking, waste disposal, etc. The easiest and most common way to get an event canceled is by not having a permit. You don't want your wedding day to be canceled after all the chaos just because of a permit. So you might want to first check this one off your list.
Choose location wisely
A lot depends on the location of an outdoor wedding. At some locations, it is a little easier to arrange a wedding such as those locations which are already used for outdoor events. On the other hand, locations such as beaches or a field, require a lot of effort. You will have to start from scratch to turn these areas from raw to a glamorous wedding spot. Choose the location wisely and according to the season.
Pest control
This might not have crossed your mind but it's better if you get the areas sprayed in case of any pests. Especially if your event is close to the water.   Nobody wants a wedding where people are getting stung by bees. You can do some other stuff to keep the insects away like distracting them. Cover the food and the plates decoratively.
One major thing which might not have crossed your mind is the pests. Nobody wants a wedding with people being stung by bees or a grass field with grasshoppers hopping around. To avoid any of this, call a pest control company and get the area sprayed.  Apart from getting the area sprayed, you can use fans to keep the mosquitos away or maybe try distracting the insects by placing food outside the boundaries. You might also want to cover the plates and food decoratively.
Backup plan
What can be more heart-rending than watching everyone at your wedding get soaked in the rain? Such a disaster would be. If you don't want to witness such a scenario, you should keep a check on the weather forecast way before the scheduled day. Always have a backup plan as you never know what might happen. Prepare for a nearby indoor area just in case which will save you from the embarrassment.
Imagine planning an exciting outdoor event and then canceling it because of the rain. In a worst-case scenario, what can be more heart wrenching than watching all your attendees get soaked in the rain? To avoid such a mishap, you should keep a check on the weather forecasts way ahead of the scheduled day. There should always be a Plan B. In case of rain, you must prepare for shade or tents where all the equipment (if any) or the food can go. You should prepare for an indoor location, just in case you might have to shift the event indoors.
Protective Shade
Don't miss this one on your to-do list if you don't want your guests to get roasted in the scorching heat of the sun. Prepare for protective covers or shades to keep the guests away from the direct heat. Consider covering each table with an umbrella. This will give it a fancy and charming look as well.
Catering
The most exciting thing about the wedding is the food. Make sure you deal properly with the caterers to decide when to deliver the food and how to set it up. Plan a meeting with all the vendors before the event to decide the parking spot, delivery time, etc. If the caterers require a kitchen, make sure you arrange one so that the dishes could be served fresh.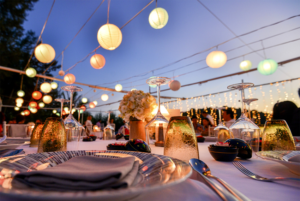 Sanitation
Some outdoor events are easy to plan than others. Areas that are already used for outdoor events already have a proper arrangement such as clean restrooms, pest control, power, equipment, etc. You will double your workload by choosing an uncommon location because then you will have to make sure of all the arrangements that have not been made at that location before. Make sure you have enough toilet facilities not only for the guests but also for the crew members.
Decorations
The only most important thing in setting up a wedding is the decorations and lighting. What else sparks up a wedding like flowers, candles, and the perfect lighting can? Make sure of the theme of the wedding and accordingly decorate the whole place with flowers and lighting which will make the whole venue look charming. Place scented candles on each table. This will create a very soft and beautiful wedding environment.
The comfort of the attendees
The most important thing to keep in mind is the comfort of the attendees. You have to make sure that all the guests are comfortable as it should be your top priority. Make sure to have enough supply of water for all the attendees. Prepare for extra seating just in case. In a circumstance that the environment is a little colder than you would prefer, you must ensure that there are areas where visitors can avoid the heat. There should be a protective cover or shade with portable air conditioners. You might want to consider covering each table with an umbrella or a shade to prevent your guests from the scorching heat of the sun. You don't want them to be roasted.
Precautions
A good event planner always prepares for the unexpected. You never know when you might need something so must consider keeping a few things in hand such as sunscreen, first-aid handy kit, notepad, pens, and insect repellent, etc. In case of a medical emergency, you should have a list of the nearest hospitals.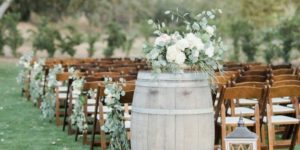 Cleanup
One last thing which you might not want to ignore on your list should be the wrap up of the event. The event might be over but cleaning up is another huge task that you have to make sure is done the right way with proper management so that there's no chaos after the event. Ask for the assistance of a local sanitation company to clean the whole area including the restrooms, flooring, etc. Carefully manage all the sanitation process so that the whole area looks as if there hadn't been any people there.
Complete Weddings + Events in Fort Lauderdale and South Florida Areas
If you're planning a wedding in Fort Lauderdale, FL, then you've landed at the right place! Now that you've said YES! to spending your life together, you have some exciting decisions ahead. At Complete Weddings + Events planning, wedding events are what we do best.  Complete Weddings + Events, Fort Lauderdale's leading provider of event and wedding photography, videography, lighting, DJ services & photo booth rental.