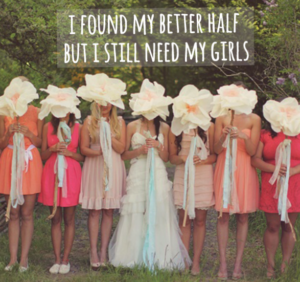 Bridesmaid Duties You Need To Know
Congratulations!  You've been asked to be a bridesmaid or maid of honor in a friend or close relative's wedding. This is an honor that she thinks so highly of you. However, you may have some questions before saying "yes" to the bride.
After the initial glow of being asked to be a bridesmaid wears off, you may feel overwhelmed by the expectations. This isn't just a fancy celebration you show up to. There's effort involved.  Of course, that isn't what the bride wished-for when she asked you. Do everything you can to maintain a positive attitude throughout pre-wedding events, wedding, and reception.
Below are some things you may want to consider:
Some Things A Bride Can Expect From Her Bridesmaids
You can totally get away with saying no to all of these—but this is for the brides' special day. So she'll probably give you these requests. (And you can't complain behind her back if she does!)
Bridesmaid's Duties –
In addition to contributing to bridal showers, the wedding ceremony, and being introduced at the reception – bridesmaids have duties. The bride should let you know what she expects. However, just in case she does not, below are some typical bridesmaid duties of the bridesmaid:
Purchase your dress, shoes & accessories
Assist bride in finding the perfect dress
Attend or host pre-wedding parties, showers, and rehearsal dinner
Assist the bride with grooming before the wedding and help with her dress
Help with whatever is needed during the wedding & reception
Offer to give a toast to the bridal couple during dinner at the reception
Record all the gifts; so the bride and groom can send thank you notes to the correct people
Below are further details on some of the important Bridesmaid Duties –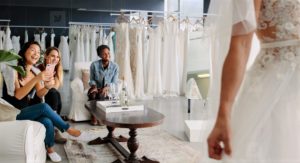 Help choose bridesmaid dresses.
The bride can simply pick a dress without consulting the crew, but if she does ask for your input, don't give her a bunch of No's or Wont's. ("I won't wear skinny straps! Or an A-Line skirt!") Instead, let her know about things that make you MOST uncomfortable. ("I'd really love it if we could find a non-strapless dress". Or "If you fall in love with something strapless, I'd be happy to have straps added.")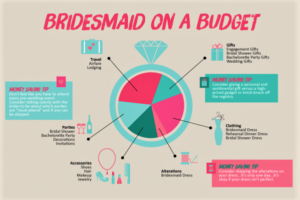 Pay for your own "extras," including jewelry, shoes & getting your hair, makeup, and nails professionally done
Do you want to pay for any of the above? Probably not. But if the bride keeps the cost of your dress down and asks you to pick some silver shoes and get an up-do hairstyle; she's not being unreasonable. If any are out of your budget, make sure to speak up. But don't whine if she asks you to get a manicure. (And if you really don't want to do any of the above, that's fine. But be prepared to offer substitutions. "I had to dip into my savings due to COVID-19, so I'd rather do my own nails." Or, "Is it okay if I wear nude shoes instead of silver?")
Attend the engagement party
Engagement parties are becoming more prevalent, but they're usually hosted by the family. However, as a bridesmaid, you're still expected to be there unless you have a major conflict.
Assist your bride shop for her wedding dress & accessories
You don't have to tag along for every single dress fitting—especially if there's a bunch of other people who will join. But if the bride asks you to join her for a fitting or to help her choose between two gowns—don't catch an attitude.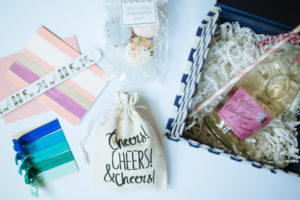 Help the bride with a couple of wedding-related tasks.
The bride can't insist that you address invitations, design the program, assemble favors, etc. But it's not crazy of her to ask if you'd mind lending a hand.
If she seems like the type who's going to dish out a lot of DIY jobs, let her know upfront what you can do. For example: "I'm looking forward to helping with your wedding. I'd love to assemble the invitations, once it's time".  If you say, "I'm happy to help with EVERYTHING!", you can't be annoyed when she expects you to do so.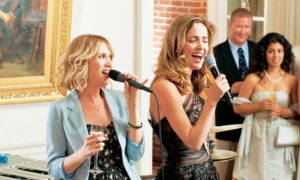 Speech at the rehearsal dinner.
This is definitely Not a must-do, but if the maid of honor is giving a wedding-day toast, the bride might ask someone lower on the totem pole to speak the night prior. If public speaking makes you want to pee your pants, just let her know. She should not mind!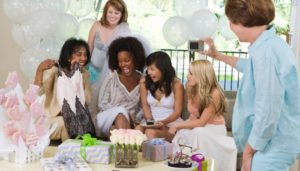 Give a shower & wedding gift.
You can adjust the total you spend depending on the cost of the dress and accessories and whether there's a hotel stay involved, but it's always nice for the bridesmaids to give something. If money gets tight—and even if it isn't—it's perfectly fine for the bridesmaids to chip in for a group shower gift and/or a group wedding gift.
Tip: To avoid overspending, deciding how much you're going to spend on all the gifts ahead of time.
Being a bridesmaid is expensive. Being a woman is even more expensive.
 Maid of Honor –
The main bridesmaid is the maid of honor. She carries more responsibilities in addition to those listed above, and she should do them with a positive attitude. She is the bride's closest advocate during the entire process. From helping with the engagement party to listening to little tiffs between the bride and the future mother-in-law to the bachelorette party & everything in between.
Some Maid of Honor's extra Bridesmaid Duties are:
Attend dress fittings with the bride
Attend flower selections
Coordinate the bridesmaids and make sure they have all their fittings and activities
Be on call from the engagement announcement all the way through the end of the wedding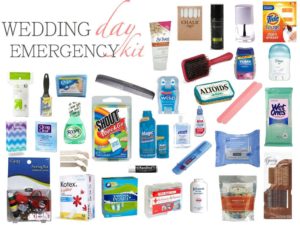 What should bridesmaids pack for the big day?
Tote Bag. First, you want a cute bridesmaid tote bag. However, you want a high-quality tote bag that's durable and roomy enough for all your goodies.
Snacks.  Bring both protein & carbs to keep you going all day. Make sure you bring a snack for the bride, as well.
Comfy Shoes. Throw a pair of comfy flats or flip flops at the bottom of your bag. You can use them while you're getting ready and when your feet start swelling on the dance floor.
Makeup Basics.  You'll probably have a full face of makeup on, so you'll only need your favorite touch up products: lipstick, powder, mascara, maybe eye liner & blotting sheets in your cosmetic bag, too.
A Mini Medicine Cabinet. Even if you aren't prone to headaches, allergies or stomach aches; this is the day someone is bound to come down with a mini sickness. You'll want to pack a few ibuprofens, allergy pills, tummy meds, bandages, hand sanitizer, a tampon or two, and eye drops.
Pack your phone and phone charger. You can stash a portable charger as well. Bonus points if you can squeeze in a blue tooth speaker to really get the party started before the ceremony.
Water Bottle. A wedding day makes for a long day! Make sure you stay hydrated.
Pro Tip – Bring straw. This is a great way to keep your lipstick last longer!
W-oops! Extras. Alrighty, this list is long, but don't worry – all the items are small. Throw these in a separate cosmetic pouch to keep them from mixing with anything else. In this bag, you'll want to stash some extra bobby pins and hair ties, your smallest hair brush, cotton swabs, a small pack of tissues, double stick tape, safety pins, travel sewing kit, small scissors (even nail scissors can work), tweezers, travel-sized hairspray, a nail file and a few stain remover wipes.
Good Smells. Everyone wants to smell as fresh as a daisy all day. Make sure you pack deodorant. You'll also want to pack mints to keep your breath smelling good. Mints are better than gum on a photography heavy day*
Mini Wallet. You probably won't need much, but don't be the one who doesn't have your ID when the bride wants to go out at 1 am. Take a credit card and a little cash (small bills in case you need to tip throughout the day).
SPF Stick.  This one I didn't think about until one of my first bride's arms got roasted at a stunning beach wedding. If you're going to be outside – pack this one for sure.
Pro Tip: A sheer sunscreen gives the skin a nice complexion. If you want that J-Lo glow, get yourself Coppertone Glow or Glow Stick.
Last but not least, a good attitude. This is one of the most important milestones of the bride's life. Your goal as a bridesmaid is to make sure she can enjoy it as much as possible. Be positive, encouraging, and fun-loving to ensure the entire group has an awesome day!
Can You Say No to Being A Bridesmaid?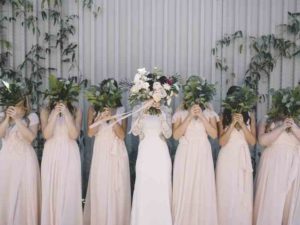 YES – just be Honest!
Of course, you've been asked to be a bridesmaid. Let's face it – You're amazing and your friend would be thrilled to have you in her bridal party.
However, after the initial glow of being asked to be a bridesmaid wears off. You immediately picture dollar signs, hours spent wedding planning, and forced smiles at all wedding engagements. Your bank account really just can't take it right now, but you don't think you can let her down.
You can say No.
You really can, but it's important to do so in a "timely and respectful" manner.
Whatever your reasons for not being all in, it's vital that you let your friend know as soon as possible so they can choose someone else if necessary. (If you say yes and change your mind, promptly call your friend and tell her that you won't be able to do this). It's just good manners to let your bride-friend know swiftly that you cannot be a bridesmaid so that she can ask someone else.
Complete Weddings + Events in Fort Lauderdale and South Florida Areas
If you're planning a wedding in Fort Lauderdale, FL, then you've landed at the right place! Now that you've said YES! to spending your life together, you have some exciting decisions ahead. At Complete Weddings + Events planning, wedding events are what we do best.  Complete Weddings + Events, Fort Lauderdale's leading provider of event and wedding photography, videography, lighting, DJ services & photo booth rental.