Your wedding reception is a time for celebration, but it can also be long and sometimes dull if there is insufficient entertainment. One way to entertain your guests and add fun to your reception is by incorporating wedding games.
Here are 10 wedding games to make your reception more lively:
1. I Spy
I Spy is a simple and fun game that guests of all ages at your wedding reception can play. To play, create a list of items that can be found around the reception venue and challenge wedding guests to find them all. These items could be specific decorations, items belonging to the couple, or anything else that can be found at the venue. For example, your list might include items like a bouquet, the wedding cake, the bride's veil, or the groom's boutonniere.
To play, give each guest a copy of the list and challenge them to find all the items within a specific timeframe, like an hour or two. The first person to find all the items on the list wins a prize. You can also divide guests into teams and see which team can find all the items first.
2. Scavenger Hunt
Create a list of items or tasks that guests must complete or find during the reception. This can be a fun and interactive way for your wedding party and wedding guests to explore the venue and get to know each other.
3. Lawn Games
Set up lawn games like cornhole, or other classic games like giant Jenga, or giant Connect Four for guests to play. These games are great for outdoor wedding receptions and provide a fun, casual activity for guests.
4. Dancing Games
Involve guests in the dancing by playing games like the Hora, the Shoe Game, or the Electric Slide. These games are a great way to get everyone on the dance floor and have a good time. Complete Weddings + Events DJs have tons of interactive games and ice breakers they can work with you on to find the right fit for your reception!
5. Jigsaw Puzzles
You can set up your guest tables with internet-accessible tablets and allow your guests to choose various online puzzle games to play.
Whether they prefer word or jigsaw puzzles, brainteasers, or matching games, there will be something for everyone to enjoy. You can also divide your guests into teams and make them compete with others to make your wedding reception interactive and exciting.
6. Karaoke
Set up a karaoke machine and invite guests to sing their favorite songs. This fun and entertaining activity can get everyone laughing and relaxed.
7. Photo Booth
Try setting up a photo booth and filling it up with props. Then invite guests to take pictures with those props throughout the reception to create lasting memories.
8. Mad Libs
Print out some wedding-themed Mad Libs and invite guests to fill them out and share their responses.
9. Trivia
Trivia is a fun and engaging game that can add an element of competition to your wedding reception. To play the game, create a list of trivia questions related to the couple or the wedding and challenge guests to determine who can answer correctly. These questions can be about the couple's history, interests, hobbies, or any other aspect of their relationship or wedding.
For example, your list of trivia questions might include the following:
How did the couple meet?
What are the couple's favorite hobbies?
Where did the couple go on their first date?
What was the couple's wedding theme?
How many people attended the couple's wedding?
You can divide guests into teams and let them compete with each other to see which team can answer the most questions correctly. You can also have individual guests compete against each other if you prefer. You can offer prizes for the winning team or individual or have the satisfaction of winning as the reward.
Complete Interactive
Complete Weddings + Events has services to bring your wedding trivia to reality with Complete Interactive! With Complete Interactive, your wedding emcee and DJ will introduce your custom couple questionnaire, trivia, song selection poll, and social media wall to help keep the energy and engagement high at your reception, while also making any necessary dinner or speech announcements.
10. Board Games
Set up a table with some board games and invite guests to play. This is an excellent activity for guests of all ages and can provide hours of entertainment. The guests can have fun trying to unscramble letters to make words in a game like Scrabble or try their drawing skills in Pictionary. Make sure there are games that cater to a variety of tastes.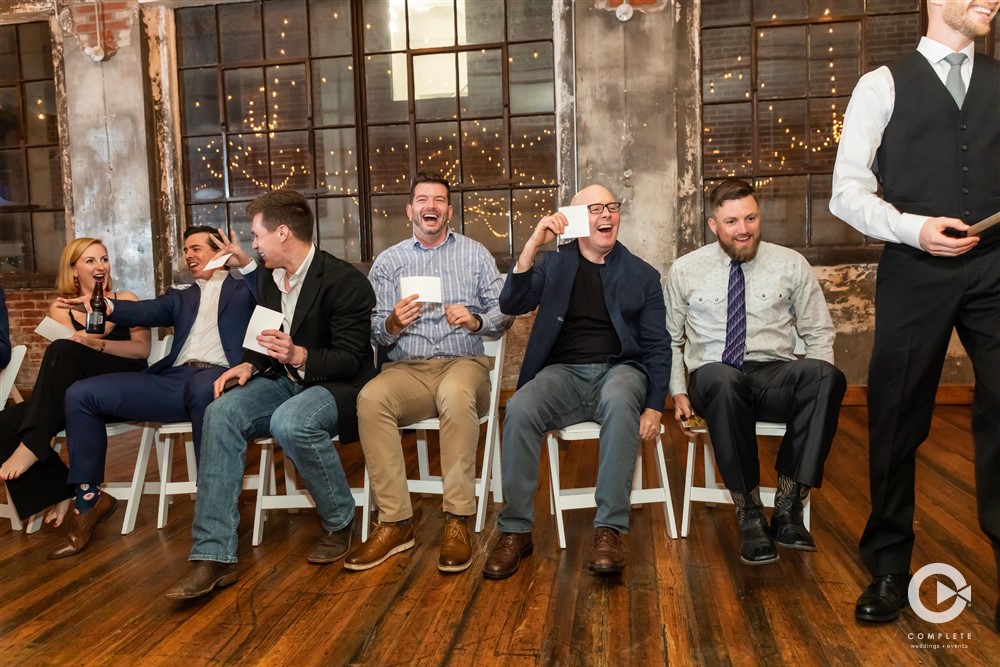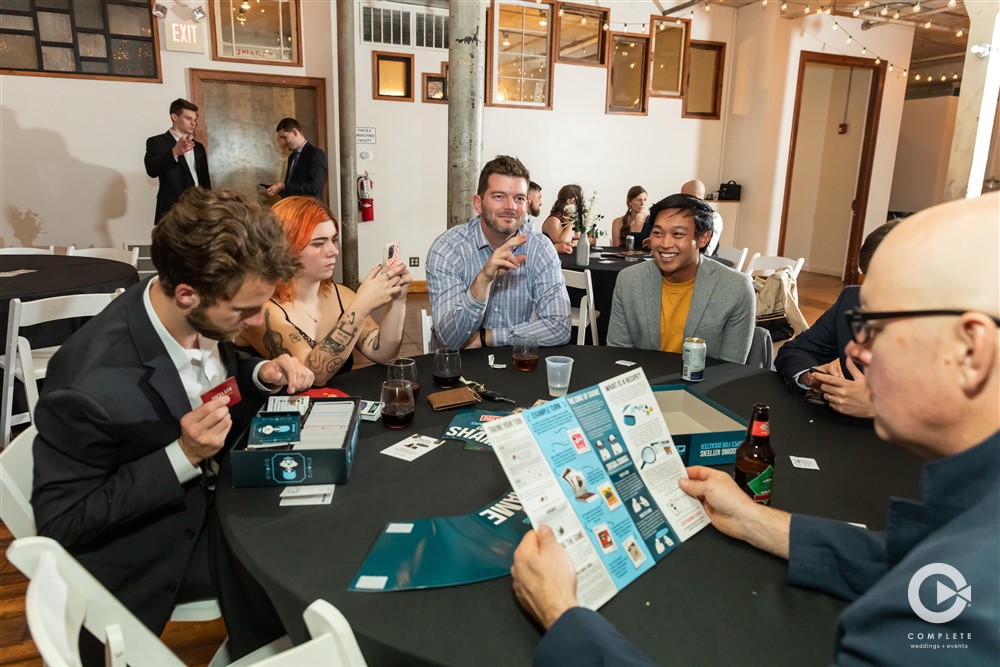 Wedding Reception Games: Fun For Everyone!
Wedding games provide entertainment and enjoyment and foster a sense of community and interaction among attendees, helping to make the event more lively and memorable. Consider adding some wedding games to your reception to keep your guests engaged and having a good time!
Looking for more ideas to make your wedding day unique? Check out our wedding ideas and inspiration here!