When we found out that Paris Hilton was getting married, all that we could think about was the dresses she would wear. We of course knew that an icon like her would go for some outfit changes. She did not disappoint! With seven whole different looks, we couldn't be more excited to gush all over Paris Hilton's wedding dresses with you.
The Wedding Day
Ceremony ○ Oscar de la Renta
Paris shocked the world when she stepped out in her Oscar de la Renta dress. As the true fashion icon she is, she knew that her wedding dress was something that she wanted to still admire years from now. Paris requested that a timeless and elegant gown be made for her and it did not disappoint.
First Dance ○ Gahlia Lahav
Paris thought that her first outfit change would be fitting for the first dance. She brought in the wonderful mind of Gahlia Lahav. She created a ballgown dress for the bride that made sure all eyes were on her as she glided across the dancefloor with her Prince Charming.
We found a similar dress from BHLDN that you can wear on your wedding day.
Dinner ○  Pamella Roland
For dinner, Pamella Roland stepped in to dress the lady of the hour. She carefully crafted a pearl and gem embellished fitted dress. The dress even had a cape that draped over Paris' shoulder, giving the dress an even more grand effect.
This similar sequin dress from Saks Fifth Avenue will turn heads at your wedding!
Dancefloor ○ Oscar de la Renta
To top off the night, Paris referenced back to her first look of the night with another Oscar de la Renta dress. This one was a short and flirty dress that moved along with the bride. It also had floral motifs that tied back to that ceremony dress. The night ended on a high note with everyone out on the dancefloor.
If you're in the mood for a short flirty dress, here's a similar one we found on Fashion Nova!
The Carnival
Alice + Olivia
The following day, the couple was ready for the second day of festivities. Paris threw a carnival with her closest friends and family. For this reason, she wore a lively pink vintage-inspired dress by Alice + Olivia. The moment you saw her, you knew that she was the lady of the hour.
We found a dupe for the daring bride here!
Grand Finale
Performances ○ Marchesa
On the final night of festivities, Paris Hilton had a lineup of phenomenal performers to entertain her guests. They included Demi Lovato. With a lineup like that, Paris had to dress for the occasion. She had Marchesa design her dress. It was a grand dress that fit the moment with stunning lace detail.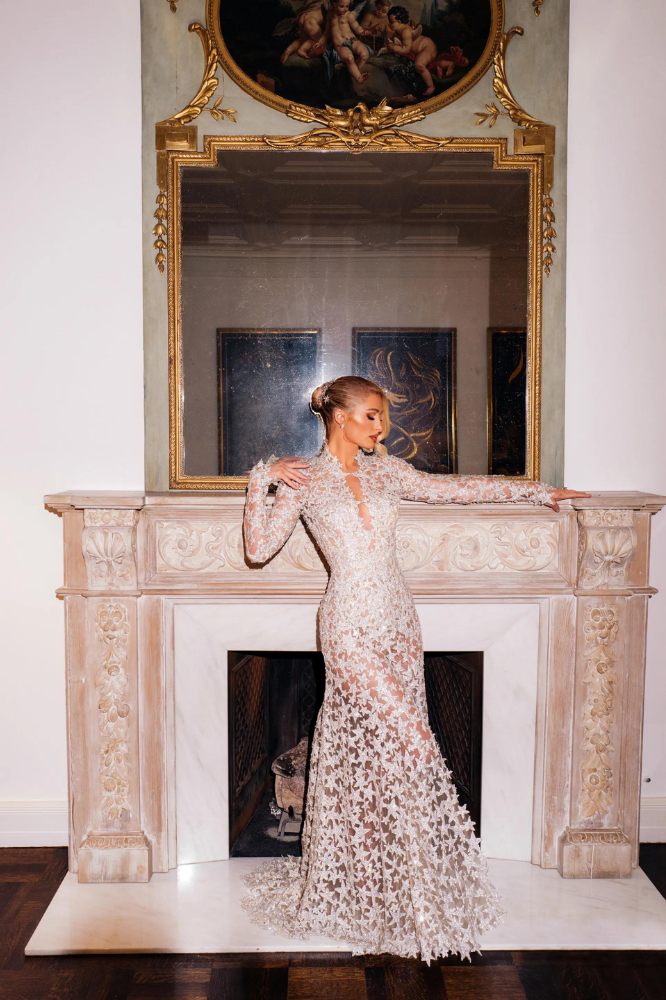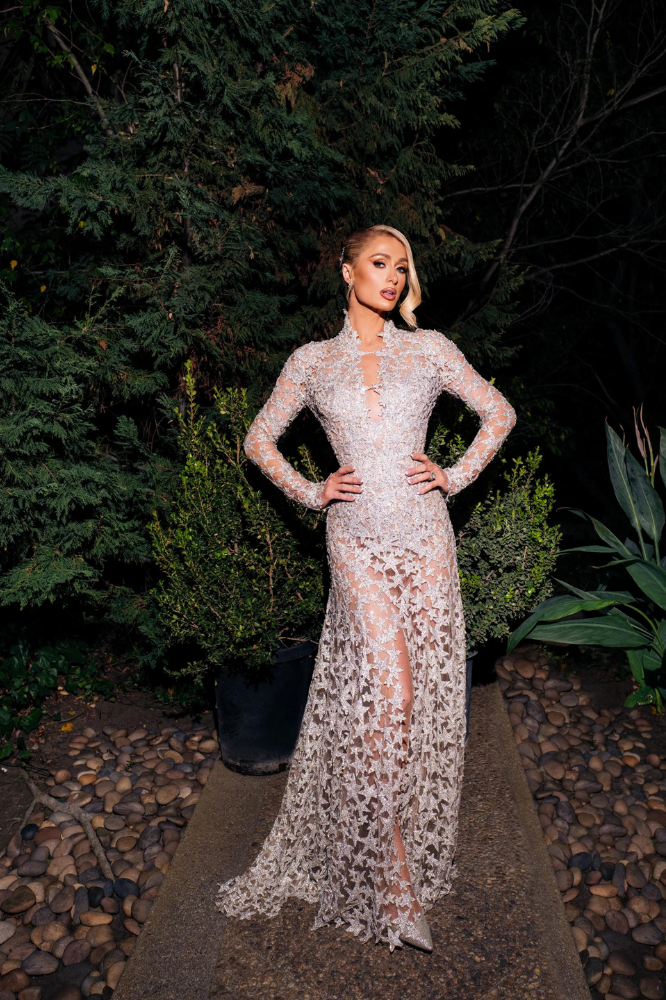 The Final Look ○ Oscar de la Renta
For the last and final dress, Paris and Oscar de la Renta had their final collaboration. It was a star-studded dress that was truly eye-catching. A long-sleeved dress with a high neckline was balanced with a little skin showing through the dress and a deep v-cut on the dress.
Complete Weddings + Events
A full weekend of celebrating the heiress and her wedding day left us all in awe of all the different looks. Are you inspired to have a few outfit changes of your own on your wedding day? Contact us, so we can capture each look so you can look back on it for years to come!
All images and information were retrieved from Vogue.
Find more about Paris Hilton's Wedding Dresses on our TikTok!
@completewedo Paris Hilton's wedding weekend was full of iconic outfit changes! All information was found on Vogue's website.Article: @vogue, Alexandra MaconPhotographer: Jose VillaDesigners: @OscardelaRenta, @AliceandOlivia, @GahliaLahav, @Marchesa, Pamella Roland