At any wedding, the role of the bridesmaid is really important. Apart from the role they are those people who the bride really trusts. Someone who she can count on. So, it is really important for them to look equally good as the bride does. But that's not the real challenge. The real challenge is to select a dress that looks good on all the bridesmaid. It is not necessary to select the same dress for every bridesmaid. And if that's the case, it is really important to select dresses that complement each other and the overall theme.
Here is a quick guide to How To Find Bridesmaid Dresses That Look Good On Everyone
One-shoulder bridesmaid dress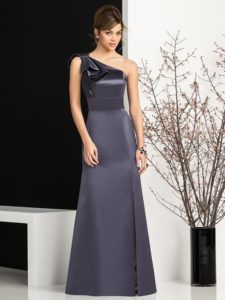 This is a universal choice of many bridesmaids. This is an elegant design that anyone can rock. It can be a good choice if you have a number of bridesmaids as they all would readily accept the design. Adding on to it, the design allows room for change. Several modifications can be done to the gown as per your need. This makes it graceful and wearable at the same time.
¾ sleeves gown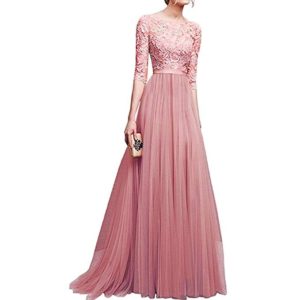 A ¾ sleeve is a very basic approach towards a bridesmaid dress. This traditional style is the solution to any conflict between the bridesmaid for selecting their dresses. Even though being a simplistic design, it full fills its purpose of style, glamour, and class. It suits every age, body shape, and height. So, you don't need to worry about checking on the bridesmaid diet and workout routine. But this does not mean you are spared. You should strictly follow your diet to fit in the dress of your dreams.
V neck backless
A V neck backless is the perfect exhibition of charm. The combination of the V neck and backless is the most glamorous you could get. However, V necks are not for everyone. You could drop the V neck if you don't feel like going about it. But having a backless dress is a thing! If you want to ride in style, this is it. Go for the backless and the bridesmaids would be the second most beautiful women in the room after the bride.
The Godet Gown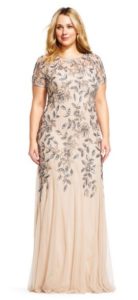 A godet gown is also another neutral option for a bridesmaid. This because they can fit on all body shapes as well as suit any season. They could be worn at any time of the year.
Short-sleeve gown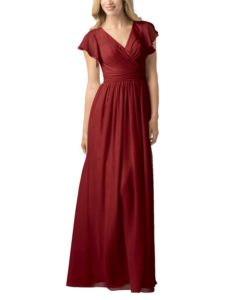 A short-sleeve gown is also the go-to style for the bridesmaids. This suits everyone and falls under the category of minimalism. This means that there would be elegance yet these won't be much expensive. This style also falls into the category of fit to all. Anyone can easily wear them and look good.
With the selection of dress, it is important to keep in mind the comfort of the bridesmaid itself. It is vital that dresses are selected with proper consultation to the bridesmaid and to be selected only if the bridesmaid feel comfortable at wearing them. After all, it's the responsibility of the bride that her friends should look equally good. Therefore, help them choose wisely.
On an ending note, correct underwear is equally important to wear as the dress. It should also be chosen with great considerations. They are an essential part of women dressing like any other thing.
Another aspect that could be addressed here is that not all the bridesmaids should wear the same dress. It is a typical trend rather a stereotype. But in modern times, there have been instances that bridesmaids have worn different dresses yet they look equally beautiful.
Complete Weddings + Events in Fort Lauderdale and South Florida Areas
If you're planning a wedding in Fort Lauderdale, FL, then you've landed at the right place! Now that you've said YES! to spending your life together, you have some exciting decisions ahead. At Complete Weddings + Events planning, wedding events are what we do best.  Complete Weddings + Events, Fort Lauderdale's leading provider of event and wedding photography, videography, lighting, DJ services & photo booth rental.