Choosing Southern U.S. Wedding Venues is one of the first steps in wedding planning, making it an important one! Sometimes your wedding date is dependent on what dates are even available still at the wedding venue. We've compiled a list of newer Southern U.S. Wedding Venues along with popular locations you'll want to save your date with quick!
From laid-back beachy vibes to upscale southern charm, getting married in the Southern states will allow for a wider timeframe of warmer weather, meaning more outdoor celebrations. Summers may be humid, but the dryer fall season and mild winter is where it's at! Of course, do your research on the specific states' climate to try to avoid the most humid, rainy, and hurricane-prone times of the year.
Southern U.S. Wedding Venues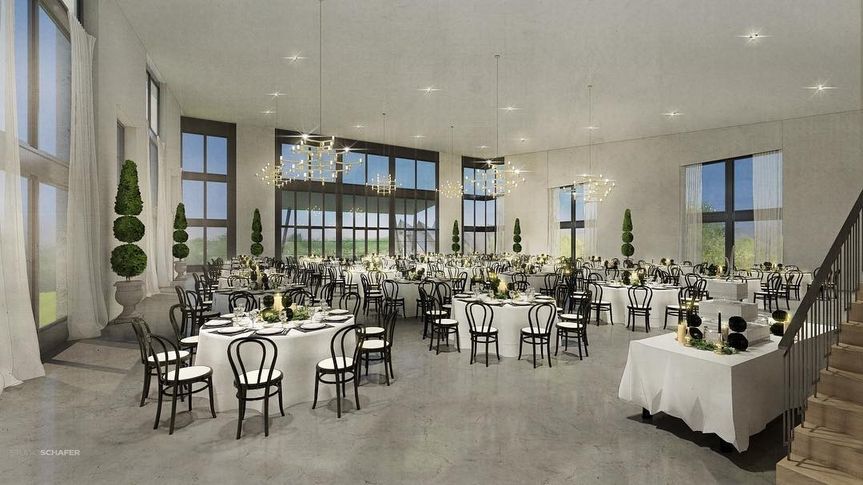 Cave Springs, Arkansas – Osage House
This chapel and reception hall in Northwest Arkansas opening in 2017 and is lined with plenty of windows and glass doors overlooking the spacious, lush landscape the venue sites on!
Tulsa, Oklahoma – 624 Boston
624 S. Boston was constructed in 1928 as the Oklahoma Natural Gas Building, or the ONG Building.  Listed on the National Register of Historic Places, it is one of downtown Tulsa's finest examples of Zig Zag Art Deco Architecture.
Georgetown, Texas – Celebrino Event Center
This secluded countryside venue has plenty of outdoor space to fit a large guest list! The spotlight is on Celebrino, one of the newest wedding venues in the Austin area.
St. Augustine, Florida – Crystal Ballroom
www.crystalballroomsaintaugustine.com
This new Florida venue makes wedding planning that much easier including your tables, linens, centerpieces, lighting and decor, plus the staff to set it all up and tear it down at the end of the event. As the name suggests, the atmosphere here is filled with crystal chandeliers and an abundance of elegance.
Sunset, South Carolina – Arabella Farm
This wooden barn is a beauty! This venue boasts on being one of the largest in upstate South Carolina and is filled with natural farm charm.
Taylorsville, Kentucky – Driscoll Estate
Driscoll Estate has options for a large or smaller outdoor, lakeside wedding ceremonies. The pine barn on the estate blends both rustic and modern styles giving you the unique event you're dreaming of just minutes from Louisville, KY.
Clermont, Florida – Lake Louisa Villa Events & Resort
Lake Louisa Villa Events & Resort
New to the Orlando area is this mansion estate which includes a resort to fit your family, an Olympic size sports pool, and 54 acres of nature to explore. This venue is perfect for those couples or families looking to stay on site for all the festivities!
Tyler, Texas – The Pines at Cherokee Farms
www.thepinesatcherokeefarms.com
This wedding venue sits on 40 acres of private property among hundreds of pines of course! You can truly escape into your own fairytale among these massive trees and the wonderfully kept property.
Baton Rouge, Louisiana – The Greenery
www.theberrybarn.com/thegreenery
This greenhouse gives us a Scandinavian meets Bohemian vibes, and will bring your greenhouse wedding dreams to a reality! This climate-controlled greenhouse opened recently right across the street from another popular Louisiana venue, the Berry Barn, with plenty of picturesque outdoor space surrounding the building for an outdoor ceremony or reception.
Albuquerque, New Mexico – Occasion Services & Events
www.occasionservicesevents.com
The Occasion Services & Events venue is a staple in the Albuquerque area, and their packages include the help you need to bring your creative vision to life!
Captiva, FL –  Twin Waters Island Resort
Sunset, white sandy beaches, and luxurious finishes, getting married at the Gulf of Mexico doesn't get much better than this!
Sarasota, FL – Powell Crosley Estate
www.bradentongulfislands.com/special-event-services/crosley-estate
Powel Crosley had this Mediterranean mansion built-in 1929 for his wife to use as a winter home. This unique piece of history makes for a remarkable event space set right on the Florida coast.
Wedding Venues Listings
Find more wedding venues in the following cities by selecting the area you're interested in below!
Greenville Wedding Venues
Fort Myers and Naples area Wedding Venues
Baton Rouge Wedding Venues
Dallas and Fort Worth area Wedding Venues