How do you decide on the attire your groom should wear on the big day? This is one decision that sets the standard for black-tie, white- tie, formal, or semi-formal affair. But what if you don't really have a preference? Well, we've got you covered and we'll be providing a simple guide on how to decide whether a suit or a tux is just right for your groom and your wedding.
First – Suit, Tuxedo, What's the Difference?
All suits and tuxedos are not created equal. The biggest difference? Satin. This is usually seen on the detailing of a tuxedo, decorating the buttons, lining the lapel, or commonly seen on the side-stripe down the pant leg. Suits are made using one type of fabric, which makes them slightly less formal. You will find when accessorizing a tuxedo you'll include a waistcoat, cummerbund, and bow tie. That said, these accessories aren't needed for a tux.
Suit or Tuxedo Online Shopping
Online shopping for clothes is so convenient, especially during a pandemic with a local quarantine or restrictions in place. Searching online also makes for quick price comparisons, helping you find a less expensive route to a tuxedo or suit! There are a few things to know before ordering a suit online for the big day. You must know your chest, waist, and inseam measurements as well as your height and weight. Know the style you want – do you prefer a slim, modern, or classic fit? It is recommended to get fitted for your formalwear 5-6 months prior to the wedding day and also anticipate alterations. Some of the best places to order tuxedos or suits online are the Black Tux (tuxedos for rent and for keeps), Stitch & Tie (suit or tuxedo rentals), Men's Wearhouse (offers custom suits in two weeks or tuxedo rentals), and Generation Tux (suit or tuxedo rentals with free swatches, free at-home try-on, and a free rental for the groom with 5 groomsmen suits.). Online shopping made easy!
Formality Check
The most polished option and if you're planning to have a black-tie wedding, a tuxedo is a must for your groom and the perfect way to set the tone for your formal event. If you set black-tie as your wedding dress code, you'll likely have a several guests arrive wearing tuxedos, so keep in mind, do you want anyone to look more formal than your groom?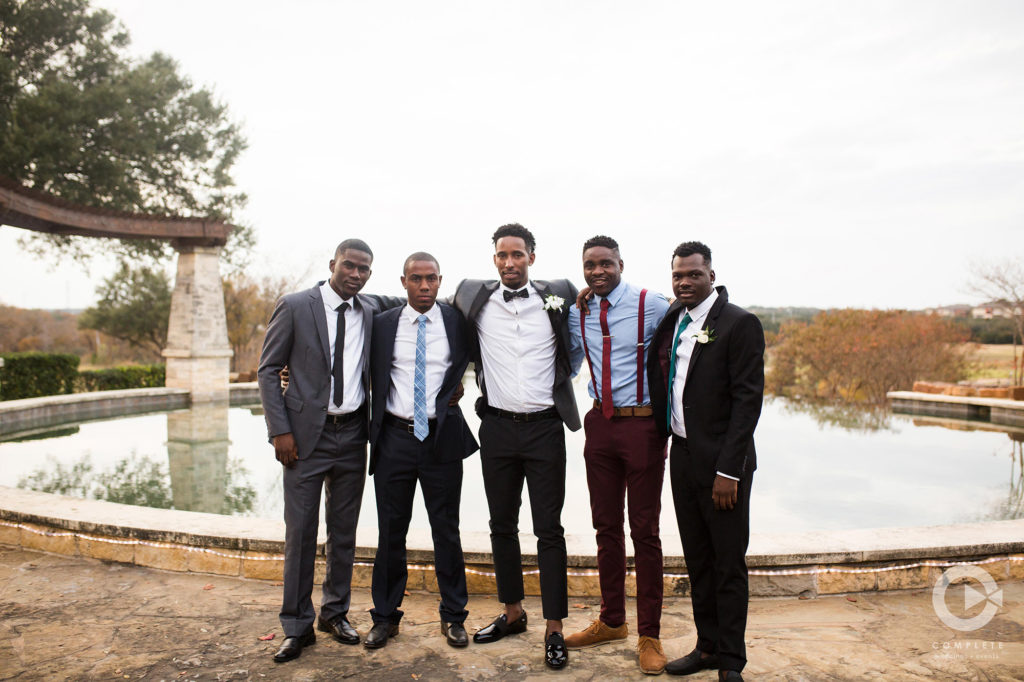 Time of Day
Typically, it's customary that your groom would wear a tuxedo at evening events only. If you're planning to marry during the day we recommend that a suit would be a better option for your groom's attire.
The Price Factor 
The costs can be an important deciding factor, so we recommend being thoughtful when it comes to how much your wedding party will be spending to make it to your big day. Men are more likely to get additional use out of a suit than out of a tuxedo. That said, it is possible to rent a nice tuxedo and it's often a more affordable option than purchasing a new suit.
Express Yourself
Your personal preference is extremely important to your big day and is your groom's decision. If he's more excited to dress up in a tuxedo, let him have fun with it! If you find he really enjoys accessorizing, a suit might just be a good fit. Use the time and style of your wedding to guide you to the best decision.