Mandatory fun is nobody's idea of a good time. Too often, though, company parties and celebrations feel more forced than relaxing. While managers often have good intentions when planning a corporate holiday party or other festive events for their staff, the results are sometimes awkward. Corporate holiday parties can be especially stale. It's tempting to write these events off altogether, but that would mean missing out on the chance to forge real connections with your colleagues.
If you're hoping to boost morale while creating an event that people will be talking about for months afterwards, consider incorporating some of these unique corporate holiday party ideas into your plans!
Incentivize Attendance with Prizes
Forced attendance is the quickest way to kill any fun vibes you're hoping to create for your corporate holiday party. Instead, consider incentivizing attendance and making it optional. The trick to ensuring your team shows up? Offer the chance to win killer prizes that are too good to miss out on. Gift cards, gag gifts, and coffee mugs are a good start, but to really compel your team, consider raffling off extra vacation days or tickets to a concert or play. A great prize can do wonders for attendance!
Create Atmosphere with Event Lighting
We've all attended corporate holiday parties held under the bright fluorescent lighting of the office break room. No matter how many fun activities are on the docket, it's difficult to get into the holiday spirit in such a space. It doesn't have to be this way, though. Event lighting is one of the most affordable ways to change the feel of a space. If you're tight on cash and can't afford a separate event space, consider bringing in professional event lighting to transform your setting into something truly magical.
Set the Mood with Music
No party ever truly begins until there's music playing. While you might be tempted to throw on a generic holiday playlist over your Bluetooth speaker, resist the urge to stream. For a truly unforgettable corporate holiday party, you'll want to bring in a professional disc jockey to emcee the event. Not only can a DJ spin the very best tunes to get people grooving, they can also serve as a kind of host for the party. With years of experience getting wallflowers out of their corner, DJs can help create atmosphere in ways a playlist simply cannot.
Offer Exciting Activities for Team-Building
Not everyone loves to dance, so it's a good idea to offer some other activities amongst your other unique corporate holiday party ideas. Get festive with cookie decorating or gingerbread house creation stations. Sprinkle in Christmas movie trivia questions throughout the night. Get nostalgic and play favorite games from childhood. You'd be surprised at how much fun you can have playing an old-school game of musical chairs or pin the tail on the donkey!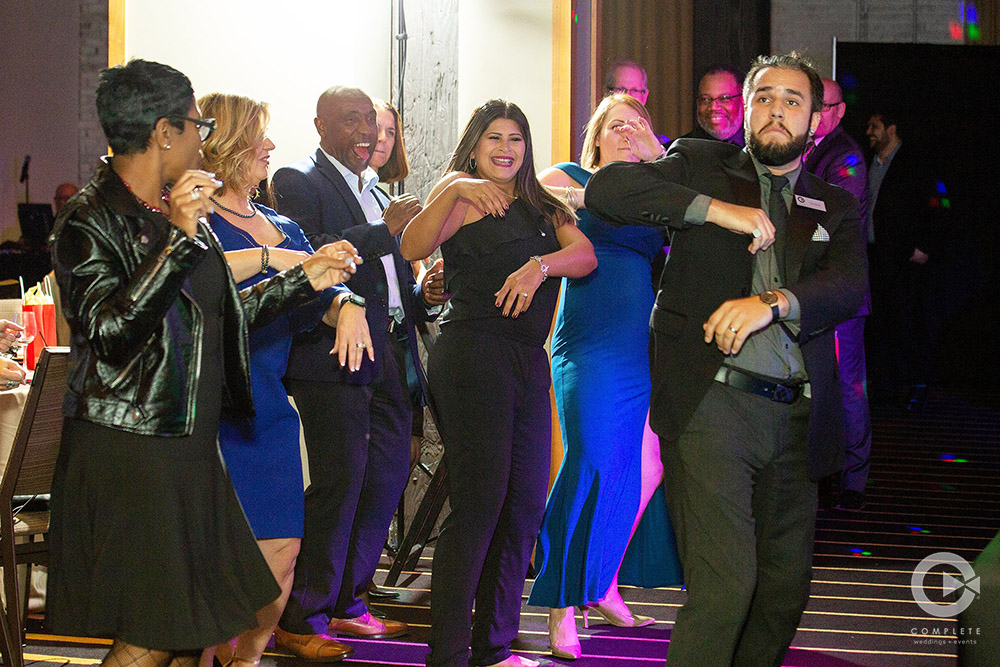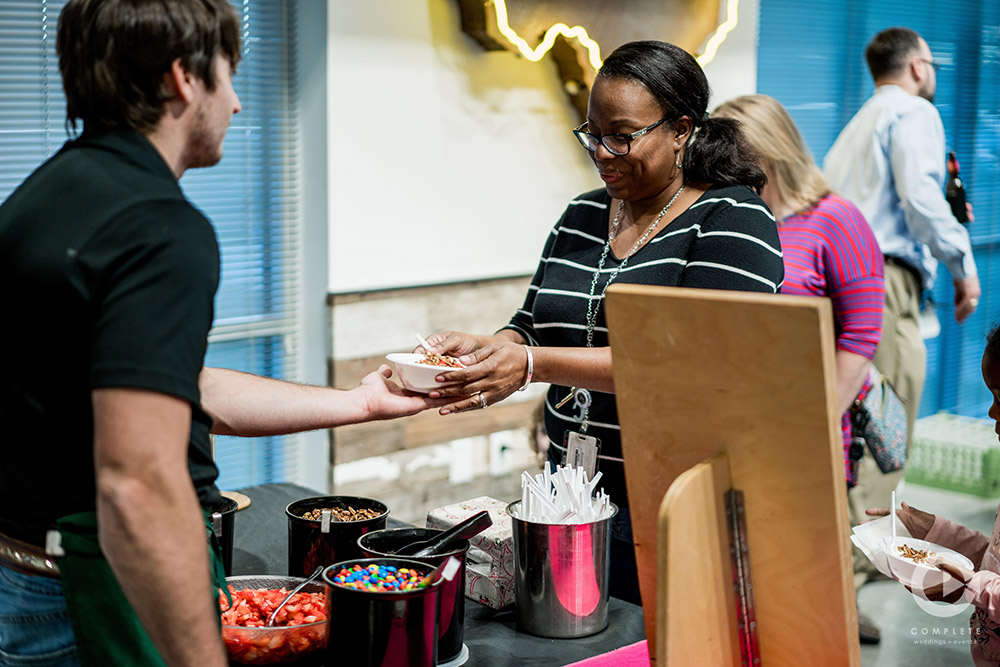 Capture the Fun on Film
Photo booths have exploded in popularity over the last decade, and it's not hard to see why. These rentals offer both an activity and a souvenir for those who choose to participate. After all, it's fun to pose with silly props alongside your colleagues. The printed photo strip adds instant value to the experience, too. Prefer digital downloads for your team to share online? This option is becoming increasingly popular and is a great way to display your festive fun over social media.
Build Hype with Live Entertainment
In order to build excitement around your corporate holiday party, consider bringing in a musician or comedian to invigorate the crowd. Don't have a Beyonce-level budget? Don't worry! Even a local act can invigorate a corporate holiday party. Good entertainment is the backbone of any special event. The energy that a live performer creates can be intoxicating. Whether you opt for a magician to wow your workers or a drag queen to call out bingo numbers, be sure to book several months in advance. You'd be surprised how quickly these performers get snatched up!
Partner with a Professional
The real key to planning a successful corporate holiday party? Finding a professional event planner to take the lead. While your special events committee may be excited to plan the party themselves, a professional event planner can help coordinate details and bring your creative vision to life. After all, your employees have their own daily duties to manage. By bringing in a professional event planner, you'll minimize stress while still incorporating creative input from your team.
If you're hoping to create unique corporate holiday party ideas for your next event, consider bringing the Complete Weddings + Events team on board. We can bring in the photo booths, lighting, DJ services and planning support you need to ensure your party is a success. Whatever your goals for the event, allow our team to bring your ideas to life!