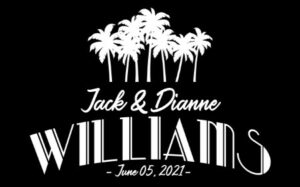 Create a wedding monogram. It's a beautiful and elegant way to personalize your special day. A monogram can add a touch of sophistication and style to your wedding invitations, stationery, decor, and more. In this blog post, we will share useful tips to create the perfect wedding monogram that captures the essence of your love story.
---
Understand the Meaning and Symbolism
Before you start to create your wedding monogram, take some time to reflect on the meaning and symbolism you want to convey. Consider your shared interests, hobbies, values, and any special moments that hold significance to both of you. Your personalized monogram should symbolize something special about your relationship. Incorporating these elements into your monogram will make your wedding monogram design more meaningful and personal.
Find Inspiration
Seek inspiration from various sources to help spark your creativity and guide your design process. Browse through wedding magazines, websites, or social media platforms like Pinterest and Instagram for ideas. Look for monograms that resonate with your style and vision and save them to create a mood board. This will help you identify elements you like and gather inspiration to create a unique monogram that reflects your aesthetic. You can check out our stock catalog of monograms here.
Incorporate Your Initials or Names
Including your initials or names in your wedding monogram is a traditional approach that lends a personal touch. Experiment with different typography, fonts, color schemes, and lettering styles to find the perfect combination that reflects your personality and style as a couple. You can intertwine the initials, use an elegant script font, or create a stylized emblem that incorporates your names.
Use Complete Weddings + Events To Help Create Your Monogram
Complete Weddings + Events can project your monogram on the wall or dance floor of your venue. We can also add your special monogram design to your photo booth so that every photo strip reflects your own personal style.
We even do animated monograms and monograms for holidays and other occasions. As a matter of fact, if we don't have it in our catalog, we have graphic designers in-house who will help you every step of the way, or you can even bring your own design! If you can dream it, we can make it real!
Call, Click, or Email us, and one of our knowledgeable consultants will be in touch at the speed of light! (That's majorly fast!)
At Complete, our motto is "We Do"!