2023 DATES FILLING FAST - REQUEST AVAILABILITY HERE
Corporate Events in Sarasota
Whether you are planning a team building retreat or an energetic product launch, you know that hosting a corporate event is no small task, especially for just one individual! Finding the right corporate event planning company in Florida to meet your needs is essential. Complete Weddings + Events will help you find and execute corporate event ideas that will help make your event a memorable success!
Corporate Events in Sarasota 
Corporate event planning is unique since each event can serve multiple purposes. A company holiday party provides an opportunity for colleagues to socialize, but it can also be used to build excitement for a new direction in the new year. A corporate retreat encourages team building, but also serves as a valuable employee training opportunity. The many layers of a genuinely great corporate event are often the result of skillful corporate event vendors. Complete Weddings + Events has worked with many different companies in Florida over the years, helping with all the details from corporate event entertainment to photography and more. We have the knowledge and professionalism to handle a range of events, including:
Holiday parties
Company "pep rallies"
Award Shows
Open houses
Product launches
Team building events and retreats
Work conferences and events
Marketing events
Networking events
Check Price & Availability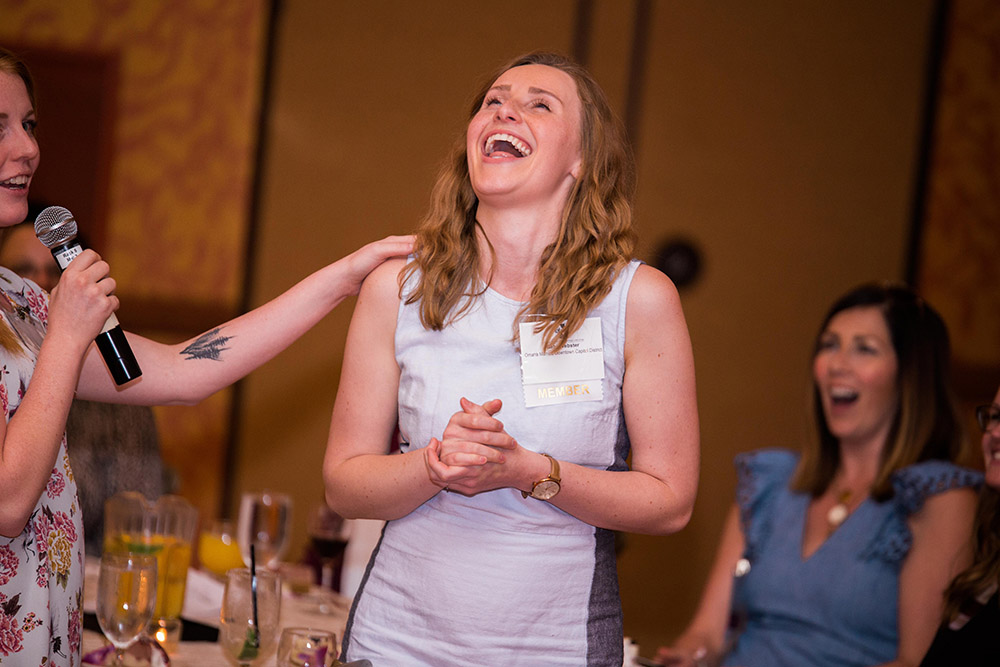 Elements of Corporate Event Success
The basis of a successful Sarasota event is starting with unique corporate event ideas. When your corporate event is working, your attendees are fully engaged in the messaging and, importantly, are having fun! Complete Weddings + Events is here to guide you through the rest of the process — with our expertise, we can help you hit your event goals every time. Here are a few inside tips that our Sarasota event planners always consider when it comes to planning a memorable corporate event. 
Venue is everything:

Every corporate event planner will tell you that choosing a venue is one of the most essential parts of any event (no matter what other surprises you have in mind for the event). The best corporate events start with an inspiring venue in Sarasota that makes the attendees feel like they are part of something bigger. Everything from the food you serve to the ambiance of the room can either enhance or destroy the whole event. Holding your event at a pricier, high-end venue is tempting when you want to provide your guests with the best, but sometimes the budget doesn't allow for that. This is where creative corporate event solutions can really shine —professional lighting, for example, goes a long way toward dressing up a less fancy space. With colorful uplighting and custom logo light designs, your venue can go from bland to inspiring at the flick of a switch. Complete Weddings + Events professionals have worked in nearly every venue in Sarasota and can walk you through how to make your vision a reality, without breaking the budget! 

Infectious Enthusiasm:

A corporate event is always about spreading the spirit and the message of the company to those in attendance. To get your audience on board, you need to build their enthusiasm and make that feeling

contagious.

To fast track a corporate event to a more energetic mood, event planners often suggest dancing, games or activities, and other event entertainment options depending on your needs. Finding the right person to lead the event and build audience engagement will be critical to its success. Sometimes this will be the "boss" or another company employee, but sometimes bringing in a corporate event entertainer like a professional DJ or MC is better suited to amplifying the experience. Complete Weddings + Events makes finding the right professional event leader easy for you!

Far-reaching Fun:

When people are having fun, then they are engaged in the event, which is when you can be sure they're

really

hearing the message your event is promoting. This means including fun parts in an event aren't add-ons, they're essential! Choosing fun

corporate event ideas

depends largely on where your event is being held. You may want to stay simple and stick with well-placed icebreakers and team building activities, or you may want to create a real buzz with something outrageous, like a ball pit. Complete Weddings + Events offers photo booths at events to shake things up and get guests laughing, posing, and joining in some interactive fun. No matter how you create fun at your corporate event, it all adds up to engaged attendees — and the more interactive fun you include, the more people will want to be there.

Message Carried On:

You've worked hard and invested a lot of energy and resources into creating an event that accomplishes its goals and spreads your intended message. Now, why wouldn't you capture this amazing atmosphere to provide some of the best culture content for your company! Capitalize on the event's energy to spread your message through as many avenues as possible. Hiring a photographer and videographer for your event is a wise way to continue that momentum long after the event is over. Photos of a team-building event can maintain excitement, create positive memories, and build connections among teammates. Pictures from a product launch event can become powerful marketing tools for social media accounts. A video of the speech given by the CEO can be shared later to help more people understand the mission of the company. Don't let any of these powerful marketing moments pass by. Our team of photographers and videographers are there to make sure you get the most out of your corporate event.
How can Complete help?
Complete Weddings + Events has the resources to help you plan a corporate event best suited to meet the needs of your company. We offer professional lighting, the event DJs, the photographers, videographers, and photo booth rentals in Sarasota that can take your event to the next level. When you have a big idea, but don't know where to start, contact us — we're here to help!