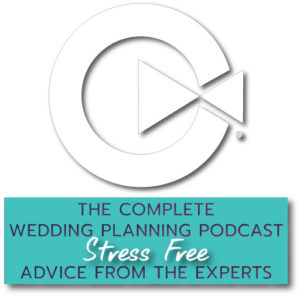 Our topic today is a wedding planning retrospective. The discussion is centered around all things wedding planning and features couples that have experienced planning a wedding. We check in with the big milestones of 1 year, 5 years, 10 years, and 25 years. There is a couple representing each of these anniversaries. We take a trip down memory lane and recount the trends, talk about what has changed, and get stories that help in contemporary wedding planning.
Wedding Planning Retrospective
What Do Married Couples Remember from Wedding Planning?
Our couples talk about what it was like to plan a wedding, where they were in the order of friends and family, and how to deal with the potential liabilities at the party. Stories include worrying about puns at an Irish wedding, dealing with the nerves as the best man is handed the mic for his speech, what to do if the groom may be the liability, and what happens when the close family is sent home early.
Topics Covered
1. What was the biggest trend of the year that you had to do?
2. What was the biggest trend of the year that there was no way you were doing?
3. What is your favorite trend you have seen since at wedding you have attended?
4. What is the one thing you would do differently?
5. What did you enjoy most about the planning process?
6. Who was the biggest planning help?
7. How much time, effort and money did you spend on décor?
8. What was the biggest song of the year?
9. What was on your "do not play" list?
10. Favorite all-time wedding song?
11. How many in your wedding party?
12. How many total guests?
13. Describe the biggest expense you are so happy you would spend more if doing now?
14. Recall the expense you had to have but would do without now?
15. Where were you in the friend group order?
16. Who was your biggest liability (guest who went too far)?
17. Who and what kept you sane during the planning?
Big thanks to our couples and congrats on the milestones. If anything was made clear today it's this: enjoy the ride and enjoy the party.