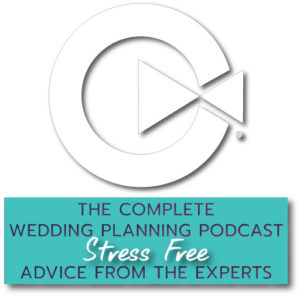 Today we are talking about flexibility and not the kind that makes you good at yoga.  When planning a wedding or any other big event there will be a need to hire vendors to provide services that one cannot do themselves.  It is always great to have vendors that can be flexible to help make the perfect day happen.  However, life has a tendency to throw us curveballs, and sometimes they require the couple that is planning the wedding to be equally if not much much more flexible.
Podcast: Replanning Your Wedding
2020 – The Year of Flexibility
In 2020 this has meant flexibility up to and including changing the wedding date.
The Milwaukee based location of Complete Weddings + Events is one of the largest wedding service companies in the country, and they (in a normal year) help thousands of couples make their wedding dreams a reality.  However, 2020 has been anything but normal and it saw a slight change in role for Libbi as she helped many couples move to new dates.  We discuss what that situation looked like for not only 2020, but also couples in future times.
Kayla, our newlywed, is a bride that braved 2020 and came out happily married.  But the dream wedding had its share of hurdles as well.  Most notably was that it did not happen on the originally planned date.  Kayla moved her date and adjusted her plans to keep her guests safe and comfortable.
We all went into 2020 expecting a smooth, fun ride into a new decade.  All with visions of a convertible with the top down.  Instead, we ended on the roller coaster, bumper car thing most of us didn't know existed. The year 2020 has been interesting, to say the least, but we made it.  And through the chaos, we did manage to make some good memories.  Kayla and the rest of our couples that pulled of the dream weddings will attest to that.
Cheers to 2021 and working together to make it the best one yet.