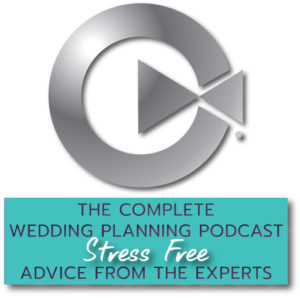 Today we address one of the biggest decisions of a wedding day – the ceremony. We will not talk about the flowers, the members of the wedding party, who will be handing out programs, or even the songs.  Look for those topics on future episodes.
We're talking about the bigger question before we get to any of these things: what kind of ceremony.
Deciding between a religious or secular ceremony may be very easy for some couples as they consider traditions, personal beliefs, and even family wishes. But for some couples, this ends up being the first big life decision they make together.
The guests for this discussion by Deacon John Walters and Paul Costanzo. They have presided over thousands of weddings in their time working with couples.
Deciding On a Religious or Secular Wedding Ceremony?
We Address These Considerations
What motivates the decision to pick a church or secular setting
How are church vs secular wedding ceremonies different
What are the steps involved from setting the date to the actual day?
Enjoyable things during the buildup and preparation for the wedding
Favorite parts of working with engaged couples
Advice do for couples to consider while getting into place to start the ceremony
Top-level marriage advice as a happily married individual
Common mistakes that non-traditional officiants can make at weddings
The Answers
Deacon John sees Catholic marriage preparation courses as more than setting up for a good wedding ceremony. The Journey to Cana sets the foundation for a great marriage.  It focuses on the important conversations engaged couples should be having while preparing for a life together. As a result, the successful foundation is created for a long, spiritual union.
Paul sees the ceremony as a way to showcase the uniqueness of the couple. Gaining rapport during the planning process is key to a personal ceremony. His process includes getting to know the couple and families as he prepares for the big day. The result is a fun, tailored ceremony.
While the approaches and wedding ceremonies differ, the goal remains united: a happy couple on their way to a successful life together.