Finding the Best Wedding Photographers in Milwaukee For Your Big Day
Finding the best Milwaukee wedding photographer starts with finding a photographer with both the skill and photography style you desire. You want a visual storyteller who is professional and creative, and that will work with you to capture photographs that live up to your vision for your Wisconsin wedding.
What to Look For
Wedding photography requires a particular type of photographer who can do more than just take a great picture. Wedding photographers are also responsible for visual storytelling and knowing where to be and at what time to catch the best shots. This requires creativity and a fair amount of scrappiness, while still maintaining the utmost professionalism.
Our Milwaukee wedding photographers are skilled in all of these areas and will leave you with not only an amazing selection of photographs but wonderful memories of your wedding day.
Personable, Talented Photographers
In addition to finding a talented professional, you want to find somebody you get along with. You and your wedding photographer will spend a lot of time together leading up to and during the event – you want it to be stress-free.
Complete Weddings + Events hires Milwaukee wedding photographers who are not only great at their craft but great at interacting with people. This means more often they can get the best shots and leave everyone in the room laughing and having a good time.
Event and Wedding Photography Milwaukee, WI
The Milwaukee photographers of Complete Weddings + Events are experts at event and wedding photography. We have been taking wedding photos for years because we believe well-done photographs take an event from good to spectacular.
Our photography packages can benefit weddings along with lots of different events in the Milwaukee area, including:
Weddings
When you hire us to photograph your wedding, we know that this is a privilege and we take that very seriously. Our Milwaukee wedding photographers are there to make sure your wedding photographs tell your love story and celebrate everyone there with you on your big day.
Our professional photographers specialize in natural photography that showcases you in your best light. We utilize natural lighting to its fullest during photography sessions to produce romantic sun-kissed photos.
Parties
Birthdays, graduations, holiday parties, barbeques — we do them all! Grab those candid shots and take photos for your distant loved ones with an event photographer
Corporate Events
While you may not think about having a Milwaukee photographer at a corporate event, they can become a valuable marketing partner. The photos not only showcase the best side of your business, but they can also create marketing photos that help other people see it too.
Bar and Bat Mitzvahs
Mark this important spiritual milestone with event photography. A special event photographer can take care of everything so you can be fully present.
This list could go on and on. We know that there are dozens of other events that you will celebrate. Contact us and we'll help you make the perfect plan for unforgettable event photography!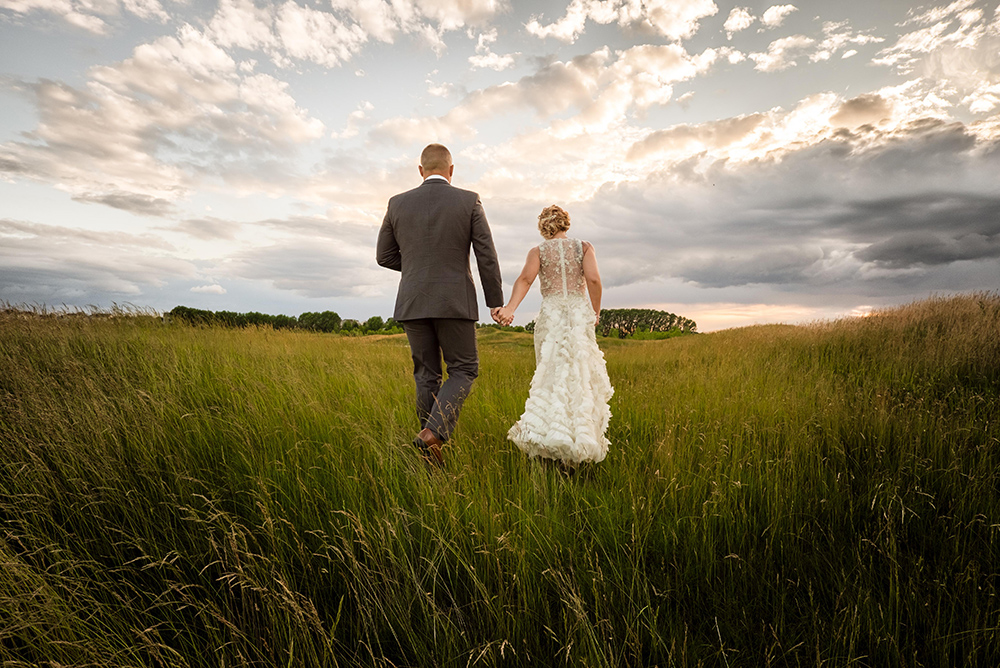 Milwaukee Wedding Photography Packages
We have multiple photography packages available and we are always working with our clients to customize a package that fits their needs. Of our most popular photography packages, two out of three include an engagement session and wedding day photography.
All of our team members, including our photographers, routinely work with other Milwaukee vendors.  Most often we find ourselves working alongside catering and decorating professionals, and we pride ourselves in working seamlessly with other wedding vendors to create the best experience possible for our couples on their special day.
Bundled Packages – Lower Prices
One advantage of choosing a Complete Weddings + Events Milwaukee photographer and videographer is that we offer bundled packages. This can help you save money while still getting the high-quality photography and videography services that you need! Our team of experienced photographers and videographers are experts in capturing all the special moments and details of weddings and events. We will work with you to ensure that every angle is covered, leaving no special moment unrecorded.
Complete Weddings + Events photography and videography packages ensure that your special moments are captured in the best way possible. We will work with you to create a cohesive and professional look, while also providing excellent customer service and bundled packages to save you money. You can trust that your memories are in good hands with us.
Why Choose Complete Weddings + Events?
When you find someone you can trust to help you plan the perfect event, then you have found something special. At Complete Weddings + Events, we're here to be that person for you. We excel at delivering the best quality and the best service available for your event. In addition to that, we offer many different packages to meet your wedding photography needs:
Online photo gallery with a full print release so you can share and print your images.
Color and exposure-corrected images that are professional every time.
Optional second photographer to cover your event so that nothing gets missed.
Various photo print and album options to make sure you can enjoy your photos daily.
We understand that every wedding and event is unique and we strive to understand your vision and tailor our services to meet your specific needs. We will be with you every step of the way, from the planning stages to the final delivery event/wedding video.
Affordable Wedding Photography Milwaukee, WI – Complete Weddings + Events
To make your event planning even easier, our photography and videography teams work seamlessly together! Our Milwaukee wedding photographers work often with our Complete Weddings + Events team of videographers plus our DJs, and Photo Booth attendants, who are all trained to work together to give you the best possible experience at your Wisconsin wedding venue.
Ask us about our videography services, DJs, and photo booth rentals too, and we look forward to connecting with you!
Customer Reviews
"Choosing Complete Weddings as my vendor for Photography, Videography, DJ, Photo booth, and Lighting made planning my wedding a lot less stressful and I think their pricing is very reasonable. It was a one stop shop. Because it was so simple, I was a bit uneasy thinking there must be a catch. There wasn't a catch. 60 days from our wedding we had a phone call discussion on the general planning of things. This included my timeframe, how we wanted the vibe of the wedding to be, and other less detailed decisions. Two weeks from our wedding is when we got more specific with our DJ and Photographer." – Kate D. 

"We really cannot put into words how absolutely fantastic the Complete team was. They provided exceptional service and made our wedding day perfect! Our DJ Josh was incredible. We received so many compliments after our wedding about how the music selection was on point, energizing, and connecting. Josh was so friendly and helpful, he even checked in on us during the wedding to see how we were doing. Our organizer Misty was calm, organized, creative, and made the day seamless. She went above and beyond to keep everything running smoothly and we appreciated all of her helpful insights in the ceremony and rehearsal execution that made it flawless. The videographer we worked with, Joe, worked beautifully with our outside photographer and while we have not seen the final product yet he made suggestions and thoughtful shots throughout the process that we are assured we are going to love. The photo booth was also a wonderful addition to our day, the booklet we received after was such a lovely memento. Thank you to the Complete team for making our wedding above and beyond our dreams! We are forever appreciative!" – Chelsea & Greg B. 

"We booked Anthony (DJ), Jillian (photographer), Joe (Videographer), and the photo booth and every service was amazing!! We can't wait to see our professional photos and videos!" – Jenn N. 
Areas We Serve
At Complete Weddings + Events, we are proud to serve couples throughout Milwaukee, WI, and the surrounding areas. We are committed to providing exceptional event and wedding photography services in:
Shorewood, WI
Whitefish Bay, WI
Wauwatosa, WI
West Allis, WI
Cudahy, WI
Glendale, WI
Greenfield, WI
Greendale, WI
Brown Deer, WI
South Milwaukee, WI