As we reach the end of December, we look back as we not only close out a year but an entire decade! As a DJ company, we can't help but reminisce about all of the great music that the last ten years have brought us. Artists like Katy Perry, Bruno Mars, Taylor Swift, and more have all given us FANTASTIC jams. Super popular songs that not only were blasting through car radios but at weddings too!
We took a look at the Billboard Top 100 for each year since 2010. While we won't list off all 100 for each year (nobody has that kind of time) we will be listing the Top 10 from each year. So many great songs that crowds still beg our DJs to play at events. See how many you remember, and think back to times when you heard them. Maybe one of them was a first dance song at a wedding or a great party-starter for you and your friends.
Here are the Popular Songs of the 2010s :
2010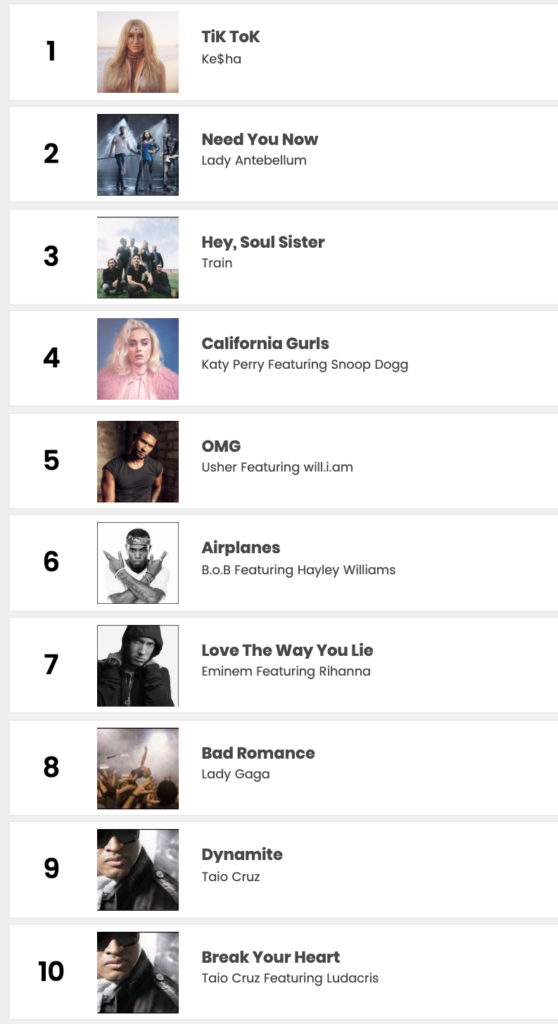 Now if you were around during this time, you know that this top ten list ROCKS. You couldn't go to a party throughout the next five years (AT LEAST) without hearing these. "Tik Tok", "Bad Romance", and sometimes even "Dynamite" are STILL making it on our party playlists to this day. "California Gurls" BLASTED through our car stereos that summer as we were headed to the beach.  And, of course, nothing got stuck in our heads for weeks on end more than will.i.am saying "oh oh, oh-oh, oh oh my gosh" over and over and over and over….So many times. But we LOVED every single second of it.
2011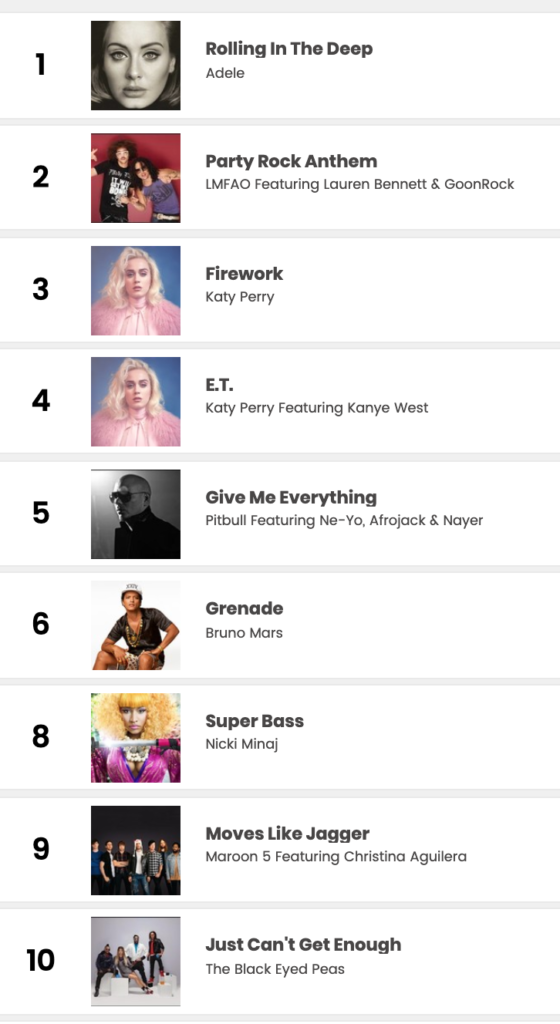 NOW THAT is what we call JAMS (can we legally say that?). Where to BEGIN. "Super Bass", "Moves Like Jagger", "Party Rock Anthem". These are all classic dance jams. "Grenade" by Bruno Mars ( along with his other popular hit of that year, "Just the Way You Are") was just the start of the popular hits for him.  And you cannot help belting "Firework" at the top of your lungs when it comes on, even when you don't feel like a plastic bag drifting through the wind. The same goes for Adele's HUGE hit "Rolling in the Deep". How many people angry-listened to this song after a break-up and wanted to set their ex's stuff on fire?
Wait, no one? Nevermind, forget we said that. MOVING ON.
2012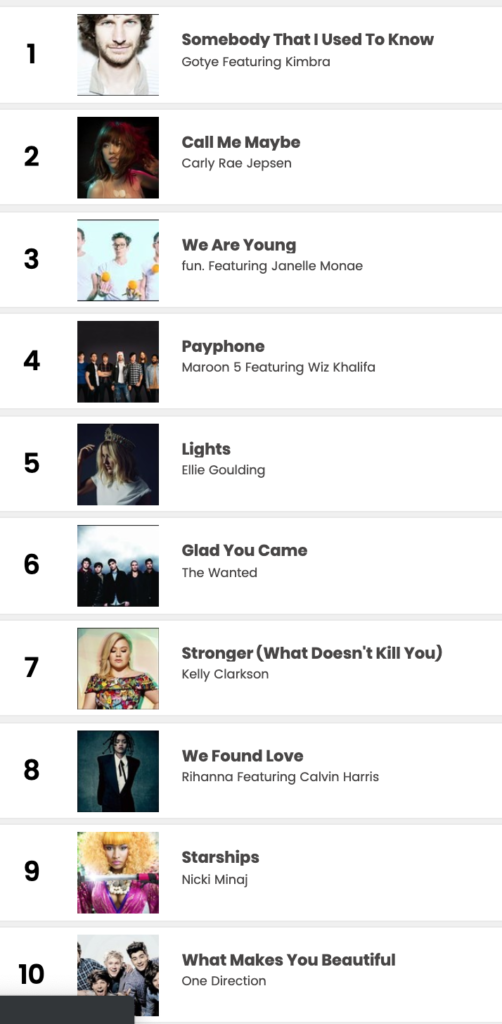 Do you hear that, off in the distance? It's an entire year full of jamming songs that people are SCREAMING at full-blast. Seriously, most of these songs were like that. How many teenage girls do you know that didn't want to yell out "Payphone", "What Makes You Beautiful" or "We Are Young". You couldn't go anywhere without hearing "Call Me Maybe". For real. There was no escape. And of course, you can't help but get ready to do a combination of scream/cry over a fight with your friend at the sound of that soft guitar and xylophone.
2013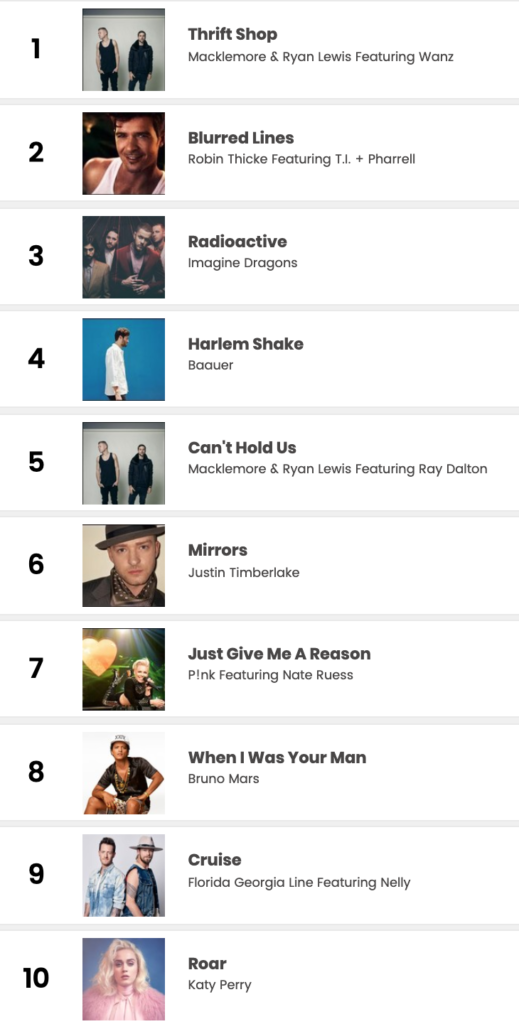 The conversation of top songs from the year 2013 cannot be had without starting with #1, "Thrift Shop". This song, of course, launched Macklemore into popularity (along with shopping at resale donation stores) and brought even more popular songs like "Can't Hold Us" which made it to #5 in the same year. "Harlem Shake" gave us an insanely popular video meme that went around YouTube and Facebook alike for MONTHS ( admit it, you were in one). Another young-girl-scream-worthy song in Katy Perry's "Roar" is STILL being played in school events that we do for local middle schools and Girl Scout troops. "Cruise" by Florida Georga Line gave us a taste of what would soon become the newer age of country music that we hear a lot of now. It also made for a great song to jam out to at the beach with all of your friends.
2014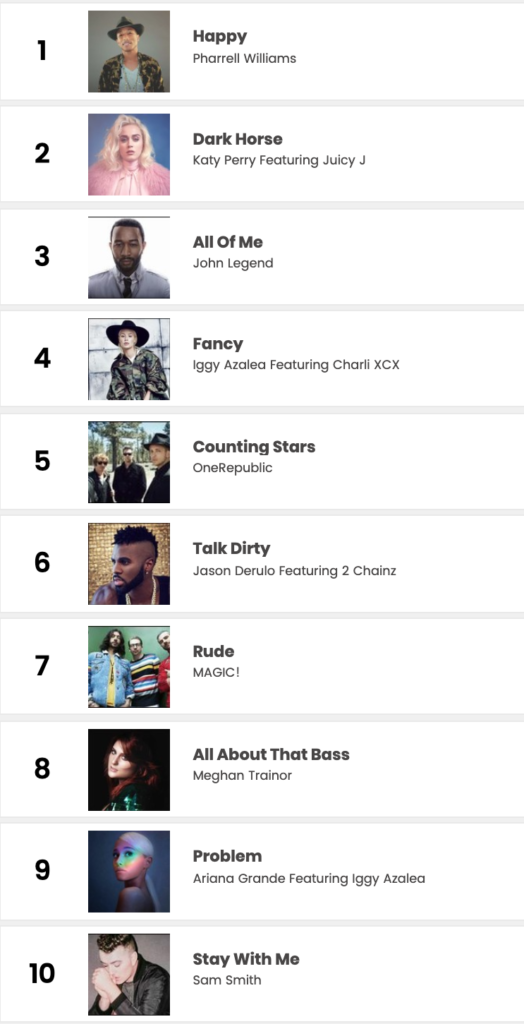 Ah yes, "Happy" by Pharell. This theme song to the widely popular cartoon movie Despicable Me has proven to be just as popular as the film itself. It is still widely popular among all ages, and we wouldn't be surprised if it still is in another 5 years. Then there is the breakout single from Meghan Trainor, "All About that Bass". This became super popular not just for being a super catchy, fun song but also for its promotion for a positive view on body image. Heck, the music video was so popular that the YouTube video currently has about 2.5 BILLION views. John Legend's "All of Me" has been not only a slow dance staple but still a widely popular first dance song since it's fruition. Don't forget the super fun "Talk Dirty" by Jason Derulo, with its saxophone lick that will get stuck in your head for actual days.
Great. Now a distraction needs to be found for that saxophone earworm.
2015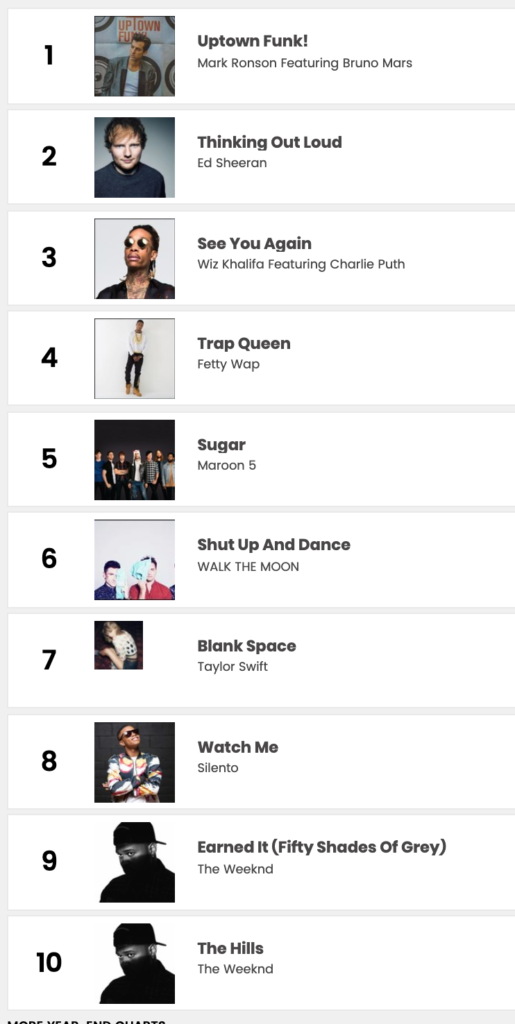 During this year, The Weeknd gained popularity after "Earned It" was featured on Fifty Shades of Grey and people absolutely SWOONED (as if anyone has stopped). Then, there is the life-changing sensation that our DJs still do (and will continue to for the next few years AT LEAST) play at almost every single event they work. That would be "Uptown Funk". This is one of those you HAVE to hear at a party. That, along with "Shut Up And Dance" by WALK THE MOON makes for a really fun dance party. Of course, "Sugar" by Maroon 5 proved to be a formidable first dance or even cake cutting song at a wedding, despite the popular music video of them running around and playing at random people's weddings. Finally, another first dance/slow dance song that gives John Legend a run for his money.  Ed Sheeran's "Thinking Out Loud" still gets so many reluctant boyfriends dragged out onto the dance floor to the point where their "legs don't work like they used to before". HA. GET IT?
2016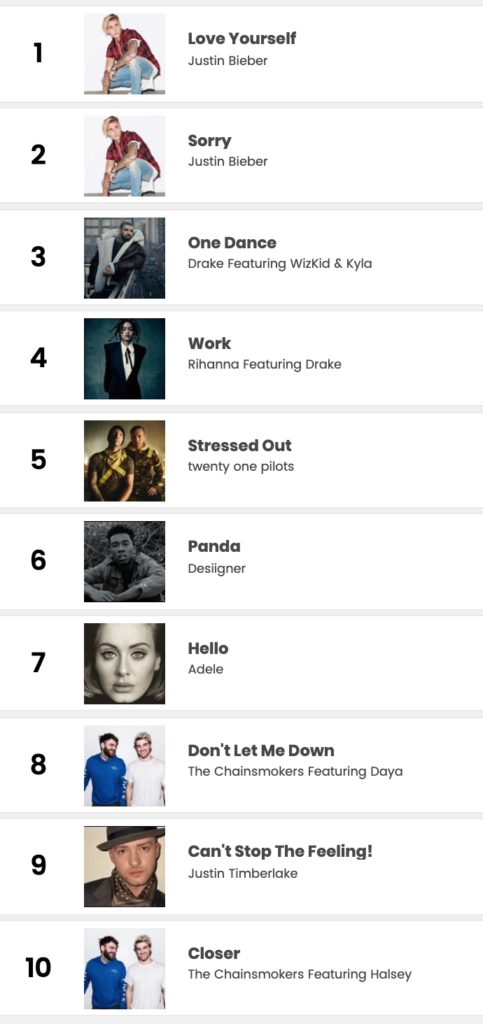 Another song from a kids' movie that is in competition with Pharell for a popular pop song, "Can't Stop the Feeling!" proves to be another one of those super fun songs that just about anyone can enjoy. And Chainsmokers having two other popular upbeat party songs will have you singing for hours. Rhianna gave us "Work", which we not only listened to at happy hour after a long workday, but we jokingly sang it with coworkers on Monday's when the boss is yelling and you haven't had coffee. And you can't NOT jam out to the super catchy but super strange lyricized "Panda" (seriously what even ARE the lyrics to that song). Justin Beiber made a great comeback into pop with not just one, but TWO break-up songs. Next to your great-aunt Linda at Thanksgiving, is there anything more passive-aggressive than "Love Yourself"?
2017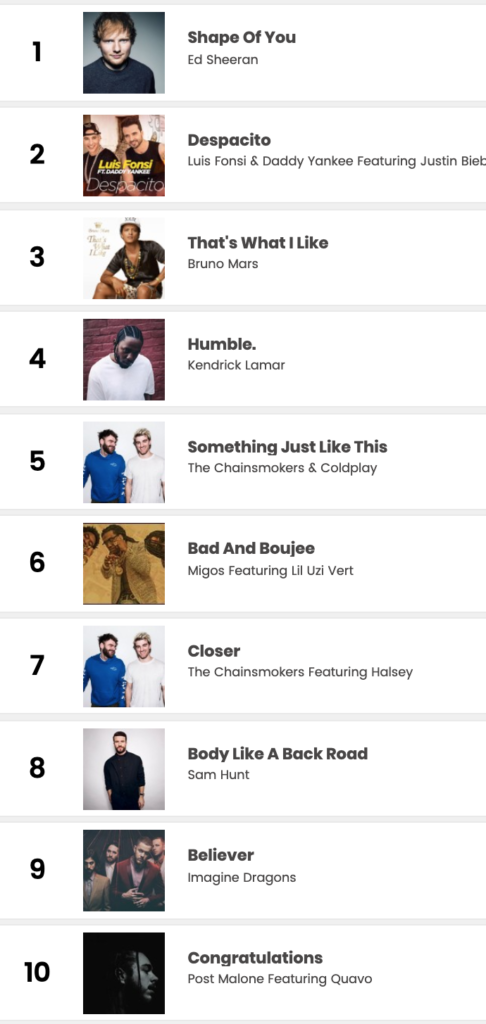 There is no better party song than one that you can only remember a few words to and have to mumble and guess the rest. "Despecito" is that song. Such a super fun song with some great Latin flair to it. Another great country song in "Body Like A Back Road" made its way to the top 10 as well! Such a catchy song. And, doth my eyes deceive me? "Closer" by The Chainsmokers has made it not only to the list, but on the top 10 for the SECOND year in a row. Definitely deserved. And for those who are more hip-hop inclined, you can't come to the end of a wedding reception still without playing "Congratulations" by Post Malone. Lastly, Bruno Mars keeps up his streak of awesome songs with "That's What I Like". Is it still considered ancient to call something "groovy"? Because it's groovy.
2018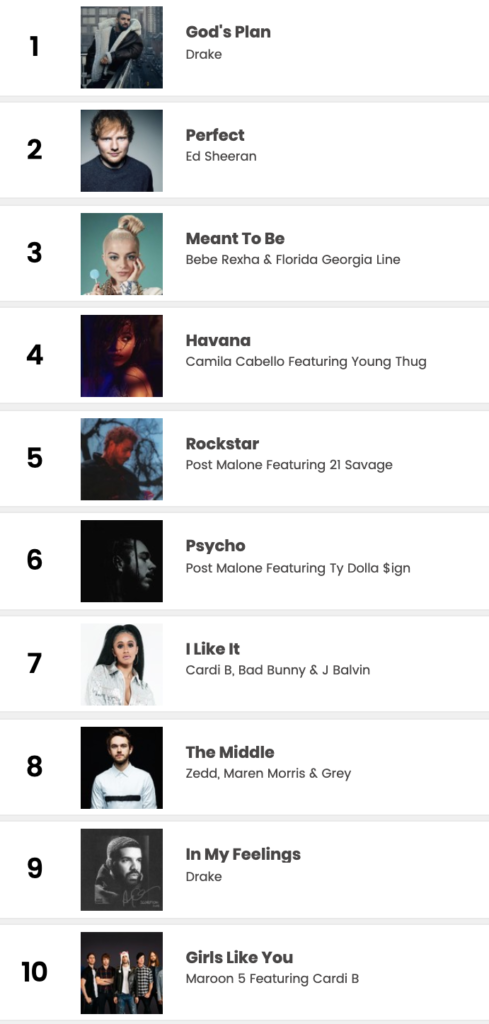 Do you like dollars? Do you like diamonds? If you answered yes to both of those questions, we hope you enjoyed "I Like It" by Cardi B. Another super popular party song with some Latin notes borrowed from its predecessor "I Like It Like That" by Pete Rodriguez (which is just as good, go give it a listen). Ed Sheeran is back at it again with "Perfect", which is another slow dance/first dance song which, along with "Thinking Out Loud" will make him super-rich based on those two alone being played at weddings forever. "The Middle" by Zedd was another widely popular song with just about all ages, and still is. Fun fact, the song was first popularized by being used in a Target commercial. Drake and Post Malone (the latter gaining a ton of popularity since the year before) hit hard with two songs each in the top 10!
2019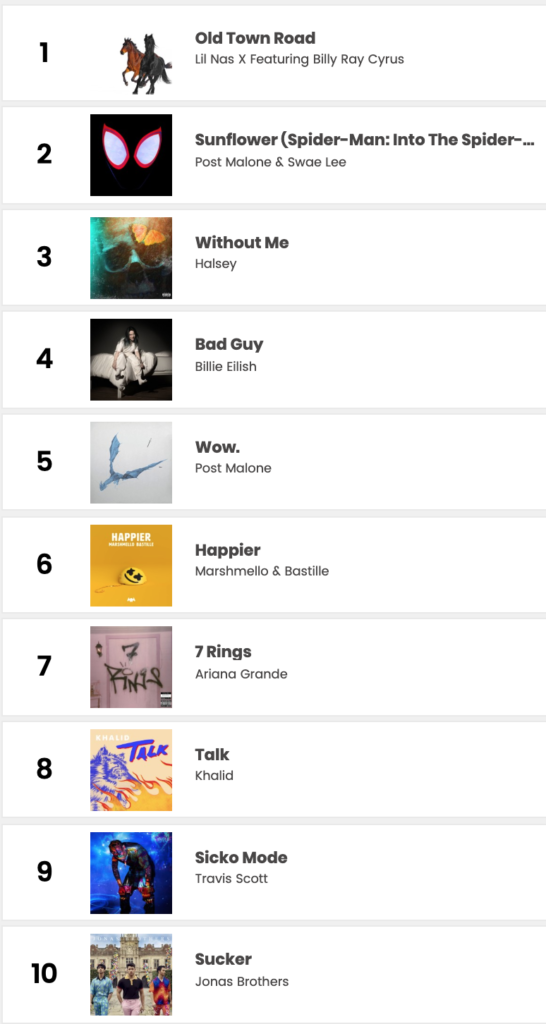 And NOW for the last year of the 2010s decade, and it doesn't disappoint! "Old Town Road" was probably the BIGGEST hit of the year, so there is no surprise at all as it tops this list. You can't go anywhere without escaping the horses in the back! Post Malone delivering another big hit with "Sunflower" at #2 from the soundtrack to the insanely popular film Spider-Man: Into the Spider-Verse. The resurgence of the Jonas Brothers (can I get some middle school nostalgia please?) with "Sucker" being their biggest hit, but many more still delivered throughout the year. And who wouldn't want to get up and floss along to "Sicko Mode" or "Bad Guy" at a party? Wait, you don't know how to floss yet? Learn how immediately. It will embarrass your kids. Or they will idolize you. Either way, it's a win.
That rounds out the Top 10 songs on the Billboard Chart every year throughout the 2010s decade! Spot any favorites? Remember something that you haven't heard in a long time and are going to go scream at the top of your lungs in the car by yourself? Just us? Either way, the 2010s brought us some AMAZING music. Many top-scoring, ground-breaking songs we will be playing at weddings for the next few years! Who knows, maybe some of these songs will be requested like they way your dad does at a wedding when he screams "PLAY FREE BIRD!" and instead we will be hearing ourselves yell "PLAY SICKO MODE" (but we already have kids screaming that at us). We look forward to the next 10 years bringing us more amazing music, and the memories they associate when we play them at weddings.
Happy New Year and New Decade!