Virtual fun backdrops easily change the vibe of your party to suit any occasion. If you want to celebrate a special event or wedding with friends remotely, you can turn a video call into a party by swapping out your physical background for a virtual one.
Fun virtual backdrops are a great idea if brides to be are seeking ways in sprucing up a wedding reception room. Backdrops are very popular for not only wedding receptions but also wedding ceremonies especially when someone is having their wedding at night. Brides and grooms want their wedding day to be a memorable one and adding this type of backdrop to any room will ensure memories of a lifetime. Whatever you're celebrating, fun virtual backgrounds can transform your party into a festive gathering.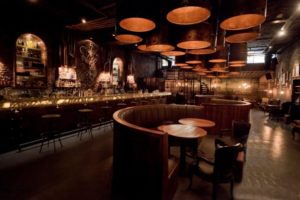 Virtual Parties Fun Backdrops
Virtual parties fun Backdrops can create an atmosphere of elegance for not only the top table at your reception but entire walls and can also make a beautiful background for pictures. Backdrops can also be utilized in sprucing up entranceways to the reception area. There are many possibilities of what can be performed with starlight backdrops.
Backdrops can be placed in restaurants, hotels, churches, and virtually anywhere, you are having your wedding ceremony and reception. The great things about backdrops are that they can be adjusted to hide unsightly walls or anything, which you are trying to hide. They are freestanding and truly set the mood for any occasion but are most popular for night weddings and receptions.
Lighted Backdrops have a wonderful feature of setting the lights on the fabric to static or twinkling. This feature adds a dramatic effect to the room and can turn your wedding or reception into a magical time for all who are attending. The backdrops are freestanding and can be utilized as a beautiful, stunning background for wedding pictures.
Outdoor party
This virtual party background will place you in the middle of a crowd celebrating outdoors, complete with hanging lights and a chill atmosphere.
Festive decor
This party background pulls out all of the stops with a balloon, confetti, some noisemakers, a glittery banner, and a pink sprinkle donut.
Dinner party
Whether you are celebrating a wedding or something else, this chic dinner party background will make you all feel like you are across the table from each other.
Cake and party favors
This party-themed background will put you in a celebratory mood with its colorful pink cakes, teal party hat, and confetti.
Happy wedding or happy birthday backdrop!
You can download this party background and set the mood by showcasing a red neon display of Happy Birthday right behind you.
Dance party
The dance party backdrop aids in putting a little pep in your step. Equally, you can add some music and you have got a virtual dance party in no time at all.
Party balloons
This party background says it all with a collection of colorful balloons hanging over your head.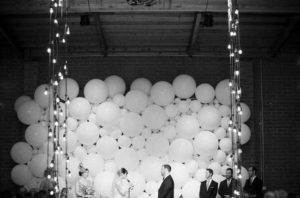 Champagne celebration
Celebrating your wedding might include popping some bubbly, so cheers to this champagne party background, complete with two glasses, a bottle of pink champagne, and elegant lighting.
Pink wedding cake
This pink wedding cake background features a bouquet of flowers and a rose-colored cake complete with swirly candles.
DJ set
What screams party more than your own virtual DJ? This DJ party background with colorful lights looks like you're right in the middle of the action.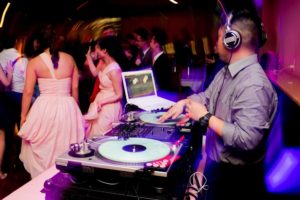 Sweet pup party
What's better than celebrating your special event? Celebrating with them and your pets!  This virtual party background is paw-some.
In a nutshell, the above are the most fun Backdrops for your virtual parties
Complete Weddings + Events in Fort Lauderdale and South Florida Areas
If you're planning a wedding in Fort Lauderdale, FL, then you've landed at the right place! Now that you've said YES! to spending your life together, you have some exciting decisions ahead. At Complete Weddings + Events planning, wedding events are what we do best.  Complete Weddings + Events, Fort Lauderdale's leading provider of event and wedding photography, videography, lighting, DJ services & photo booth rental.