I am no expert on wedding themes and décor, but after working with thousands of brides and grooms at their weddings over the years I have made a list of my favorite wedding themes. It is perhaps the most difficult thing to decide on a vision for the wedding. Executing is perfectly, right down to the details is even a bigger challenge.
It is important that everyone and everything is on the same page as you. That is why I have compiled a wedding theme dictionary as a go-to guide for an epic wedding extravaganza! It will really help you in picking the perfect vision for your own wedding.  Let's get started with the planning and choosing your Favorite Wedding Themes!
Favorite Wedding Themes
Metallic Opulence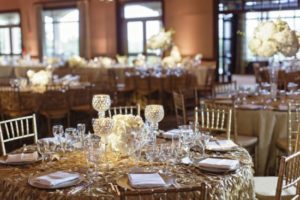 This wedding theme is all about being flashy with a metallic vibe going on. It's a bit of glitz and a bit of glam. Art déco architecture meets the 1920s American spunk! Imagine sequined tablecloths, feather centerpieces and geometric art décor as finishing touches. You can also add a champagne tower in the center as a major piece to make the theme more lavish.
I imagine it to take place in a historic museum for an affluent and art deco ambiance. Play energetic jazz music in the background to bring life into the party. Don't forget to have live performances to keep the guests swaying.
Bohemian Bash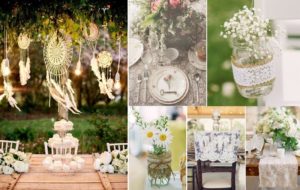 I think every other wedding that I have seen has been a boho wedding. There is something about the bohemian theme that never makes it boring. It is incredibly minimal and looks ultra-chic! The décor is more organic and humble but at the same time, it is pleasing to the eyes. The best thing about it is the color theme. You can coordinate any soft color palette to go with the garden vibe.
Envision a nomadic and tribal feel with a bit of modern chic in a botanical garden. It is all about mismatched colors and dresses, ensuring the décor doesn't look too organized. Even the bridesmaids' dresses can be mismatched and would make perfect sense with the bohemian soiree. Add some wispy and wild floral arrangements here and there to add some major boho feels.
Think of a cozy lounge area with comfortable straw chairs, white fabric to make a banquet, poufs, and tepees. Add fresh blooms around to match with a huge cake in the center as the final touch.
Whimsical Metallic Garden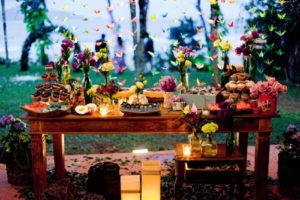 A whimsical wedding theme is a combo of boho and nature topped with a fairytale crown. It's more like you are inside a storybook but in a tasteful and elegant way.
It an enchanting garden party in Alice's Wonderland! Start off with the invitations giving your guest s a glimpse of the fancy theme. Play with words and fairytale inspires patterns. Gather stuff like mismatched dishes, bridesmaid dresses and go crazy on the photo booth. Add teapots, vases and vintage furniture to complete the vibe to make everything appear unique.