When it comes to your wedding, every selection sets a mood. The most direct way to create the atmosphere you want is by choosing the right song. Selecting the music throughout your ceremony and reception produces a unique experience for your guests. Picking the best song for your most important events conveys your personal connection. It can also break the tension many people feel when it comes to dancing or joining in on a bouquet or garter toss. To help you pick the right song, we have compiled a list of the Best Songs for Your Most Important Wedding Activities.
Best Songs for Your Most Important Wedding Activities
Father-Daughter Dance
If you are looking for a heartfelt song to share the bride's love for her father, a great pick is "I Loved Her First" by Heartland or "Because You Loved Me" by Celine Dion. Chuck Wicks's song "Stealing Cinderella," a song about a father's love for his daughter as she grows up, provides a father's touch instead. For a more light-hearted number, "My Girl" by the Temptations is a popular and sweet song to dance along to.
Mother-Son Dance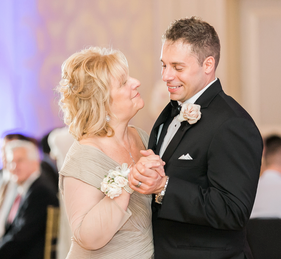 Like the father-daughter dance, there are several choices to illustrate a son's love and appreciation for his mother. A good choice is "How Long Will I Love You" by Ellie Goulding or "Like My Mother Does" by Lauren Alaina. From a mother's point of view, Trace Atkins's tune "Then They Do" provides the feeling of watching a child grow up to where they are now. Lastly, Tim McGraw has a beautiful song about what he learned from his mother called "Humble and Kind" that provides a great homage to the groom's own mother.
Bouquet Toss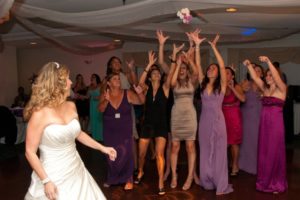 The bouquet toss is for all your ladies at the reception. Fittingly so, a female-focused track is best to pull everyone on the dance floor. "Girls Just Want to Have Fun" by Cyndi Laper is a classic that gets everyone about jumping for your flowers as they dance along. "This One's For the Girls" by Martina McBride provides an upbeat atmosphere as well with a great indication of who you are targeting. Finally, "Uptown Girl" by Billy Joel is a little more casual but still a fun number to get your friends ready to leap after your beautiful bouquet.
Cake Cutting
For cake cutting background music, a fun song tends to relieve some of the pressure of the guests and photographer and creates a light-hearted atmosphere, especially if you decide to shove pieces of cake in each other's faces. To set the best mood, a sweet themed tune like "Sugar, Sugar" by The Archies is played for a dessert-oriented and loving setting. Other great songs like this include "How Sweet It Is (To Be Loved By You)" by James Taylor and "I Can't Help Myself (Sugar Pie, Honey Bunch)" by Four Tops.
Garter Toss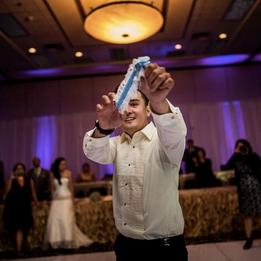 With the garter toss, there is a variety of tones you choose from. For a sensual environment, "You Sexy Thing" by Hot Chocolate is a perfect choice. "Death of a Bachelor" by Panic! At The Disco allows a dramatic and funny scene, which helps keep the couple feeling less awkward during a more intimate activity. Redbone's "Come and Get Your Love" achieves a literal approach as an instruction to the groom. Finally,  "24k Magic" by Bruno Mars is a very upbeat song to turn the toss into a fun dance number.
There are many choices out there that fit your wedding needs. It's your personal decision whether to choose sweet and heartfelt songs or dance numbers for great group pictures. The most important part is to select the best number for how you want your guests to react to guide your reception in the right direction. The beat of the music guides your guests through your expectations all night long.
Complete Weddings + Events in Fort Lauderdale and South Florida Areas
If you're planning a wedding in Fort Lauderdale, FL, then you've landed at the right place! Now that you've said YES! to spending your life together, you have some exciting decisions ahead. At Complete Weddings + Events planning, wedding events are what we do best.  Complete Weddings + Events, Fort Lauderdale's leading provider of event and wedding photography, videography, lighting, DJ services & photo booth rental.