Some love to claim that a wedding is actually the 'bride's day', after you say 'yes' to your soon-to-be husband, many can't help but begin thinking about their wedding look. There's the wedding dress, the veil, the accessories. And then there are the shoes! With thousands of options out there, most brides are left with one confusing decision to make – bridal heels or flats? Can't decide what bridal shoes to flaunt on your wedding day? Let us help you with that!
Flats vs Heels: Wedding Shoes
Wedding dress
Let's first talk about your dress. Generally speaking, bridal heels are recommended if you'll be wearing a floor-length dress. Stylists do suggest having your wedding dress hemmed to the shoes' length to ensure it won't be bustled when you're walking around or dancing in the reception. Heels are modern, stylish, and can make you look stunning. But let's get real, most of them are not totally comfy to wear for several hours. There are pencil heels, plum heels, block heels, and so on. Choose one you're most comfortable with.
If your dress is heavily embroidered, you might want to consider going for flats for comfort. What about knee-length dresses or styles wherein your feet will be exposed? Heels or flats both work. As for style, if you got a Victorian-era neckline and fitted sleeves, heels are better. If you're going for a casual chic or minimal Boho style, then flats can be a great choice.
Matter of height
If you're bothered about a height difference between you and your other half, this is something to think of. Do you want to look shorter than your groom on the wedding day?  Go for flats. Just make sure that you're confident enough with it because flats often have the impression of making you look too short or frumpy.
Not concerned about the height difference and you've been eyeing that stunning plum heel wedding shoes? Get that sweetie! If you're having a hard time choosing, trial wear before the wedding will do that trick.
Personal style
Wedding dress and height aside, it's always best to wear shoes that celebrate your unique personal style. Do you have an outdoorsy or country style who loves keeping it simple? Or, a free-spirited soul who likes the bohemian ease? Bridal flats would be perfect for you. Do you have a sophisticated vintage style or you're more of a glam, romantic lady? A pair of bridal heels can add a dose of modern elegance to your personality.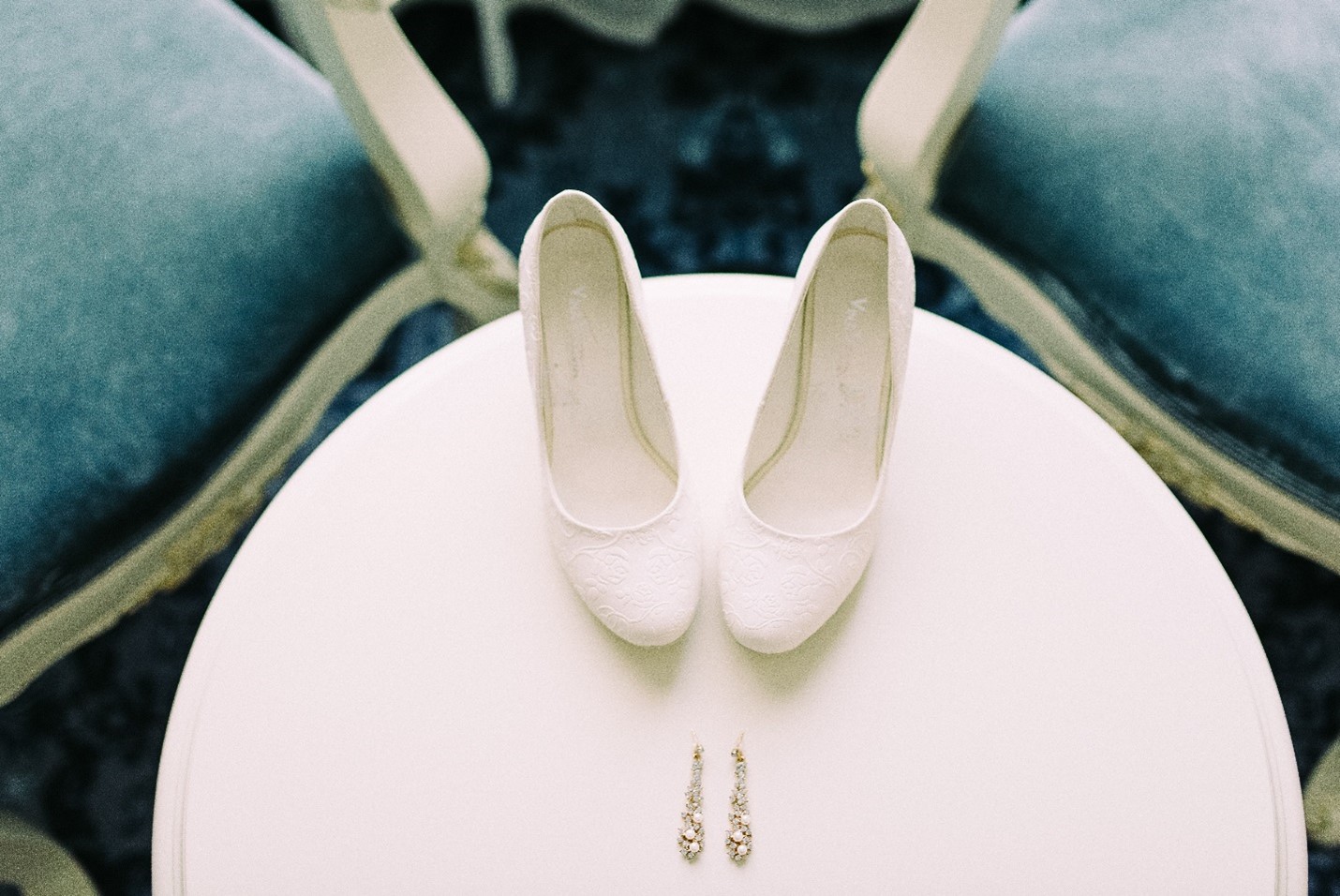 Why not go for both?
Most modern brides today choose to get the best of both worlds. If you are buying two gorgeous pairs of bridal wedding shoes is something you can afford, why not right? Brides commonly use their heels for the ceremony then change to flats on the reception so they can have more fun dancing.
With that being said, always remember that there are no hard and fast rules when it comes to what type of bridal shoes to wear. It's totally up to you and you only. Just take little notes of our tips here and you'll surely end up with the best pair to enjoy your big day!
Complete Weddings + Events in Dallas
You always have the freedom to have the wedding that you've been dreaming of. But still, always have a realistic wedding budget to avoid drowning yourselves in debt. Special moments such as these aren't defined by money. Spend your money the right way and just make the most out of your wedding day! Need help planning your big day? Don't hesitate to contact us here at Complete Weddings + Events!
Dallas's leading provider of event and wedding photography, videography, lighting, DJ services & photo booth rental.