Besides the engagement ring (duh), what should you wear to your own engagement party? First of all — you can wear whatever you want. There can be a ton of pressure on what you wear to your own wedding. Dont let dressing for your engagement party stress you out. Treat yourself to some stress-free style for your own engagement party and be yourself.
What to Wear to An Engagement Party as The Bride to Be
Even if it's a surprise engagement party, rest easy knowing that you are wrapped in the aura that comes with unique oval engagement rings and fresh proposal stories. If you were wearing shorts and a tank top when the proposal went down and your whole friend group sprang from the shrubbery and you got swept up in an impromptu celebration, don't worry about violating the dress code. Girl, you are the dress code.
If the engagement party is planned or you have a chance to stop back by your home and change, here's how to make the most of the opportunity. There are as many different options as there are proposals. However, ideally, your engagement party outfit will accomplish the following.
Things To Consider
It should set you apart from your engagement party guests without making you look out of place.
If the wait staff is breaking out the bubbly, there should be no doubt where the first champagne flute should be headed. When people are looking at pictures, they should be able to determine who the fiancée is. That doesn't mean you have to wear a ball gown and drink out of an "I Said Yes" mug all night. However, you do want something that acknowledges the fact that, yes, this is a party in your honor.
It should look good in photographs.
Be prepared for lots of photographs. Don't wear something that isn't flattering just because you don't think it says "betrothal." Pick something that you look good in. That isn't likely to betray you. There are going to be like a thousand pictures of people pointing at your ring with gasping faces. You don't have to tack on a wedding veil to drive the point home.
If you are already nervous about wedding photographs because certain shades of white don't do you any favors, don't feel like you must double down by wearing one of them to your engagement party. Also, if jeans and a mardi gras polo is your style, don't worry about being bridal. Enjoy being you. Your style has clearly won over at least one lifelong admirer.
Your engagement party outfit should fit the venue.
If the party is somewhere where jeans make sense, wear jeans. If you are out on a boat, don't stubbornly stick to something with heavy lace when you have the option to wear breezy white linens.
Now that we've got the standard requirements settled, let's look at some of the most pleasing options.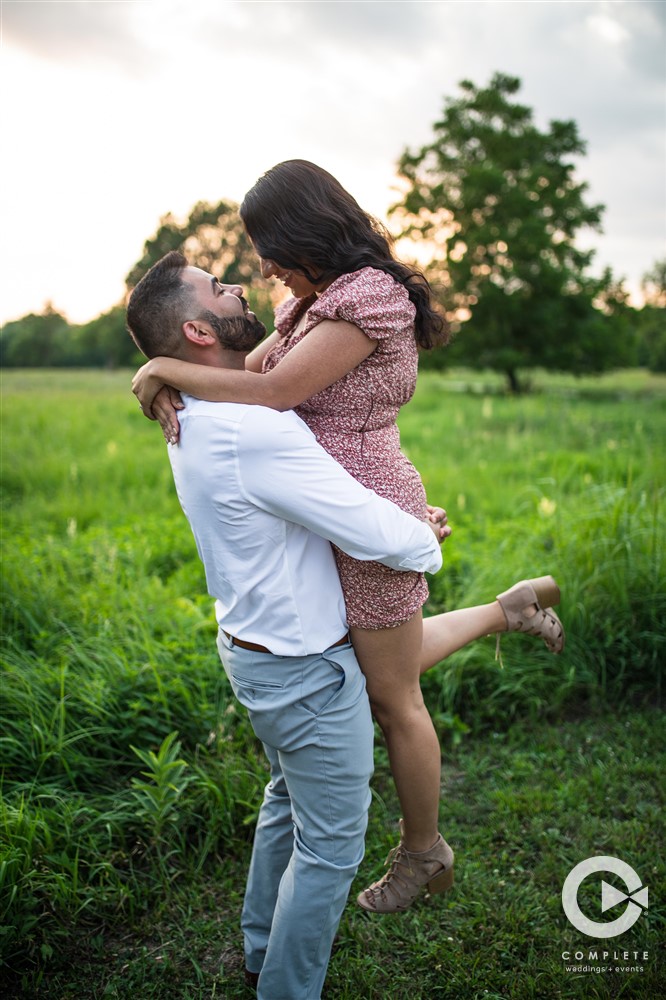 Outfit Inspiration
Traditional Choice
A traditional choice would be a white dress with super-feminine details — ruffles, lace, etc. Take the vibe of the setting and select something slightly fancier than the average attendee. So a white, eyelet dress for a garden party … a white cocktail dress for an evening event … you get the idea.
Wedding Preview
Wearing a white dress is certainly one way to nod at the upcoming nuptials. However, it isn't the only avenue to do so. This could be a chance to unveil some of those wedding colors or test out a bridal bracelet.
If future bridesmaids are up for it, you can see what color works best for the group. Don't make the bridesmaids feel like something was deliberately picked to make the bride look good at the bridesmaids' expense. You can dress in theme, but just give yourself an extra accessory.
Engagement Ring Callback
If this is your first time really stepping out since you added an engagement ring to your ensemble, play it up. Do you blush every time you catch a glimpse of the rose gold encircling your finger? Lean into it. That engagement ring is going to be in the background of photos for years to come, so enjoy finding out what works best with it as the focal point.
Multiple Outfits
Don't limit yourself. Multiple outfits are all the rage at weddings these days. Get into practice with a few costume changes at your engagement party. Wear something suitable for an engagement party photoshoot, and then slip into something more sensible for the rest of the evening as you relax and celebrate with your friends.