The modern wedding arch comes from the Jewish "chuppah," the four-post canopy Jewish couples stand under at their ceremony. In the most basic sense, the arch symbolizes the home you two are beginning a family in. Your wedding arch is also a key design element in setting the tone of your ceremony. It can be romantic, modern, whimsical, or whatever you like.
Framing your "I do's" with a beautiful wedding arch can be daunting if you aren't sure what design you want! Thankfully there's plenty of inspiration online, like these wedding arch ideas by ProFlowers. Begin by deciding the types of material with which you'd like to decorate your arch: flowers, greenery, fabric or other special accents. Here are a few other ideas to get you started.
SaveSave
SaveSave
SaveSave
SaveSave
SaveSave
SaveSave
SaveSave
SaveSave
SaveSave
SaveSave
Romantic Arch
Go traditional by decorating your arch with lots of big flowers. Light pink and white flowers are timeless choices. We recommend dahlias or hydrangeas for their soft, delicate petals. Cluster the flowers at the top of the arch and use more greenery towards the bottom. This will add height and visual interest to your arch.
Leave no part of your arch uncovered for a seriously stunning focal point. You will look and feel straight out of a fairytale with this design!
Old Vineyard Arch
This is a great design for rustic weddings. Upcycle old furniture like a large window frame and arrange it into an arch. The aged wood will right into a countryside aesthetic. Decorate the arch with flowers to match your bouquet, though use them sparingly with this design. You want the unique arch to be the focus.
Try draping lemon leaves or ivy around the edges of the arch. Sprinkle rose petals underneath where you will be standing to create a small stage for you and your boo. So charming!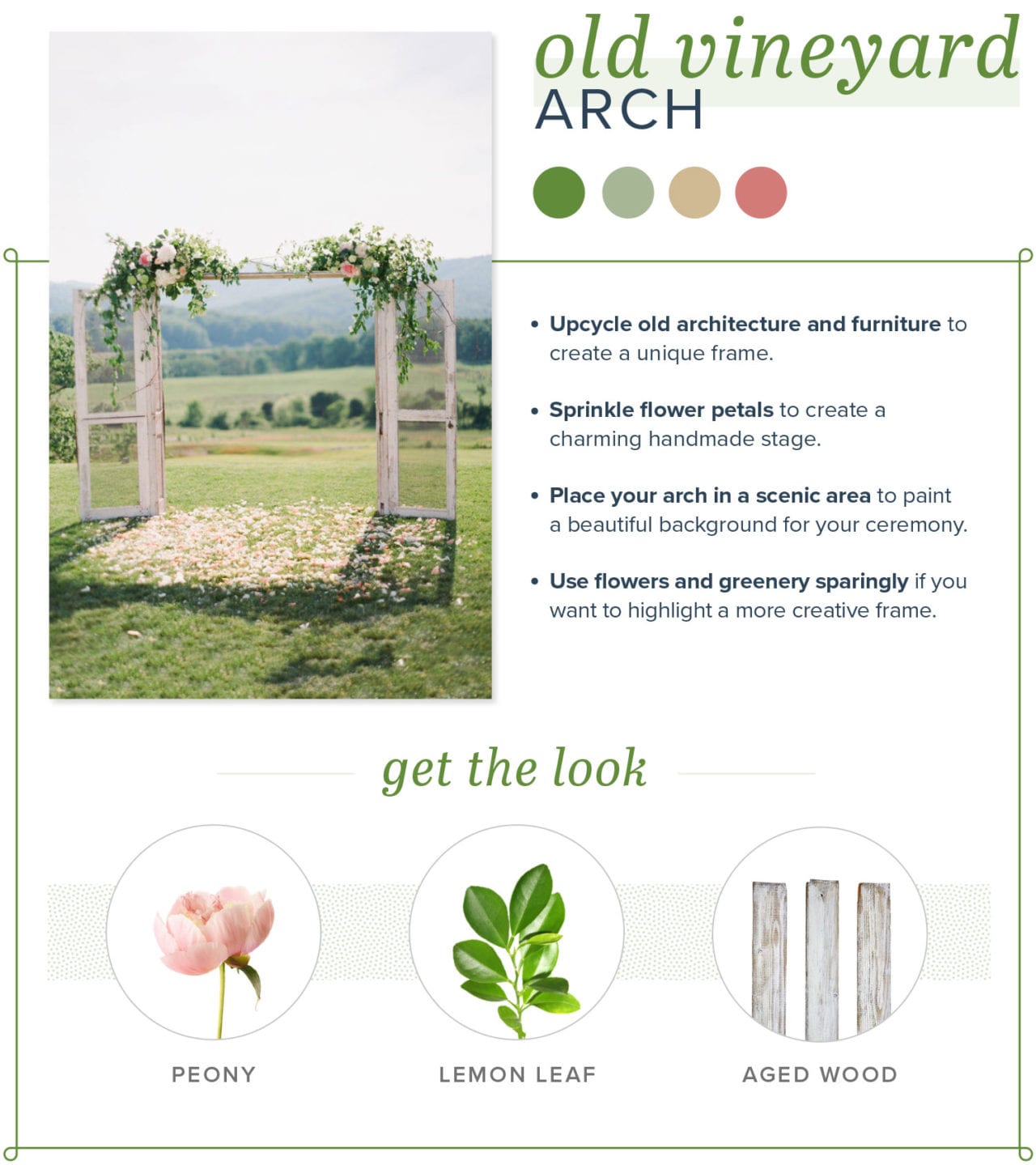 Typography Arch
For a modern and playful display, go with a typography themed arch. Pick up or make your own typographic display to hang in the middle of the arch. It could be you and your spouse-to-be's initials, wedding hashtag, or simply "I Do." Spray the final product with a metallic paint to make it pop!
To finish this arch display, keep things simple. Decorate the aisle with candles or sparse greenery that will lead the eye to the front. Carry the metallic theme throughout the ceremony by painting some foliage to accent.
The wedding arch can set the mood of your wedding ceremony, so it's worth putting thought into. Create the perfect backdrop for your and your sweetie to share your vows by DIYing it!
More Wedding Arch Ideas
Check out ProFlowers' full wedding arch guide for more ideas to create your own custom altar!