Spring is almost here, and romance is in the air. Spring is the time of renewal, hope, and wedding season! Nothing speaks to that feeling quite like the vast array of spring blooms that break forth this time of year. With seemingly endless options of beautiful florals, you have your pick of flower possibilities for your special day.
Florals for a Spring Wedding – Bursting with Options
Whether your dream bouquet is an assortment of locally handpicked flowers or a made-for-you floral design, there's no shortage of spring blossoms to choose from. Traditional spring flowers are in stock everywhere making them an easy selection for your bouquet, but if you have some non-traditional blossoms in mind you're not out of luck. Florists love variety, and you'll be able to find what you're looking for if you shop around. To help you decide what florals you want to include for your spring wedding, here are some of our favorite spring flowers:
Pretty Pastels:

May and June are made for soft pastels, and many of the seasonal favorites in the floral industry are available to add a delicate, romantic touch to your wedding color palette. Garden Roses, Peonies, Stephanotis, Hyacinths, Lily of the Valley, Cherry Blossoms, and Primrose are all flowers that come in soft shades of pink, cream, and white — perfect for a

spring wedding

.

Cheerfully Bright: A pop of bright color will complement the joyful energy at your spring wedding! Daffodils, Tulips, Muscari (Grape Hyacinths), Ranunculus (Buttercups), and Lilacs are all bright choices that can liven up your wedding bouquet.

Make Flowers Your Destination
If you're having a destination wedding or are just in love with a particular landscape, there are flowers for those occasions, too. Here are a few points to get you started, whether you're going for burlap boho or beachy beauty:
Southern Charm:

Evoke the old-school elegance and hot sun of Southern charm with traditional blossoms characteristic of the South for your bouquet. You'll be the belle of the ball with florals such as Magnolias, Dogwood Blossoms, Anemones, Gardenias, Dahlias, and Azaleas. Classic colors and natural beauty are the cornerstone elements to these flowers.

Tropic Splash:

Sandy toes and exotic flowers are a perfect match for your beachy

spring wedding

. Springtime tropical flowers include Orchids, Anthurium, Lilies, Freesia, Africa Violets, Birds of Paradise, and Hibiscus. With a backdrop of blue water and white sand, the vibrant colors of these hot-weather flowers put a bright spotlight on the happy couple.



Country Classic:

Celebrate a rustic

spring wedding

with some countryside classics for your florals. Tea Roses, Sweet Pea, Gerber Daisies, Hydrangeas, and Peonies all make a beautiful bouquet for a country bride.

Daring Desert:

When your heart is captured by the wild, a spring desert wedding brings adventure to your big day. Cacti, succulents, California poppy, Desert Sand Verbena, and Desert Marigold create a unique bouquet reminiscent of desert sands.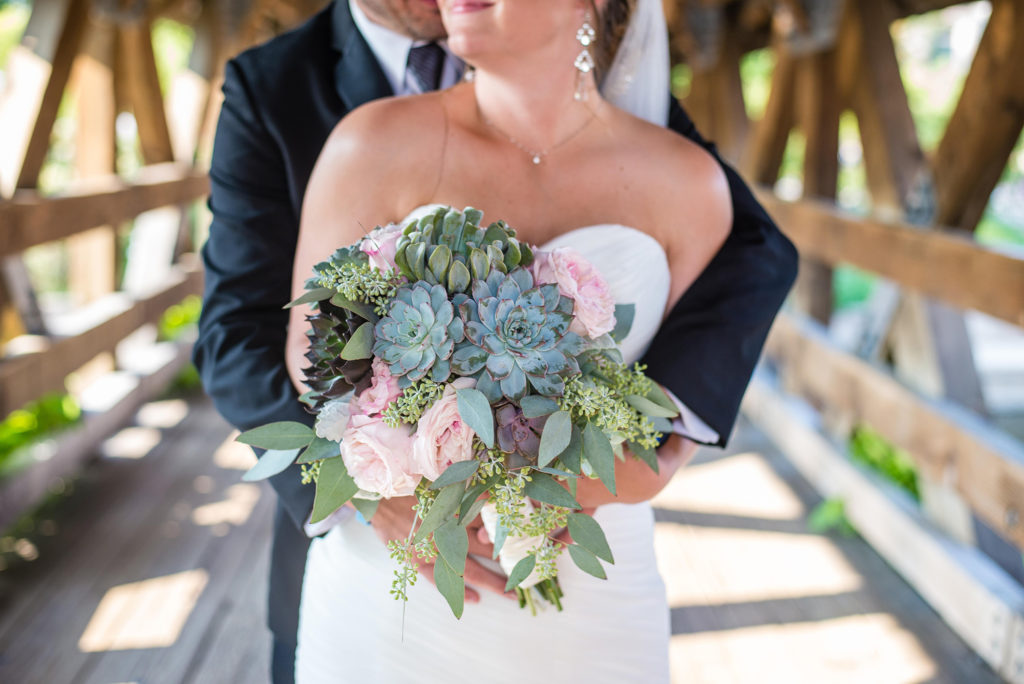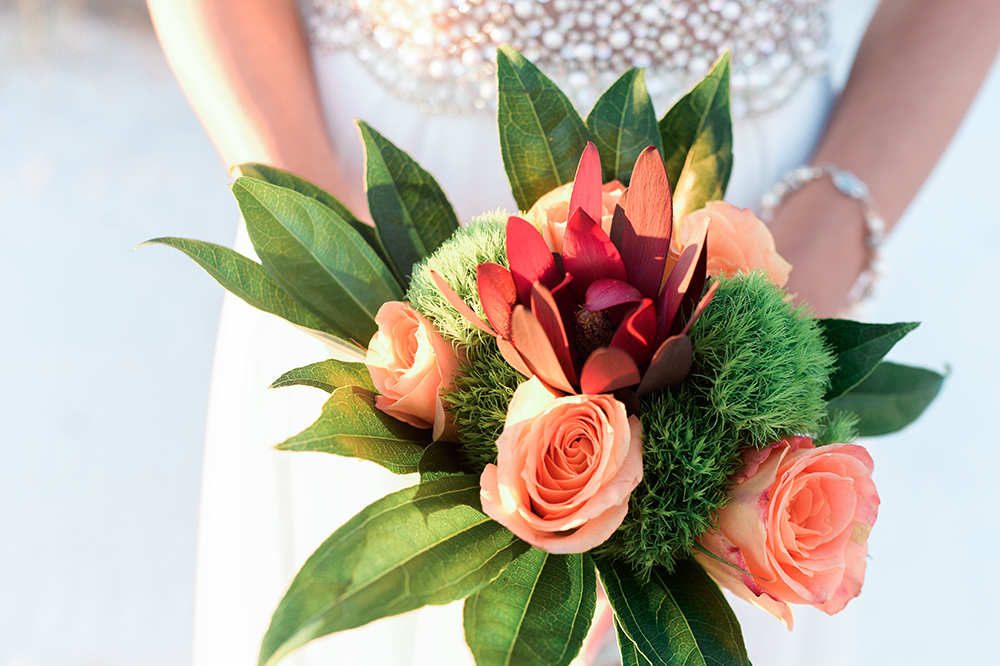 Gathered in Style
Now that you have an idea of the flowers available, you have to decide how you want to put them together in a cohesive bouquet. It can be hard to choose between your spring flower favorites, but we have you covered. Below are some of our favorite floral styles with suggestions of the ideal spring flowers for each. Whether you choose to stick to one or pick and choose from each, you are sure to create the bouquet that is perfect for your day!
Traditional:

If you are looking for a traditional spring bouquet, then a collection of white flowers is stunning. Garden roses, Lily of the Valley, Gardenias, Stephanotis, Freesia, and Magnolia Blossoms are all beautiful traditional choices. With a touch of soft greenery tucked around these spring beauties, you can be sure that your elegance will shine.



Romantic:

Romance fills the air when you create a bouquet of pastel spring flowers. Peony, Lilacs, Sweet Peas, Ranunculus, Garden Roses, and Primrose, are all excellent choices for this style. Add in a bit of dusty, muted greenery and your bouquet will surely have everyone falling in love with you.



Whimsical:

Spring flowers can show off your playful side and add a touch of whimsy to your wedding day. Finding the right combination is easy with the wide variety of florals available. Consider using Daffodils, Lilacs, Hyacinth, Ranunculus, Anemone, or Craspedia (Billy Buttons) for a colorful bouquet that is sure to bring a smile. Don't forget to add some long steam greenery, succulents, and Eucalyptus to keep things feeling light.



Modern:

For a chic look, spring flowers can create an eye-catching arrangement that screams "cool." Calla Lily, Peony, Stephanotis, Orchids, Iris, and Muscari are all options that bring a modern feel to your

spring wedding

. Bring it all together with some Eucalyptus greenery, some succulents, or if you are feeling daring, some palm leaves.

Bohemian: For a free spirited wedding, spring offers a selection of flowers that create the perfect natural feel. Tulips, Dogwood Blossoms, Freesia, Queen Anne's lace, Pussy Willow, Anemones, and Primrose can all bring that freshly picked style to your walk down the aisle. With a touch of deep green Italian Ruscus, you will carry the beauty of spring with you.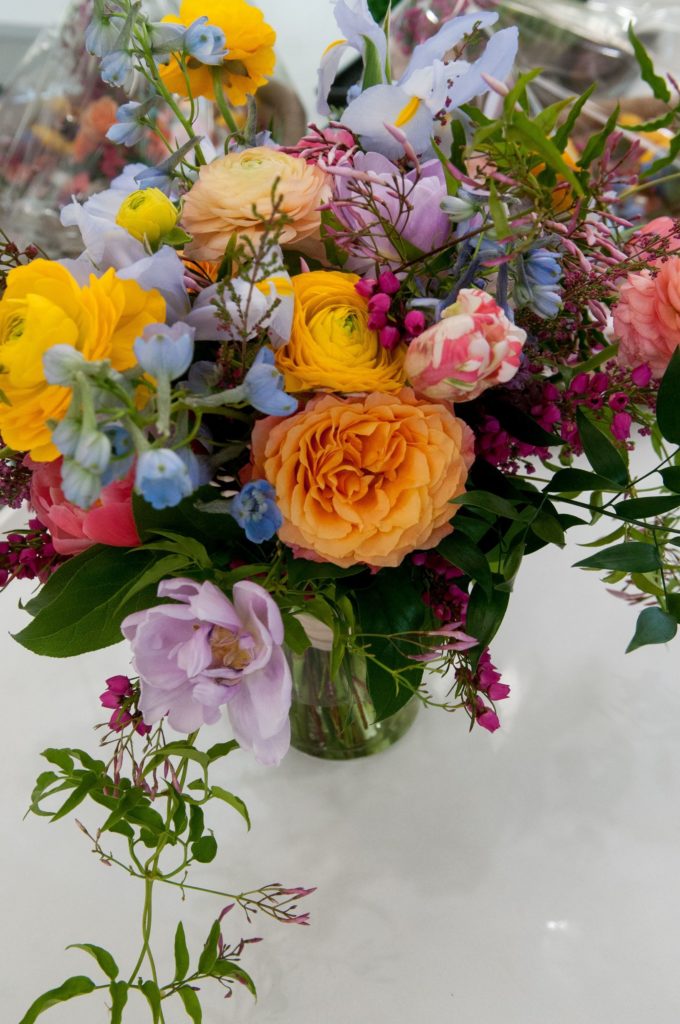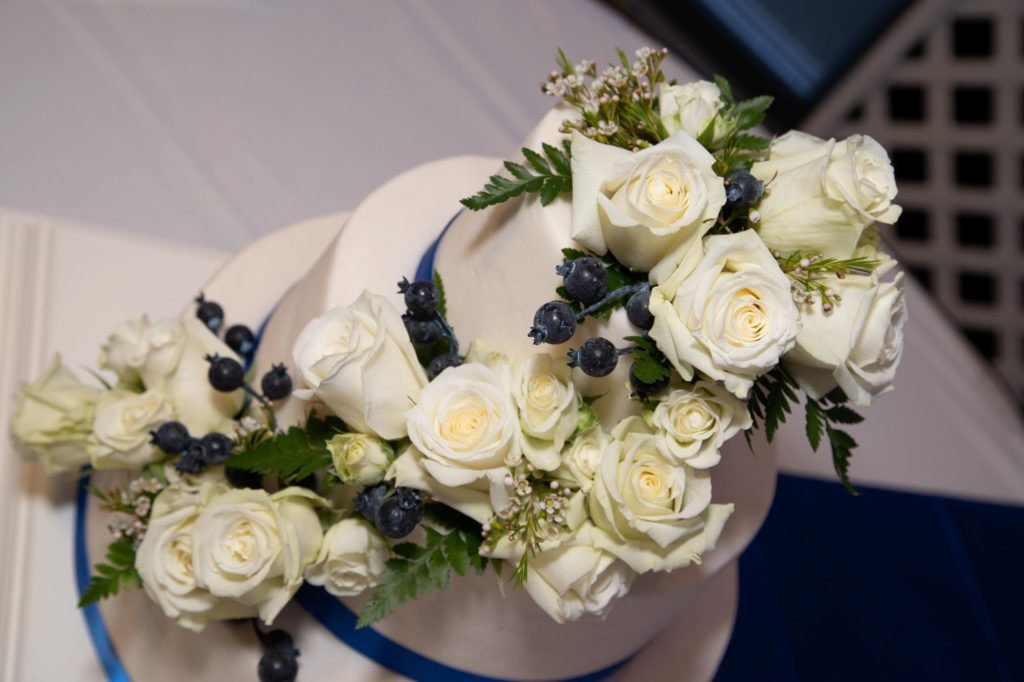 Budget-Friendly Blooms
While you may want to include all your favorite flowers in your wedding bouquet, the price can quickly add up beyond your budget. To keep your florist and your wallet happy, here are some simple tricks to stretch your options and get the florals you'll love.
Pick Seasonal Flowers:

Seasonal flowers are beautiful, fresh, and the most abundant on the market — at a lower cost, as a result! Tulips, Hyacinth, Peonies, Lily of the Valley, and Freesia, are all less expensive in the spring and can make up the bulk of your

spring wedding

bouquets.



Substitute:

If your favorite flower is going to break your budget, find florals with the similar feel or color palette to use in its place. The Ranunculus, for example, is a great alternative to the popular Peony or Garden Rose, complete with a full petal effect for a lush bouquet.



Focal Flower:

Picking one or two pricier blooms to take center stage in your bouquet and then filling the rest out with a lower priced option is one way to keep the costs down. Garden Roses are more expensive than traditional roses. Using some of both can allow you to get the look you want at a lower price.



Go Simple:

Smaller bouquets bring simple beauty to a wedding, so don't be afraid to pare back a little. Choosing your favorite flowers in a smaller amount may be the best way to get exactly the flowers you're looking for while sticking to your budget.



DIY:

Spring is the perfect time to build your own bouquet. Spring flowers grow in abundance in many places… for free! All you need to do is pick and assemble the bouquet of your dreams. However, be aware that taking the florist out of the equation means you'll have to care for the flowers yourself and keep them fresh until your wedding day.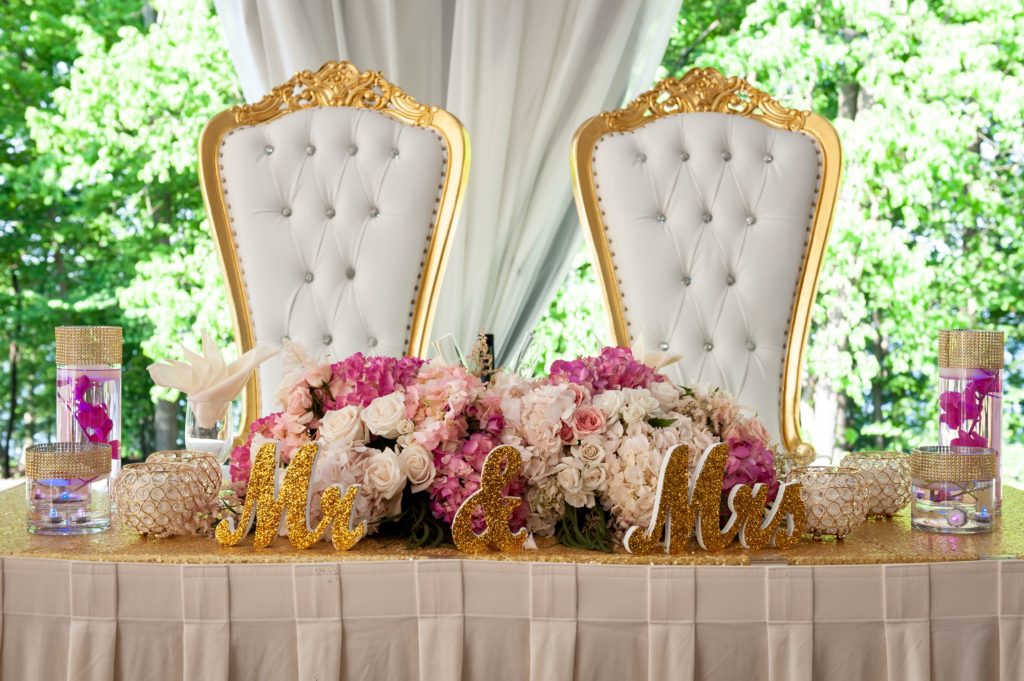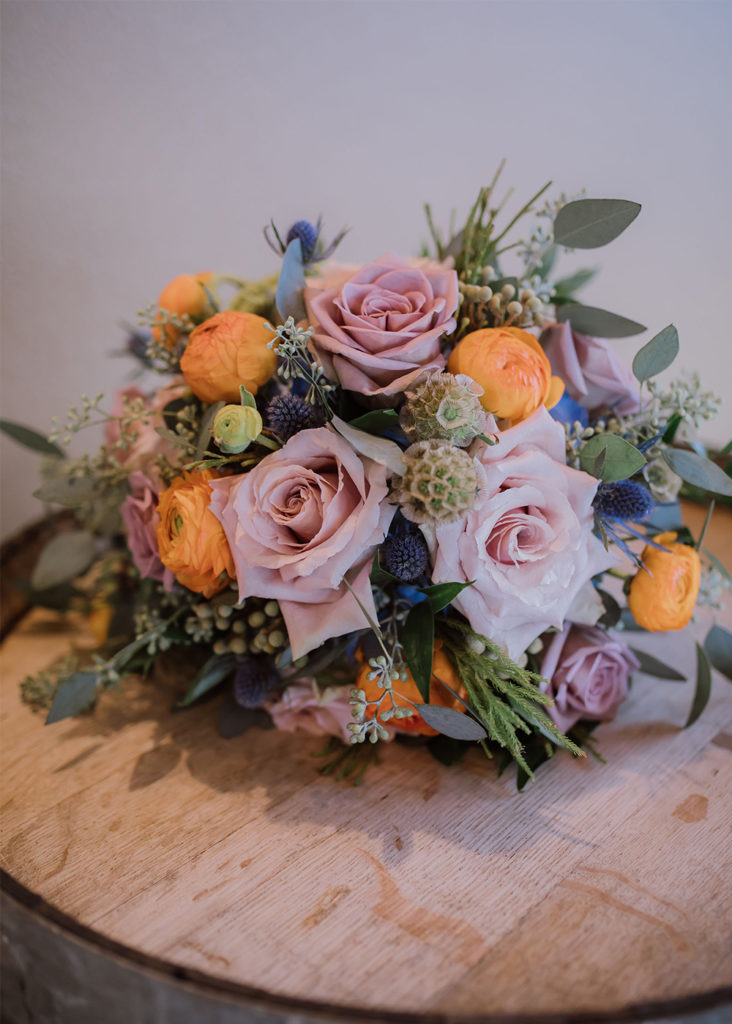 Choosing fresh flowers that you love will bring natural beauty to your spring wedding. These florals for a spring wedding will highlight the love you have for your partner and the hope you have in a new future together. For all your other wedding needs, check out the services we offer to make your spring celebration blossom!