The groom's outfit is often regarded as a complementary piece. A suit that works well with a wedding dress or matches easily with the other groomsmen. That doesn't have to be the case, but even if it is, there are plenty of opportunities to incorporate personal style in subtle ways. Here are some wedding day accessories for the groom that they can also personalize to show off their unique style.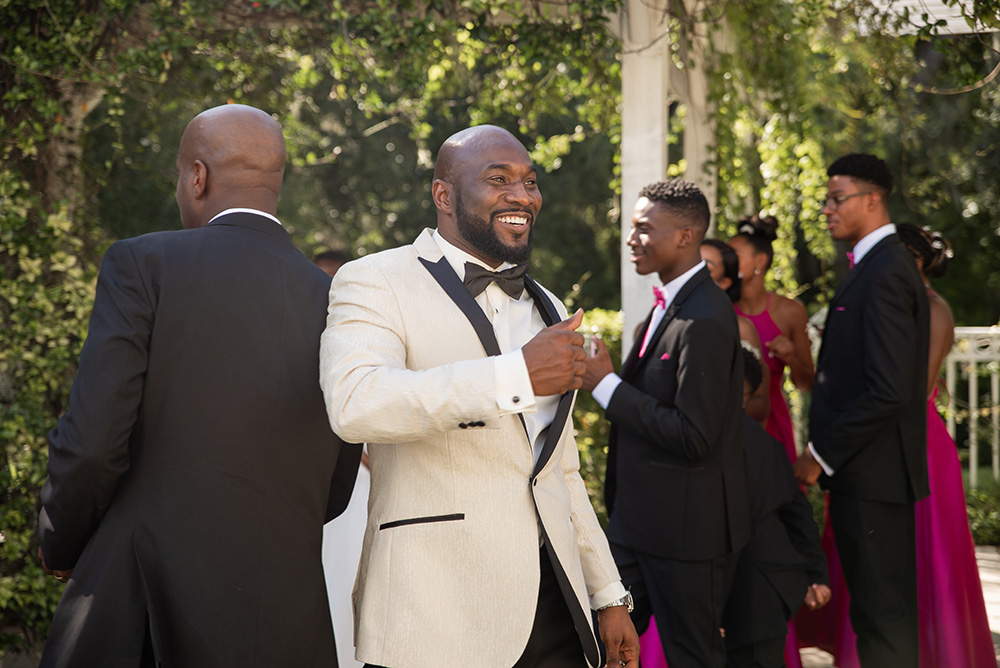 1. The Wedding Ring Itself
This is so essential that we hesitate to call it an accessory. However, the fact is that in addition to being a visible symbol of a lifelong pledge, it's also a fashion choice. Stir up the embers of that charcoal gray wedding suit with a rose gold men's wedding band. Or, make a statement by drawing on the full variety of materials available for men's wedding rings, from wood to tungsten to silicone.
2. Ties
This accessory can tie the wedding party together (pun very much intended) or it can set the groom apart. Like the wedding ring, it is a symbolic memento of the wedding that can become a regular staple of his daily wear. Anytime your groomsmen decide to don your wedding tie for future events, they'll harken back to the glorious little chunk of time around your nuptials. So choose wisely! Want to take that tie over the top? Raise the bar with a tie-bar or take a bow with a bow tie.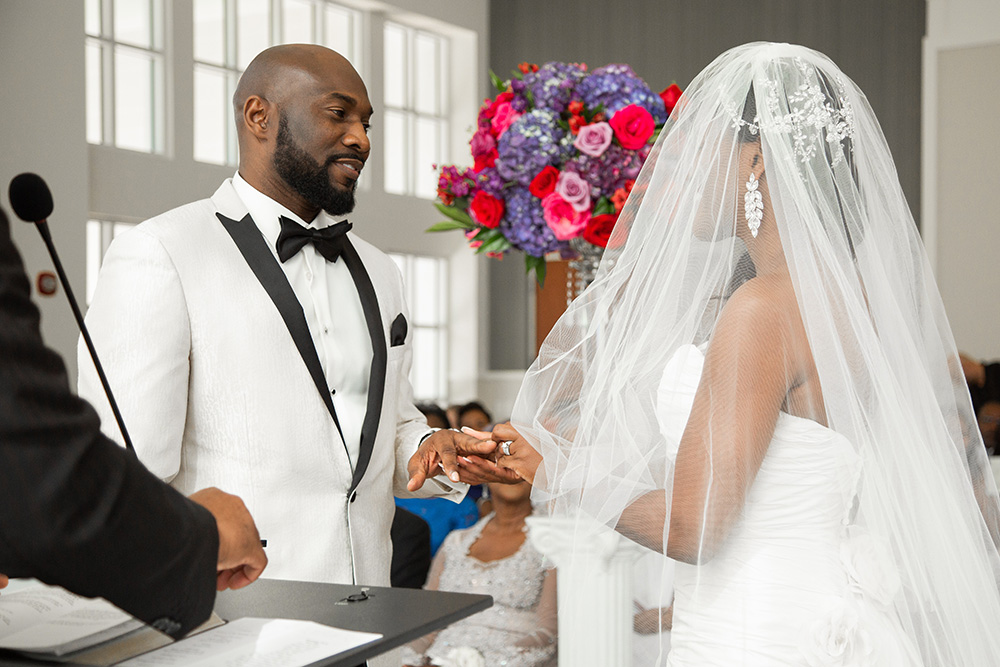 3. Belt
If the groom is wearing a tuxedo, or the kind of suit that is secured by braces or suspenders, then your list of essential accessories and etiquette just expanded. Hello, Cummerbund! However, if you are sticking with a belt, make sure it's trustworthy. Grooms typically have less garment management than brides. The entire list is pretty much this — just don't drop trou in front of all your friends and family. So if you are using the same old belt that is creased to the breaking point, switch it out for something sturdy and stylish.
4. Cufflinks
This is a chance to set yourself up for future fancy occasions. Therefore, don't be afraid to splurge on a nice set of cufflinks. You can also feel free to personalize them for the occasion with some initials or the wedding date. Or, indulge in a bit of novel whimsy — crocheted golf balls or something in the shape of a dinosaur.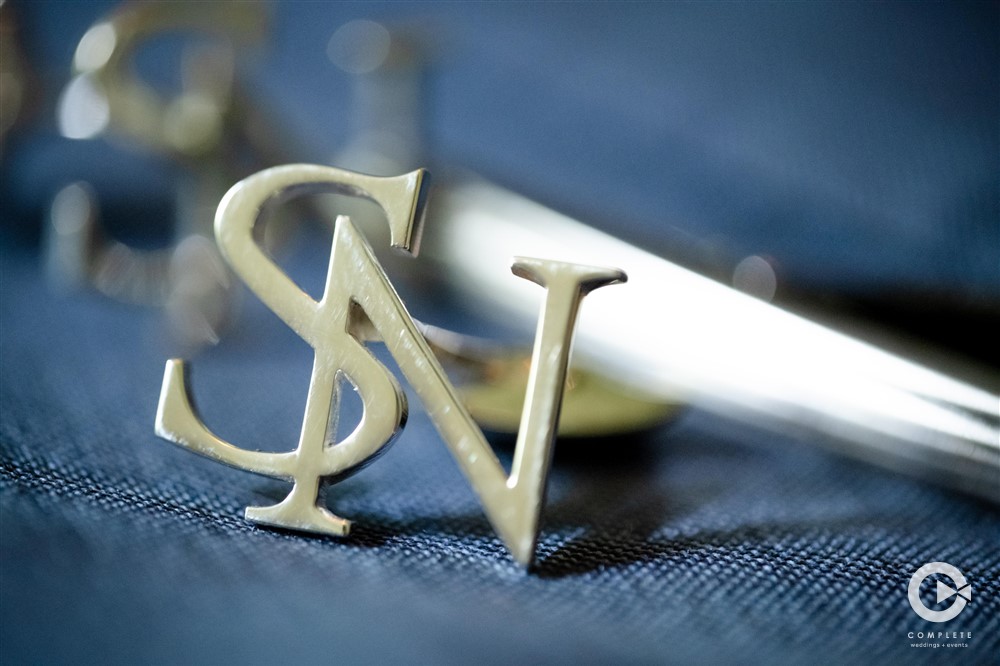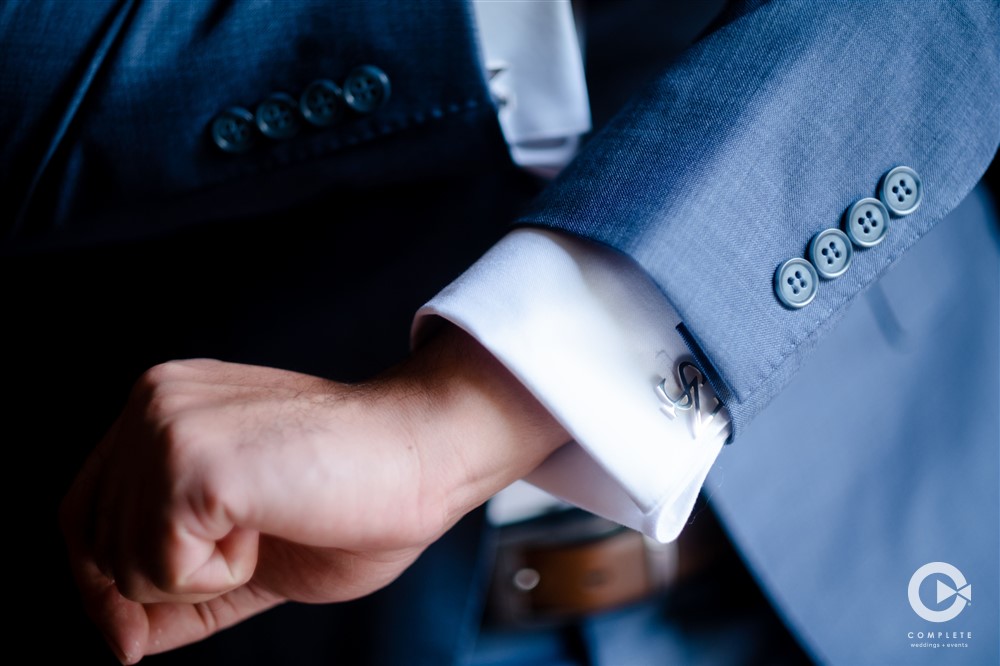 5. Socks
Much like cufflinks, this is a chance to not feel bad about owning something truly fancy or an opportunity to have a bit of fun. If you've already got a drawer full of identical black dress socks, add something with a bit of pizzazz! Socks are often relegated to thankless, even smelly tasks. So if they get to be the stars of the show when it comes to the groomsmen's Instagram contributions, let them!
6. Watches
Maybe you haven't been a wristwatch guy since you got a smartphone. Well, this might be your time to get back into the wristwatch game. Because if there was ever a day that you wanted to look stylish and formal but be able to casually keep track of time, this would be it.
If you don't want to be casual about anything on your wedding day, think about a pocket watch. Think pretty hard because there is definitely a wrong time and wrong place to pull out a pocket watch. Like any event involving snorkels or bumper cars. For some gents, there is no right time and place to pull out a pocket watch outside of period drama. But that's the attitude people tend to have about cummerbunds, and guess who's wearing a cummerband? The good-looking guy who's about to get married in… consults pocket watch… a matter of hours.
7. Pocket Squares, Lapel Pins, and Boutonnières
OK, now we have reached into the real accessory part of the accessory listing. Pocket squares are pretty ornamental, that's exactly why they are foundational pieces of the look you are going for. They were chosen specifically for their decorative quality!
Oh, and just a quick word on boutonnières. The first time the groom weighs in on the boutonnière might be when he is accidentally getting poked by the pin, scant moments before showtime. And that's OK. However, if he has opinions on flowers (or his allergies do), it's worth being proactive early on in the wedding planning process.
8. Something Fun for the Fellas
With the groom's own wardrobe basics taken care of, it's time to start thinking about providing a fun reward for the selfless devotion of the groomsmen. Here's the thing about groomsmen during a wedding weekend: there can be a lot of waiting. So why not tuck something away to make the time pass more quickly? For everybody except the best man, that is, who is clearly composing his toast over in the corner. Maybe a pack of cards? Or, depending on the group and the timing of the groomsman gift, maybe each one gets a personalized flask. When we say personalized, we mean etched with their initials and filled with their beverage of choice. That's a nice hat tip to a group of deserving fellas.
There's something magical, yet untapped, about accessories for the groom. They can transform the suit he wore to work last Tuesday into the ceremonial garment of a marriage ritual. And the magic lingers. It's the kind of thing that might give him chills every time he wears those silk penguin socks or pings his wedding band against a railing.