'Twas the night before the wedding. The rehearsal dinner is the perfect time to gather your closest friends and family for a dinner before the wedding day. This usually also happens the same day as your ceremony rehearsal. Thus, it's called a rehearsal dinner. Here are all of the rehearsal dinner tips we could conjure up and some stunning locations to hold rehearsal dinner in Sarasota!
Who Hosts the Rehearsal Dinner?
First and foremost, who hosts the rehearsal dinner? If you look anywhere on the internet, it'll say the groom's parents should host the rehearsal dinner. We say it's up to you! You and your partner know what you can and can't handle. If someone in either of your families offers to help, perfect. If you would prefer to host your own rehearsal dinner, there's no harm in that either.
Who Is invited?
When it comes to deciding on your rehearsal dinner guest list, try to keep it limited. Mostly because the next day is your wedding day. You want to save those fresh feelings of seeing your guests new and keep the party spirit alive.
The people you do want to invite though are people involved in your ceremony. So, besides your wedding party, you'll want the ring bearers, ushers, flower girls, the officiant, and anyone else you're including in your ceremony.
Another group of guests you'll want to invite are the out-of-town guests. They will be the ones that traveled miles to see you and your partner get married. Show them your appreciation of their time by getting more time with you besides the wedding.
Do You Need to Send Invites?
Here's the thing, everyone in your wedding party already knows that there's going to be a rehearsal of some sort before the wedding. What they may not know is when, the date, and even where this rehearsal will take place. Save them and you the stress of asking you questions by sending guests an invite. A rehearsal dinner is usually more casual than a wedding, so you can definitely get away with a digital invite here. It saves time and you get instant responses.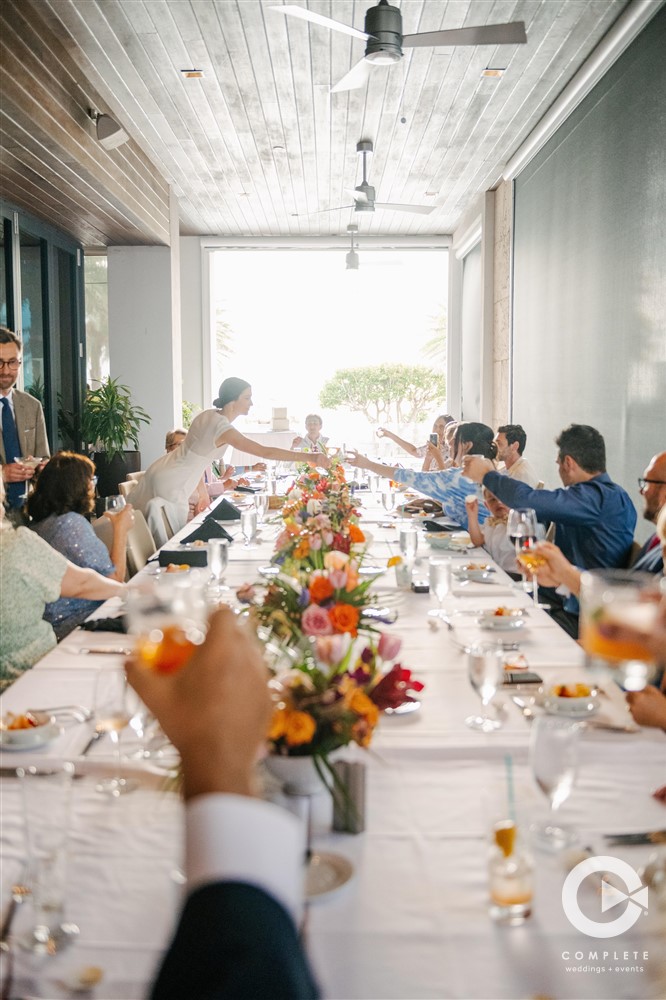 A Gift To You
You're almost there! Our last set of advice includes something not to forget. Bring gifts to the people that have helped bring your wedding day to life. The choice is up to you on who those people are specifically. It would also be a great time to give your bridesmaids or groomsmen gifts you want them to wear the following day.
Set The Tone
We wouldn't be a company that offers Sarasota, FL DJ services if we didn't mention that you need some music! You may not need to hire a full DJ for the rehearsal dinner, but even creating a playlist for the night can set the tone for a fun evening. Whatever mood you're looking for, pick some music that fits that ambiance.
A Welcoming Space
Whether you have a theme for your dinner or not, a little decor can help transform a space. From hanging string lights to create a warm glow, to a bouquet in a vase here and there. You can choose decor based on your wedding's color palette to keep the themes coordinated!
Host Your Rehearsal Dinner in Sarasota
Planning to host your rehearsal dinner in town? That's awesome. We highly recommend looking into hosting your event at these Sarasota venues and restaurants.
Complete Weddings + Events – Sarasota
If you would like more wedding day advice or services, contact us! We offer day of coordinators, photography, videography, DJs, photo booths, and uplighting. We can't wait to make your day complete!