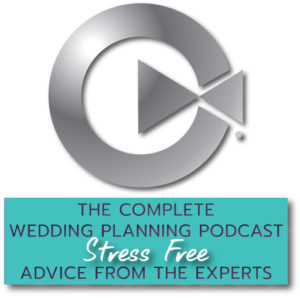 Today we look at common scenarios that come to mind when thinking contingency or backup plans, and we cover a few of the not-so-common ones. Take a listen to our Contingency Plans for Weddings podcast (link at bottom) and subscribe to our channel for more helpful tips.
Contingency Plans for Weddings
Outdoor Ceremony
You pick the perfect location, align your vendors, figure out your lighting and décor, and then bam…mother nature takes those perfect plans for a spin. And you sit rattled, scrambling to make alternate arrangements. This is one of those situations you hear more often than not that couples already have a backup plan in mind because they know Wisconsin weather can be very unpredictable. If you are doing an outdoor location be sure to book a nearby indoor option that can host all your guests comfortably. However, just having an alternate location is not all the planning you need to do.
Be sure you know when you will make that call. The sooner the better so all your plans can come together with less stress.
Delegate someone(s) to oversee communicating the change to your vendors, your guests, and your wedding party.
Stage a person at the original location in the event of a change. They make sure no one is left going to the wrong location.
Delegate someone to oversee moving your décor and other items to the new location.
What do we not recommend? Avoiding the outdoor space for fear of the weather. The weather is weird but more often than not it all works out wonderfully. If the vision is for the beautiful, outdoor space go for it. The biggest benefit forming the backup plan provides is perspective. A carefully considered backup is easier to accept than a last-moment change.
Changing Your Date
We are all too familiar with this subject. The craziness of last year saw to it, and we are battling as certain Wisconsin areas as they reopen. Whether you are moving due to a pandemic, family matter, pregnancy, budget, or you just are not ready to move forward, know that the decision is ultimately yours, and communication with everyone involved is key. Your wedding day is one you want to remember as a happy time and hopefully, one that does not leave you stressed out. Whatever the reason is the best advice we can give you is:
Read all of your contracts thoroughly so that you know the cancellation and rescheduling policies.
Know which vendors get priority when choosing a new date and which vendors you are willing to replace if needed.
Be sure to communicate with all your vendors, guests, and wedding party as soon as possible to avoid any scheduling conflicts.
The last piece to add to this topic is specifically related to the current pandemic climate. There are a ton of things to consider, and we listed most above. There will also be influencers, stress and feelings around re-planning, and the delay of starting married life. Picture yourself on the planned date, and consider what it will look like. We recommend pushing to move the date if you cannot picture yourself being happy with the picture in your head.
Replacing a Member of the Wedding Party
This can obviously be a tricky situation and if the reasons are not pleasant then that can make for an even harder situation. The first piece of advice is to scrap the idea of both sides of the wedding party need to be even. We often see odd numbers and trust us we have not had a groomsman complain yet about walking down with two ladies. When making the decision to put in a replacement consider these things:
Make the decision as soon as possible.
Attire: If the replacement will need to get a suit or dress be sure you give them ample time to do so and do not forget about time for possible alterations.
Communicate with your vendors that will be impacted by this decision such as program designer, hair & makeup, DJ, photographer, etc.
Be sensitive when asking the replacement as their feelings may have been hurt when they didn't make the cut the first time.
Again, remember adding a replacement is always the right choice, choose what brings you less stress.
This one obviously sucks on more levels than can be said. It is never fun to fight with family friends. However, it is better to have it before the wedding, and not the day of it.
Vendor Arriving Late or Not At All
Hopefully, if you are reading this blog you already know the great thing about Complete Weddings + Events Milwaukee is we have multiple staff members and always have a backup in place for the unexpected. However, that is not the case for many of your other vendors. We have had cover for other vendors due to cars breaking down, medical emergencies, and even for some that had no excuse at all. Our wedding planners have seen unfortunate events such as the caterer running out of food, the cake falling over before the couple cuts it, and limo buses running out of gas just to name a few. We hope none of this happens, but a backup plan is how you overcome these stressful situations. The best advice we can give you is:
Hire a Day of Coordinator to handle all these possible nightmares so you can focus on the more important thing….Getting Married!
If a coordinator is not in your budget be sure to delegate out different tasks and over-communicate with your vendors during the planning and day of.
Be sure you are getting contact information for the person that will be onsite with you and not just the office number.
Be sure you have chosen vendors that can roll with the punches and as changes arise, they do everything in their power to assist in making it right.
Handle any refund or disgruntled phone calls on Monday, not the night of your wedding.
To recap, we cannot stress enough how important it is to read over contracts, communicate with your vendors, communicate with your wedding party and family, and most importantly know that things happen, and plans change…just roll with it and breathe! You are getting married, and that is all that matters!!!
Complete Weddings + Events Milwaukee
Complete in Milwaukee offers multiple services to make your wedding planning go that much smoother! We'd love to get a package together for you. Feel free to reach out to us to learn more about our DJ, photography, videography, photo booth, and uplighting services!