We had the pleasure of working with Becca + Jacob for their wedding in Racine, Wisconsin, and spring was merely a day old. March is a fun time in this area, and the weather is a true grab bag. Neither snow nor sun will surprise a local. For this day we fortunately got the latter, and it was the perfect canvas for a wonderful day. The big day was complete with a wonderful venue, great people, and a uniting live stream.
An Elegant Spring Wedding in Racine, WI
The Venue: Covenant at Murray Mansion
Becca + Jacob picked a great place. The elegance and appeal of Murray Mansion speak for itself, but we added visuals to really show that point. It is a beautiful venue where guests can "experience the 19th-century charm and modern sophistication of this fully-restored historic home." The wood floors and white walls provide a perfect visual alone, but also allow for floral accents and simple décor.
Make sure to check out their website to see more about the building, and consider it if planning an elegant wedding. There is no shortage of fantastic photo spots in this historic, 1874 Italianate-style mansion.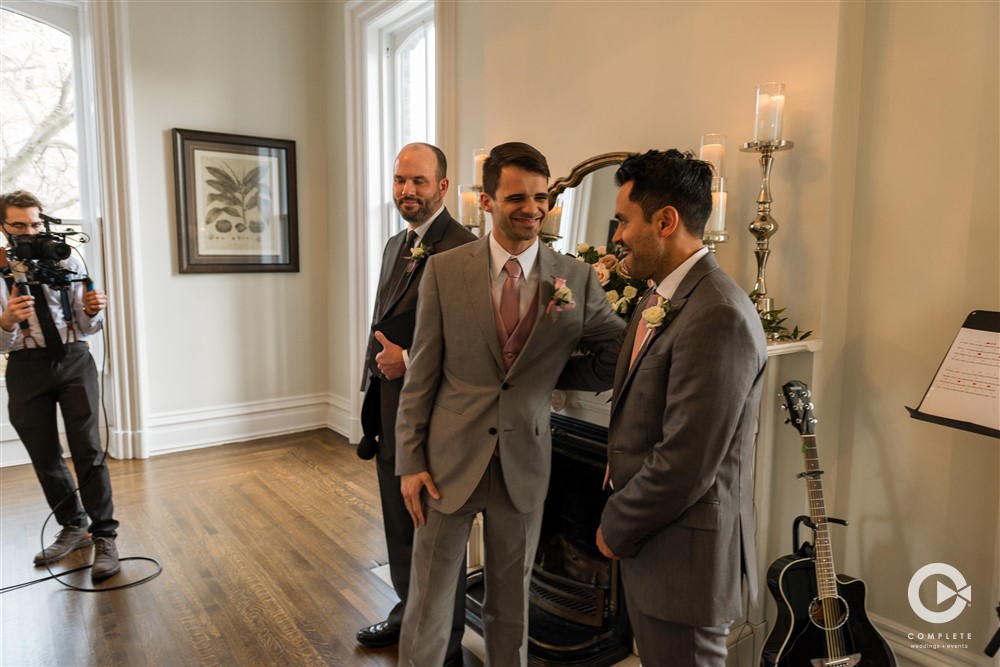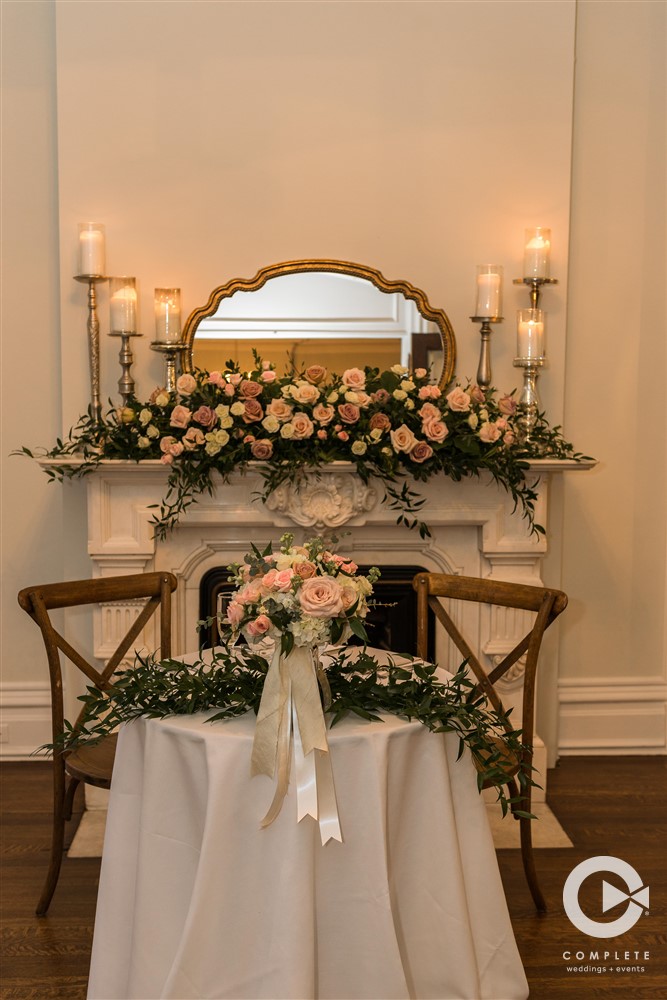 Staying Connected
Let's face it: staying connected has been hard. Our current timing and Covid have made it as difficult as possible, but we persevere. Becca + Jacob put great focus into ensuring their family and friends got to share in their big day. They chose to work with us to impeccably produce a live stream experience for their remote guests.
The production started with a video all about our soon-to-be newlyweds. Viewing guests were able to meet the wedding party as they walked up the aisle with their names tagged. The spiritual nuptials immediately followed the processional. Best Man Diego played guitar and sang as Becca and her dad walked into the room to meet the wedding party and Jacob. Doug Brown was excellent as the officiant, and Becca + Jacob officially tied the Knot on a perfect Saturday.
The day and Livestream did not end there as remote guests were able to be part of the heartfelt speeches. Father of the bride Rick gave the first toast, and there was not a dry eye in the room as he spoke about his daughter and new son-in-law. Matron of Honor Amanda and Best Man Diego continued the kind words.
Spotlight dances completed the live stream experience. Our newlywed's first dance and dances with their parents capped the perfect wedding day.
Complete Weddings + Events Milwaukee
Complete in Milwaukee offers multiple services to make your wedding planning go that much smoother! We'd love to get a package together for you. Feel free to reach out to us to learn more about our DJ, photography, videography, photo booth, and uplighting services!