A wedding video is a perfect way for you as a couple to spend time and relive the magic of your special day whenever you wish.
When deciding on who you want to video your big day, you want to make sure it is carefully thought out. The last thing you want to do as a newly married couple is to sit down and look at your wedding video with regret. Nothing is worse than realizing your wedding videographers in Lancaster, PA is not what you had always envisioned it to be.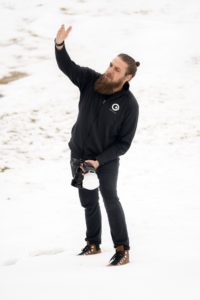 Here are a few questions to ask yourself as you are comparing wedding videographers in Lancaster, PA through the wedding planning process:
"Do I know what I want in a video?"
Before deciding on who you want to shoot your wedding, make sure you kind of know what you want to see in the finished product. Ultimately you want your final video to reflect you and your loved one's personal love story. Whether this an elaborate and dramatic video or a quaint and romantic you want it to be personal to you. Watch sample videos of your videographer and see if it fits what you're looking for. While planning with your videographer, make sure you tell them if you have specific shot ideas and important moments you want capturing. By communicating these in advance, this will lessen the chance of a disappointing video in the end.
"Is this someone that I want to work with on my wedding day?"
A videographer is one of the vendors who will be working for the majority of your wedding day, so you will see a lot of them through the course of the day. Making sure you are completely comfortable with them is very important. You want to make sure you are very relaxed and are okay with them capturing the most intimate moments of your wedding day. Talking with them before the wedding day you can make sure they are friendly and the kind of person you are okay working with on one of the most important days of your life.
"Does the videographer know my other vendors and my venue?"
Your wedding day is filled with many people who are working towards the one common goal of making your wedding day amazing. In order for this to be as successful as possible, a professional videographer has to have an idea of who they are working with. By the videographer understanding how other vendors do their job, this will give them an idea of how to work with others as well as still get the shots they need to make your video great. By the videographer knowing the venue, this will ensure that they will use it to their full potential, and you get creative shots throughout your video. If you have a videographer that you like a lot, but they are unfamiliar with your venue, suggest that they get there a little early to walk the grounds and come up with shots.
"Do I know what I just purchased?"
When you are comparing video professionals, make sure you are fully understanding what is included in your package. While price comparing can be very important, making sure you are getting what you asked for with the money you spent is even more important. Packages for each videographer can vary, so make sure you fully communicate the coverage of the day you are expecting in your final product to help ensure you are disappointed later.
Your wedding video is something that you will watch for years to come. As you look at it you should shed tears of happiness as you remember the beauty of the day. By asking these questions while planning, you will feel at ease as you pick the perfect videographer.
Complete Weddings + Events in Lancaster, PA
f you're planning a wedding in Lancaster, PA, then you've landed at the right place! Now that you've said YES! to spending your life together, you have some exciting decisions ahead. At Complete Weddings + Events planning, wedding events are what we do best. Complete Weddings + Events, Lancaster's leading provider of event and wedding photography, videography, lighting, day-of coordination, DJ services & photo booth rental.