Congratulations! You are finally engaged to the love of your life. Now what? Is there a better way to announce the news to all your friends and family than to get new photos showing off the ring (and your fiancé)? Did you know Complete Weddings + Events offers a FREE engagement shoot just by booking the Signature Plus Photography package? But how do you know where to go for your engagement shoot? Maybe there isn't a meaningful place for you and your fiancé to go. We always recommend asking the advice of a professional, so we asked our senior photographer, Whitney. Here are her favorite photoshoot locations for newly engaged couples.
Opinions by Senior Photographer, Whitney, from Complete Weddings + Events Lancaster, PA
Lancaster County Central Park
1050 Rockford Rd, Lancaster, PA 17602
Lancaster County Central Park is, well you guessed it, smack dab in the center of Lancaster County. The convenient location is one of many perks for local couples when choosing it as an engagement photoshoot destination. This 544-acre-park is Whitney's top choice for engagement shoots because of all the different sceneries you can get in one place. From luscious green fields, beautiful streams, to a traditional covered bridge, you get a taste of Lancaster County in every single photo.
If you are a couple that likes options, this is the location for you. With the different sceneries in one central location, along with a pro photographer, you will have no problem capturing them all in one session. This will leave you with many options to choose from when picking your favorite engagement photos.
Columbia River Park / Chickies Rock
41 Walnut St, Columbia, PA 17512
Columbia River Park and Chickies Rock give you every angle of the Susquehanna River you could want. Whitney recommends your journey under the Wrightsville Bridge at Columbia River Park. Here you can practically get in the river and have unique shots standing under the bridge. Or you can take a step away from the water, and capture the gorgeous 92-year-old bridge behind you. Its unique architecture gives you an image that will be unique to your photos. For a view from above, you can take a short drive up to Chickies Rock Overlook. You will experience luscious green sights overlooking the majestic river.
If you're not afraid of a little adventure, get ready to go on a hike through the trails of Chickies. Whitney loves these locations because they are side by side and you can get so many unique shots in one day, giving you so many options.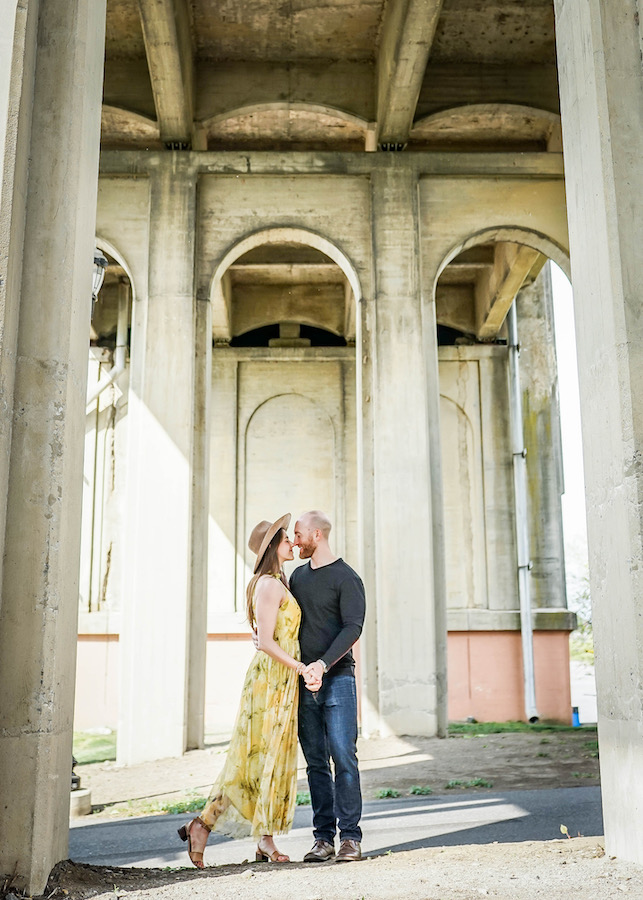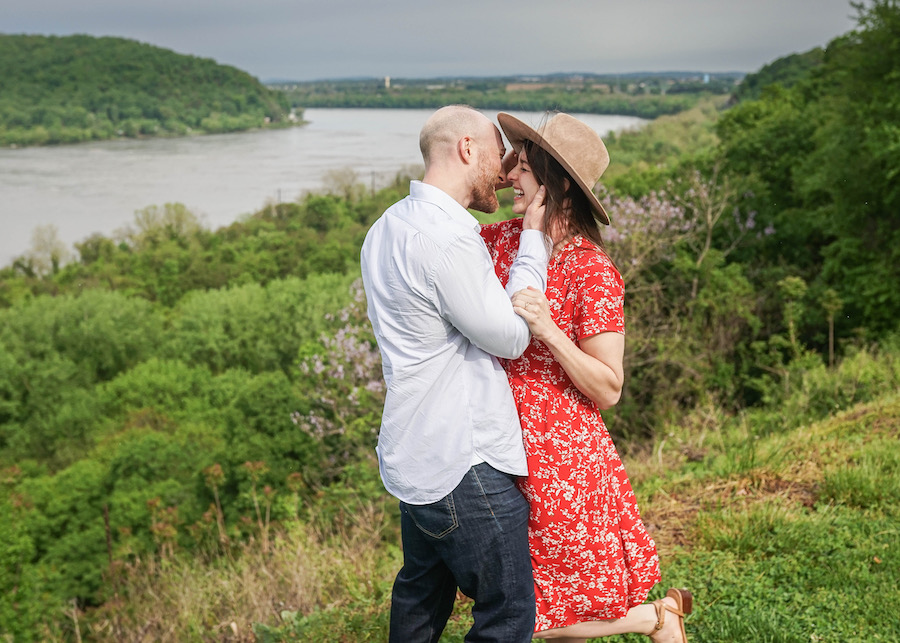 Pulpit Rock And The Pinnacle Loop
Reservoir Rd, Hamburg, PA 19526
While Pulpit Rock isn't located directly in Lancaster County, it is still a well-known spot to those in central PA. This 8.7-mile-long trail offers numerous unique views which are simply stunning for engagement photos. While enjoying the trail, you can see the farmlands of Lehigh Valley, beautiful woodlands, and gorgeous sights overlooking the Susquehanna River.
Though this route might be one for the more adventurous couple, every second will be worth it while you find spots to take photos with the love of your life. Whitney loves to bring her bike along with her so she can enjoy the adventure with her couples while she takes their photos. This location gives you time to walk the trail and find a new spot to take a photo around every corner.
Whitney has years of experience and keeps many locations in her back pocket to suggest to couples when looking for the perfect photoshoot location. Her favorites above have one thing in common; the versatility of the locations. She wants her couples to love every photo and for each one to be unique.
No matter where you decide to get your engagement shoot done, at Complete Weddings + Events, you are always taken care of by a professional. They will follow you to your favorite spots and make sure you are happy with your engagement shoots. Our professional photographers enjoy capturing your love today, to wow you tomorrow and forever.
Complete Weddings + Events Lancaster
Complete Weddings + Events offers multiple services to make it easy to reserve your wedding date for the vendors you still need! Contact Complete for availability on needs for your wedding day!