For some, planning the wedding is just as exciting as attending! The joy of checking things off the list can be thrilling, but if you're feeling overwhelmed, remember to just tackle one thing at a time. You've got this! A little help along the way never hurt anyone though. This ultimate wedding planning checklist in Indianapolis will help you get started on the right path, or make sure your to-do list covers it all. Checking off these big picture items will help you decide what budget you have left for the extra fun stuff!
Ultimate Wedding Planning Checklist in Indianapolis, IN
Budget
Deciding your overall budget, then breaking it down category by category will help give you an estimate on what to plan for. Keep in mind it can be hard to know how much food, decor, or event a professional wedding videographer costs if you've never thrown a wedding.  Be prepared to do some research to get estimates on your "must-have" line items.  The Knot is a great wedding planning resource and can provide some estimates to help get you started with average costs for each type of vendor.
The great news for you, getting married in Indianapolis, or Indiana in general is a bit more budget-friendly in many categories than other states, and bundling your services with a multi-service company like Complete Weddings + Events, Indianapolis will save you time, frustration, and money! Here are a few item estimates based on planning a wedding in the Midwest or around 150 – 200 guests according to costofwedding.com. According to this report, the average spending in 2019 was $24,675.
Venue, Catering & Bar Service: $14,862
Photography & Videography: $3,971
Entertainment: $1,192
Attire & Accessories: $2,655
Date & Wedding Venue
The date you choose may be based on a significant date in your relationship, or it may be dictated by the venue you'd like to have your wedding at. If you're doing a backyard wedding at a private residence, you will have a lot more flexibility than a wedding venue that only has a few open dates left in the fall. Be sure to keep in mind holidays, your family and wedding parties, lives, and/or events around the Indianapolis metro area before publicly announcing your date!
Guest List
Once you have your venue nailed down, you know the capacity of guests you can have at your event. Keep in mind the more you invite, the more it will cost for food drinks, dessert, linen rentals, favors, invitations, and so on. Once you have a guest list set, send your invitations 1 to 2 months ahead of time, giving plenty of time for a chance to follow-up with those who forget to respond to the RSVP. It is going to happen! Don't stress, you've probably done it too.
Photographer & Videographer
Hiring professionals to capture the most valuable memories at your wedding is a must. Not only will you end up with quality memories to cherish for a lifetime and share with generations to come, but you will also have a professional that will assist you in keeping your day on track, while always making sure you look your best and feel comfortable!
Many of the couples that work with us for other services regret not hiring a Complete Weddings + Events Indianapolis wedding photographer or wedding videographer. Hiring a photo and video team that works together well is a great way to save some money and rest assured knowing they are going to communicate effectively and capture your day remarkably.
Music & Entertainment
From the ceremony background music to the wedding party bustin' moves on the dance floor that night, the music brings your day to life! Hiring a professional DJ that keeps the focus on you, along with your favorite music vibes, is essential to having a great time! Remember a great DJ doesn't just push play. They serve as the Emcee of your event, release tables for dinner, conduct activities, teach dances, and set the overall mood for your event, not just with music, but, with their own energy.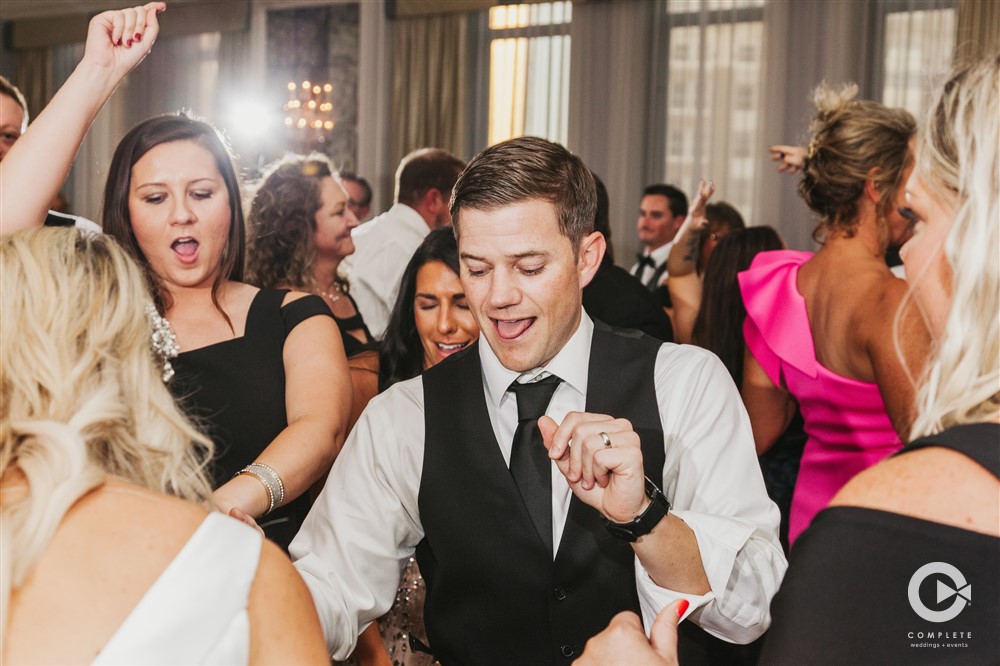 Attire
Finding your ideal wedding outfit is a fantastic feeling, but, you will probably say no to a few styles before you find the "one." Make sure you start looking early. The same goes for your partner and the wedding party.  Fittings, alterations, and chipping or returns all take time to come together.  Make sure you know when things need to be done so everyone is ready on your wedding day!
Decor
Let your theme shine through your wedding decor! From centerpieces, floral arrangements, and table presentations, there are plenty of options when working with professionals, or if need be time to recruit some talented friends and family members for ideas and creative DIYs! When it comes to bouquets, remember these make great displays at your reception on the sweetheart or head table as well!
Transportation
Limo, party bus, horse-drawn carriage… whatever you choose, you need to know how you and your wedding party will get to the places you want on your wedding day safely. No one wants to get left behind, be sure that your wedding party has a plan!
Favors
Little tokens of your love and appreciation for your guests is a tradition that most couples like to continue. Many times favors have a personalized touch that requires some prep time. However, this is one item that can be done closer to the wedding date. It is also a great way to let other people join in on the wedding planning fun. The addition of a photo booth to your entertainment can often be used as a "double-dip" in your entertainment and favor budget.
Event Coordination
Finally, if all of this seems a bit overwhelming, you can always enlist the help of a professional day-of coordinator.  Most often a coordinator will assist in the vendor management of your event, along with decor set up and tear down, creation of a timeline for the event, rehearsal, processional and recessional management at your event. Enlisting a friend or family member will often times cause them to miss out on the celebration of the reason they are there.
Still Not Sure Where to Start?
We have recommended vendors in many of the categories you will be considered during the planning of your big day! Check them out and be sure to tell them, Complete Weddings + Events referred you.
Complete Weddings + Events in Indianapolis
We'd love to chat with you about our Photography, Videography, DJ, Day of Coordination, Photo Booth, or lighting services! Contact us today to learn more about our Indianapolis wedding services. To request a package quote visit us here. Otherwise, visit our blog frequently for more great ideas about your wedding.