No matter what venue you book for your wedding, you can achieve any atmosphere if you use the secret weapon — wedding lighting. Of all the choices you make for your big day, this one has the most impact on the feel and the design of your day. The trick to this powerhouse design element is that it encompasses far more than chandeliers and laser lights. By being aware of the light in each part of your big day, you can be sure that your wedding vibes will be strong from the beginning to the end.
The Lighting Vision
Every bride starts planning their wedding by knowing the feeling they want to capture. After hours of research, that vision forms itself into a perfect plan. But turning that plan into reality is something that can sometimes fall flat. Most of the time that wow factor you're looking for is wedding lighting! Whether you are looking for an elaborate lighting structure like a canopy of twinkle lights, or whether you are surrounding your guests with candlelight during dinner, each lighting choice will add to the ambiance of your event. Even the smallest arrangement of candles can bring in some sparkle that transforms the vibe from dull to luminous.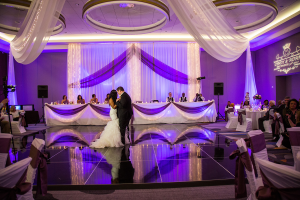 It's Time to Shine
There are lots of ways to add a sparkling luminosity to your day, and knowing how that can be accomplished is the first step to the perfect wedding lighting plan. Some options are grandiose and create a statement that will wow your guests while other options are simple, timeless and add a soft glow. No matter which direction you go, your wedding lighting will have a significant impact on the feel of your wedding.
GOBO: This lighting technique is starting to trend in the wedding industry right now, and for a good reason. The ability to create any design to project onto walls, ceilings, or even floors can really create a big impact. Plus, it's a very affordable option for most weddings. Images of trees projected against the walls can inspire a magical feel straight from a fairy tale. A spattering of stars projected on the ceiling can let you truly dance under the stars all night. With endless options, this a must-have for your wedding lighting plan.
Color Wash: Color wash lighting is exactly what it sounds like: it washes the walls with color to change the whole feeling of a space. This is perfect for helping you create the vibe you want guests to feel as soon as they enter the room. Cool blue light can make your venue feel like an arctic wonderland for a winter wedding. Amber lights around your space can inspire your October wedding with a cozy and warm feeling. If you are the daring type, multiple colors can be used to create a rainbow explosion that your guest will love.
Uplighting: This wedding lighting effect is more subtle than a color wash, and yet it has just as much impact. Some venues are dark and in need of a little extra light to strike the right balance. Having well-placed uplighting can provide the right contrast to keep your space perfectly lit. This type of lighting is all about adding glow, so there are no dark and unwelcoming corners. Plus, your photographers will love all the ambient light that allows them to shoot the perfect photos after the sun goes down.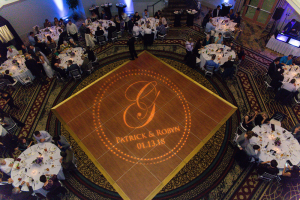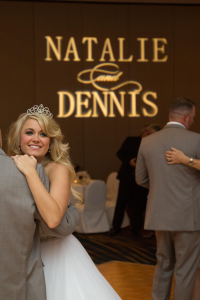 Twinkle Lights: Everyone knows about these little gems, but they can do way more than just light up Christmas trees. These workhorses of wedding lighting are affordable and versatile — plus it doesn't take much to set them up. There are endless ways to incorporate this into your lighting plan. They are perfect for creating a canopy of light over your dance floor, or for stringing down the middle of a table for a luminous centerpiece. No matter how you use them, they are sure to add a romantic shimmer to your space.
Candles: No wedding lighting list would be complete without the classic and ever beautiful candlelight. It is easy to see why this is the go-to option for weddings everywhere. From candelabras with tall taper candles to a collection of votives with flickering flames, everyone and everything looks better in the light of a candle. With endless options, this is an easy way to add light and style to your wedding.
Bistro Lights: There is something magical about little orbs of light strung across space. With a nod to the old European feel, this wedding lighting option feels cozy, informal, and at the same time classy. While twinkle lights give you some sparkle, bistro lights feel more down to earth. Since they look good during the day and when the sun goes down, these are perfect for a summer outdoor wedding.
Lanterns: This wedding lighting option may be the one with the most variety. From a simple floating luminary in a pool to old fashioned lanterns lining a rustic barn, there are many ways to use these to add light to your space. Chinese lanterns strung up around the room can create a playful vibe while lining a walkway with candlelit lanterns can inspire a magical atmosphere. No matter what look you are going for, there is probably a lantern that is perfect for you.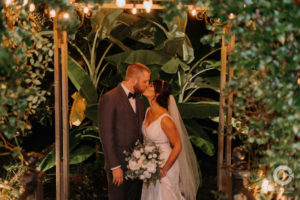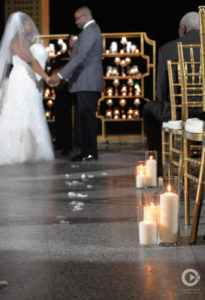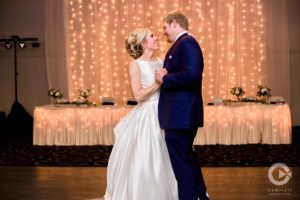 Putting the Elements Together
The best part of wedding lighting is that you can incorporate as many of these elements as you want to make a one-of-a-kind plan that reflects your style. Layering different elements of light will strengthen the overall feel of your space and even help the flow of your event. When you choose which features to use though, be sure to keep in mind the venue. Knowing the ins and outs of your space is critical to a wedding lighting plan. Each lighting element will have its own requirements for power and spacing, so understanding the layout of your venue (including the location of power outlets) will help you create a lighting plan that works. Also, don't forget to talk with the venue to be sure the elements in your plan are allowed. Some places don't allow candles, and some have a limited number of outlets available. Communicating and working with your venue makes sure that your wedding lighting is perfect and safe for everyone.
Our Complete Lighting Service
Planning and setting up your own wedding lighting can seem challenging at times, especially if you are new to all the details that you need to think about. This is where your venue can help out. They have hosted lots of weddings, and usually, they know what will work and how to set it up. However, sometimes you may need a bit more than a helping hand. When you need extra help, Complete Weddings + Events is here to lead the way. Our wedding lighting professionals know everything about coming into a space and making your vision a reality. In fact, we can even provide you with the lighting rentals you need, so you don't need to source the different elements yourself. Our team covers everything from set up to tear down — all we need from you is the inspiration!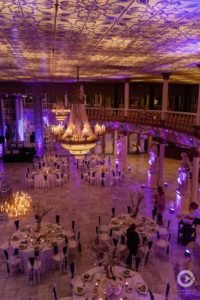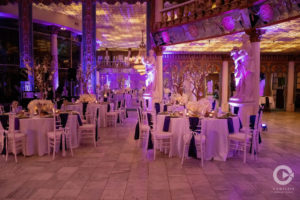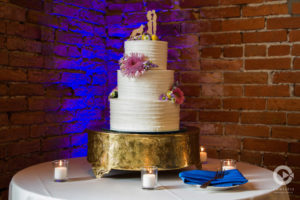 Complete Weddings + Events is here to chat about your wedding lighting plan. All you need to do is contact us. We also provide other services you may want to add to your wedding plans. From photography, videography, DJ service, and even photo booth rental, we are here to meet and exceed all the expectations you have for your big day! Contact us. We can't wait to help you plan.