Weddings are a time for friends and family to get together and celebrate love! Everyone knows weddings are supposed to be fun, so why not spruce your wedding reception with some fun games for your guests to enjoy?! Here are 5 super fun Wedding Reception Games that you can incorporate into your big day and the fun will follow!  🙂
Wedding Reception Games
1. Jenga
Giant Jenga has been making more and more appearances as we see more couples doing outdoor weddings!  It is a fun game that everyone knows how to play and is easy for people of any age to play! How perfect is that?!
*Fun tip*  Customize your Jenga game by writing different things on your blocks!  The cool thing about this is you can write absolutely whatever you want!  You could simply just draw some designs on each block, have your guests sign them, write an activity on each block that the person has to do when they draw that block, or you could even write fun little trivia facts about you and your beau for your friends and family to figure out while they play!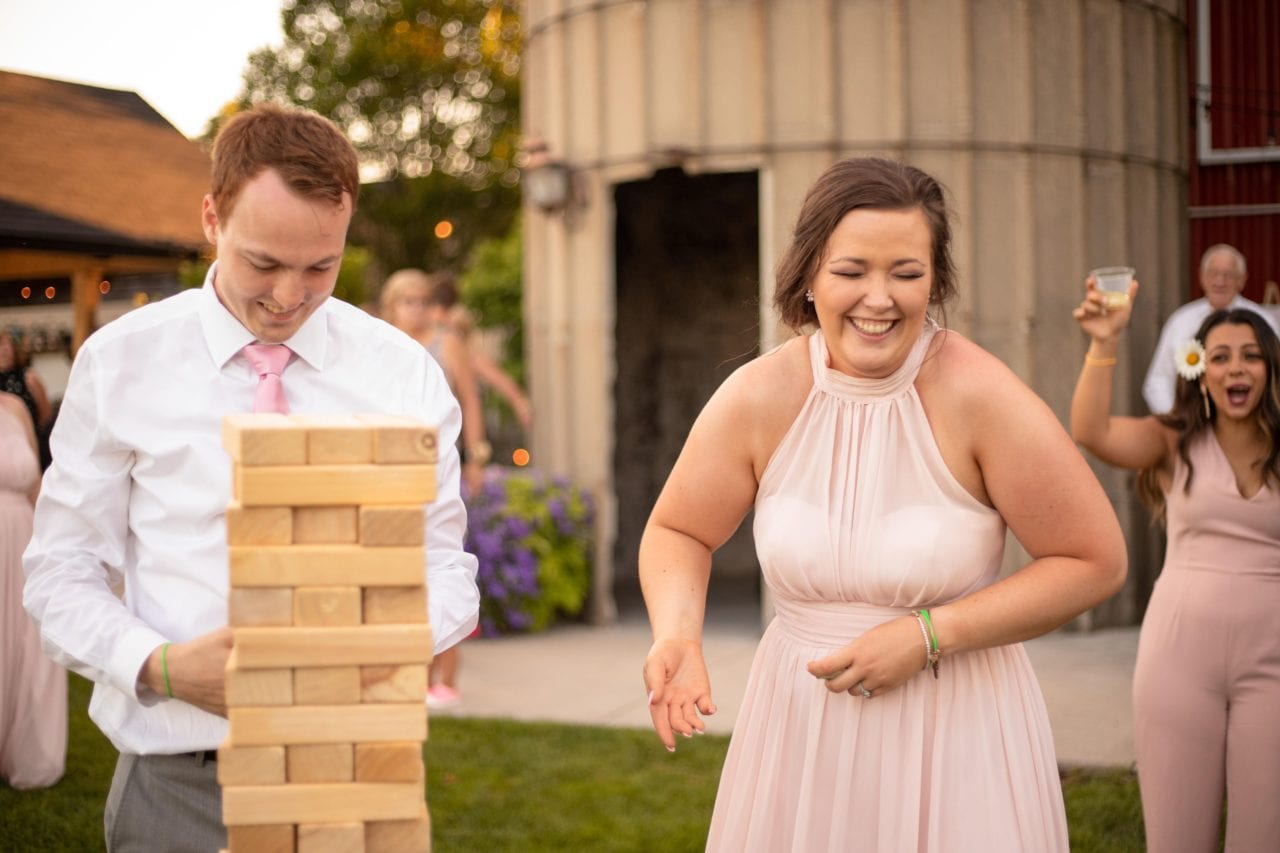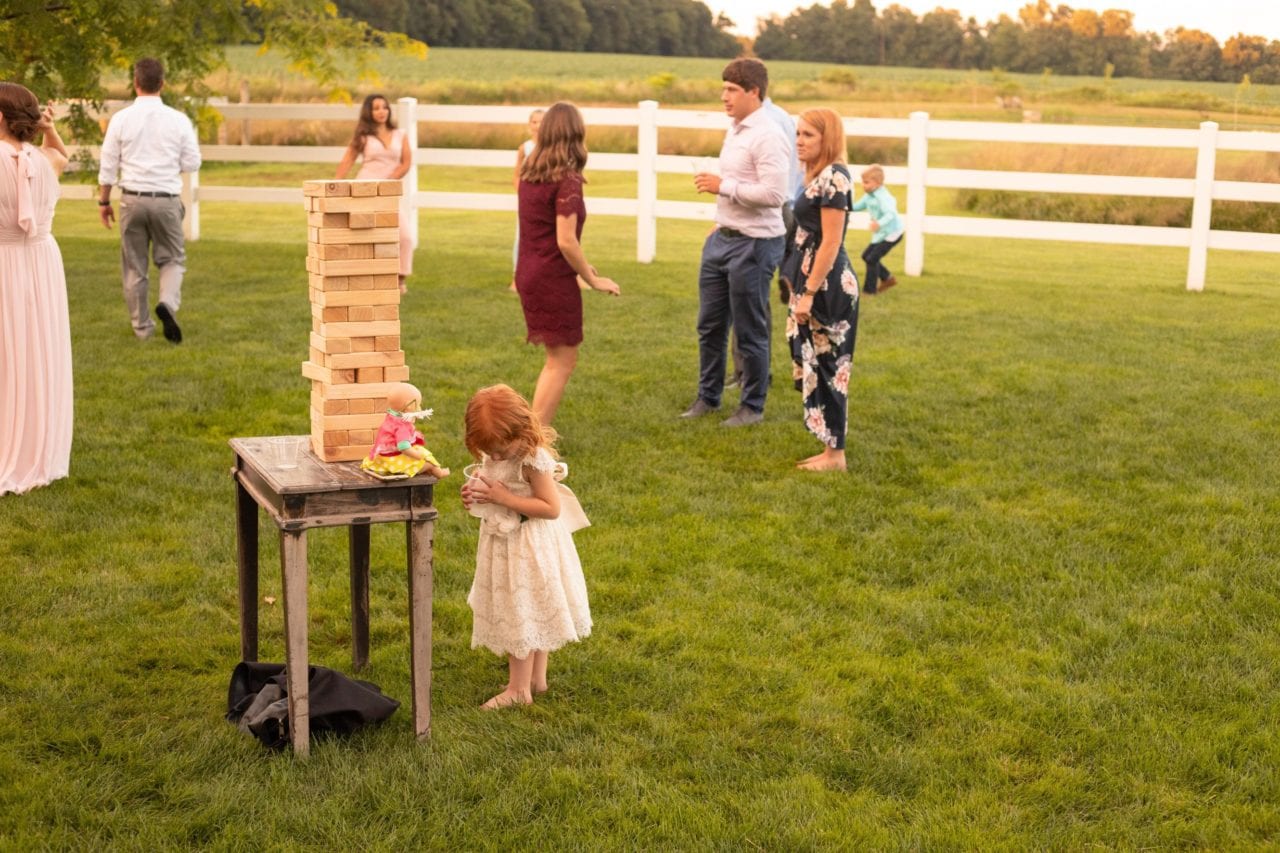 2. Corn Hole
Corn Hole is a classic when it comes to outdoor receptions!  Just like Jenga, everyone knows how to play, and it's not to hard to do in a dress (so it works no matter what your dress code is!)
*Fun tip* Order a customized corn hole set and have you and your future spouse's initials/names and the date engraved on it!  It will always be a fun memory when you pull out the corn hole game at the family BBQ and you can reminisce about your perfect wedding day!
3. Bouquet + Garter Tosses
The bouquet and garter tosses are definitely not new to anyone, but they never get old either, so we thought we should include them in our list! Ask your DJ for song suggestions!
4. The Shoe Game
This game is more so just for the bride and groom to participate, but it sure is fun to watch as a guest!  Here's how the game works: The couple will start by sitting back to back in some chairs that are in the center of the dancefloor. You will remove your shoes and swap one of them with your partner (this means that each person will have one of their own shoes, and one of their partner's shoes in hand).  Then, you will have the host (typically the DJ, or someone in the bridal party) read off some questions about the couple.  For example, "who made the first move" and then the couple should raise the shoe of the person the question describes.  And that's it!  There are usually 20-40 questions asked, and as a couple, you can decide which questions you want read out loud!
Here are some examples to get you started:
Who has the craziest family?
Has the better in-laws? (Before they answer, tell the couple to raise both shoes!)
Was the last person to buy something off Amazon?
Farts the most?
Spends the most money?
Takes the longest to get ready?
Talks the most?
Was the first one to kiss who?
Which one snores the most?
Which one of you has the most online purchases?
Watches the most TV?
Who takes the longest in the shower?
Spends the most money on clothing, accessories, and shoes?
Says I love you more?
Is always hungry?
Better at planning surprises?
The person you love most in the world?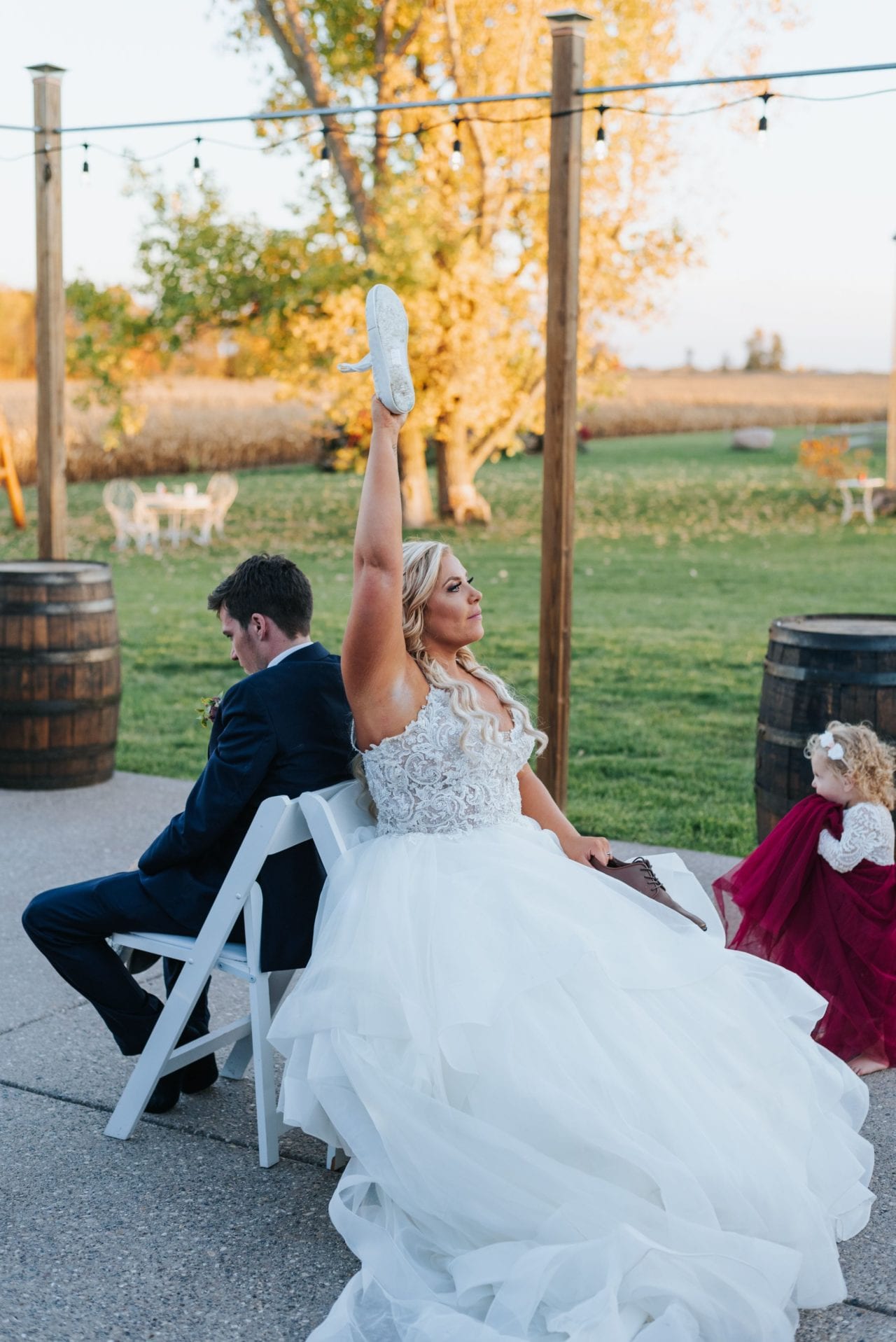 5. Complete Interactive
With Complete Interactive, your Complete Weddings + Events DJ introduces various activities for your guests to participate in while their answers and submissions are displayed live at your reception. This unique DJ option includes the following elements you can choose from to fit into your evening's timeline. 
Social Media Wall – Allow all your wedding guests to experience the virtual social media stream of your event, group meeting, or activity. The social wall lets you submit photos and/or messages from your custom URL or hashtag to display at the event virtually, or you can integrate Twitter or Instagram so those posts with your hashtag will be displayed.
Crowd Questionnaire or Trivia – A fun questionnaire on the couple is always a great way for guests to learn more about the couple or see who knows them best! Complete can also provide trivia questions, which is a great way to battle to decide who will be served dinner first or to win bragging rights for the evening. With Complete Interactive, we can show the live rankings on the screen to let everyone know who's in the lead!
Polls –  See instant answers from the audience as they interact with the platform on their phone choosing from options and sending in their answers from either a multiple choice. We love having guests vote on their favorite songs to help tailor the soundtrack of the evening to the liking of the crowd (with couple-approved choices of course).
Complete Weddings + Events in Grand Rapids
Want to have Complete Interactive at your wedding?!  Let us know here! Work with an experienced Grand Rapids vendor who will help you implement these elements easily! Learn more about Complete Weddings + Events photo booth or DJ services, and contact us to get started!