This blog is all about "Wedding Sparklers".  I'm sure you have at least 1 "sparkler" picture in one of your Pinterest Boards.  Well, this is the how-to guide for a fantastic sparkler exit.
Everybody has to be prepared and informed to capture a sparkler exit or any sparkler photo. There are some technicalities involved that are better handled by a seasoned photographer.
Wedding Sparklers in South Florida
So many possibilities
When it comes to lining up sparkler photos, the possibilities are endless! Guests usually form a sort of tunnel for the bride and groom to walk through. These photos are fun because you get to see all the people who stayed to the end of the wedding. Capturing a kiss at the end of the tunnel also makes for some great photos.
You can do close-ups of just the bride and groom with their sparklers. These make for a more intimate photo and are easier to capture since you can control the light. It's also fun to include your bridal party.
Quality over quantity
It's highly important that you choose a quality sparkler for your exit. There are many places to purchase sparklers, and it is crucial to get a sparkler designed for wedding exits/photos. Wedding sparklers burn cleaner with less smoke and tend to burn a bit longer than your typical Fourth of July sparkler. Time is crucial some of the larger/longer sparklers can burn for up to three minutes.
Basically, what I'm saying is DON'T GO CHEAP.  You're not going to find what you need on Amazon.  Stay away from Dollar Tree.  Yes!  It may cost you a hundred bucks for 100 sparklers but that's what gotta do to get this right.
Timing
Scheduling when to take these photos is an extremely important part of your wedding itinerary. You want it to be at a time when you have plenty of guests on hand, but you definitely do not want to "exit" your party too early.  You also may not want to wait until the very end because many of the older guests or the ones with children may have already left.  Talk with your planner or catering manager to discuss the perfect time.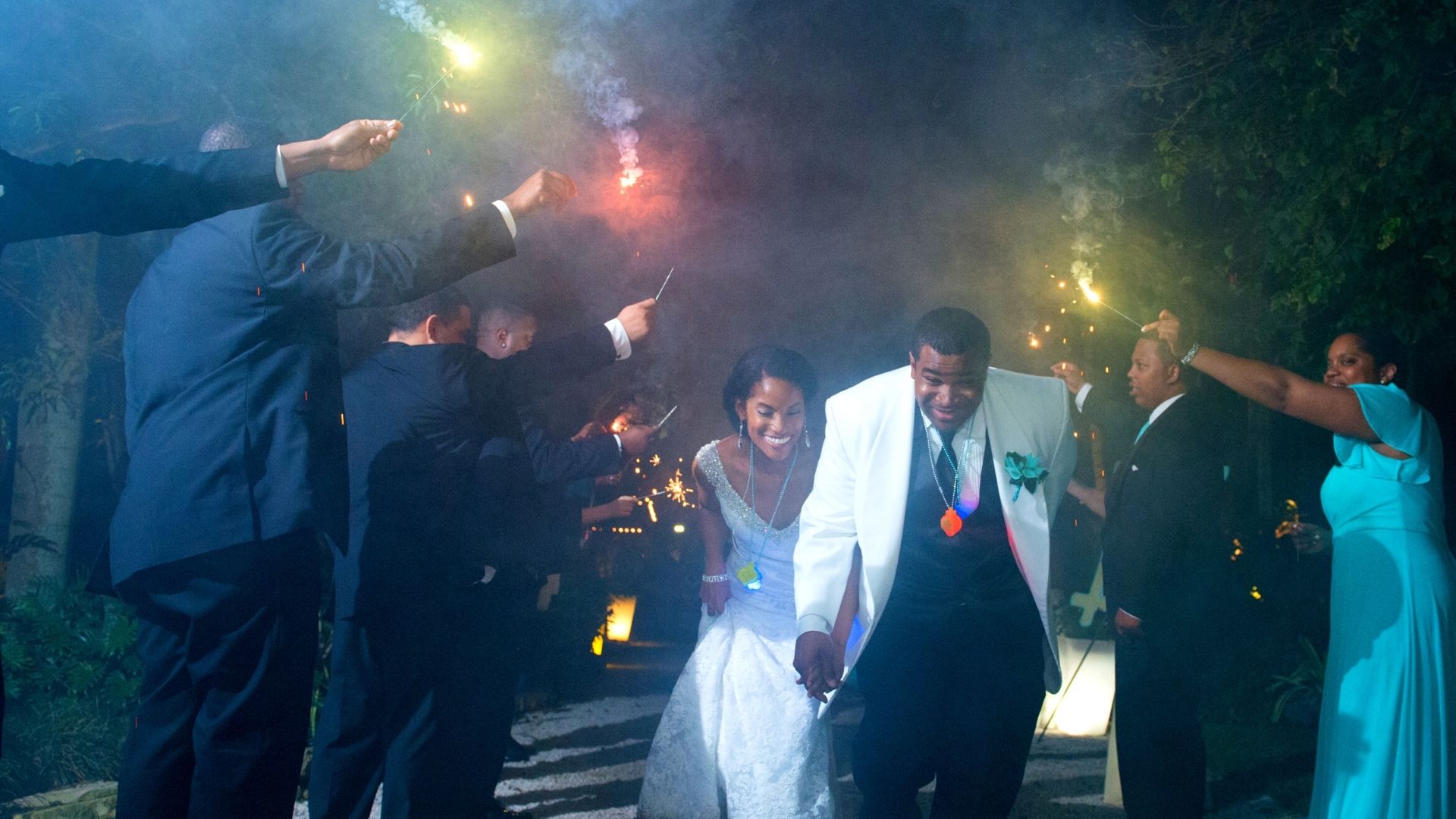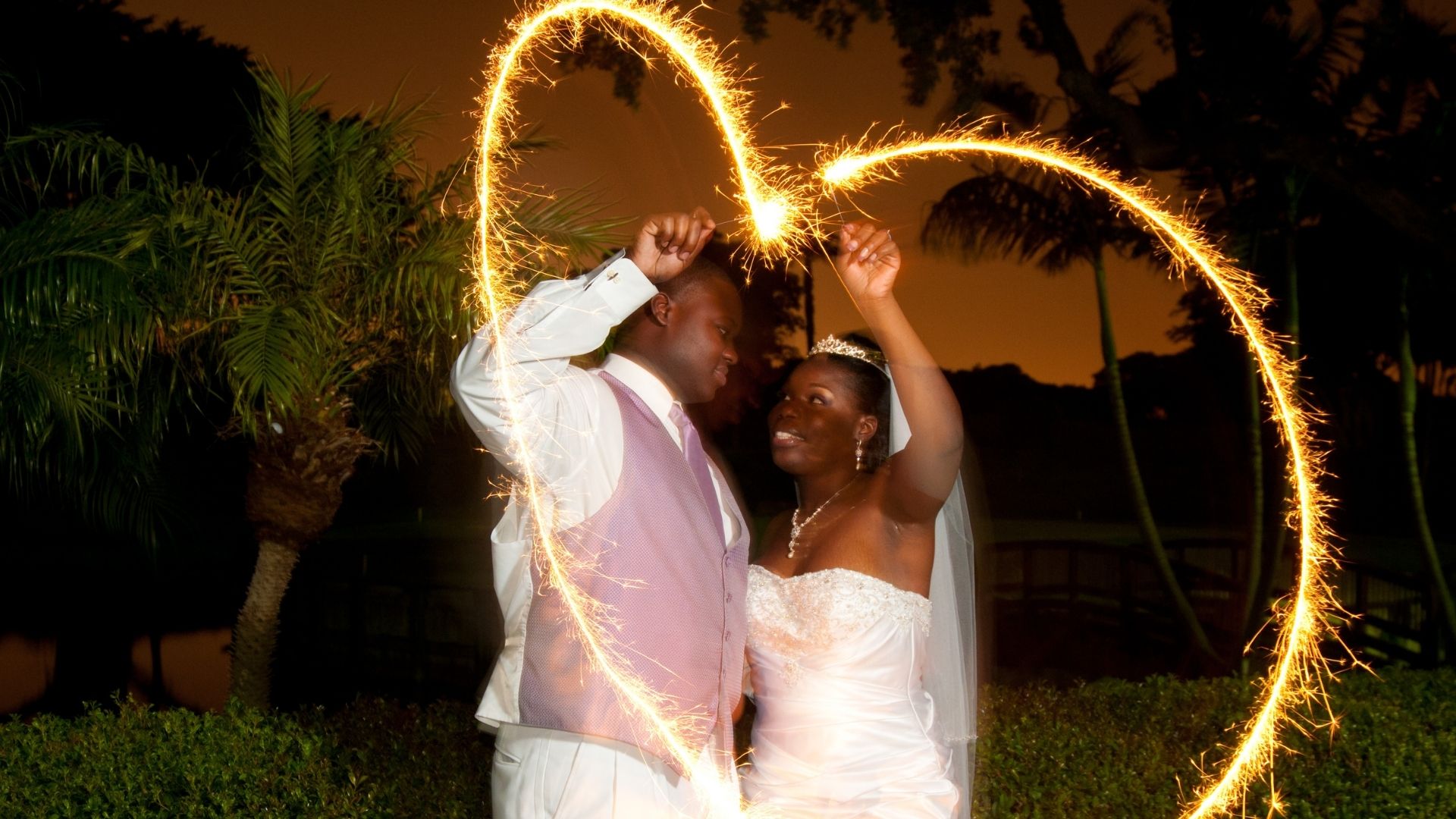 DO NOT use matches
When lighting sparklers, sometimes couples opt for cute matchbooks to pair with sparklers but we want to encourage you to keep the matchbook favors separate from your sparklers. It's crucial to streamline the lighting process as you will have up to three minutes total to light the first one and complete your exit and photos. In that time frame, you don't want your guest fumbling around with lighters or matches. Light the first sparkler or two with a wind-resistant, torch-style lighter. The next best thing is a long-stem grill lighter. Once you start getting some sparklers lit, you should use the sparklers to light other sparklers. A sparkler will light up almost immediately from another sparkler.
Only you can prevent forest fires
After you get those amazing "sparkler" pictures taken, it's time to dispose of the sparklers.  As with anything involving fire, you want to have a safe way to dispose of the sparklers when you're finished using them. Since the sparklers will still be warm you don't want to toss them in trashcans. You can place the discarded sparklers in buckets of sand for them to cool before throwing them away. Have buckets positioned in an easy-to-see place at the exit.
Now you are a "sparkler exit" aficionado 😊, go out there and get some amazing sparkler exit photos!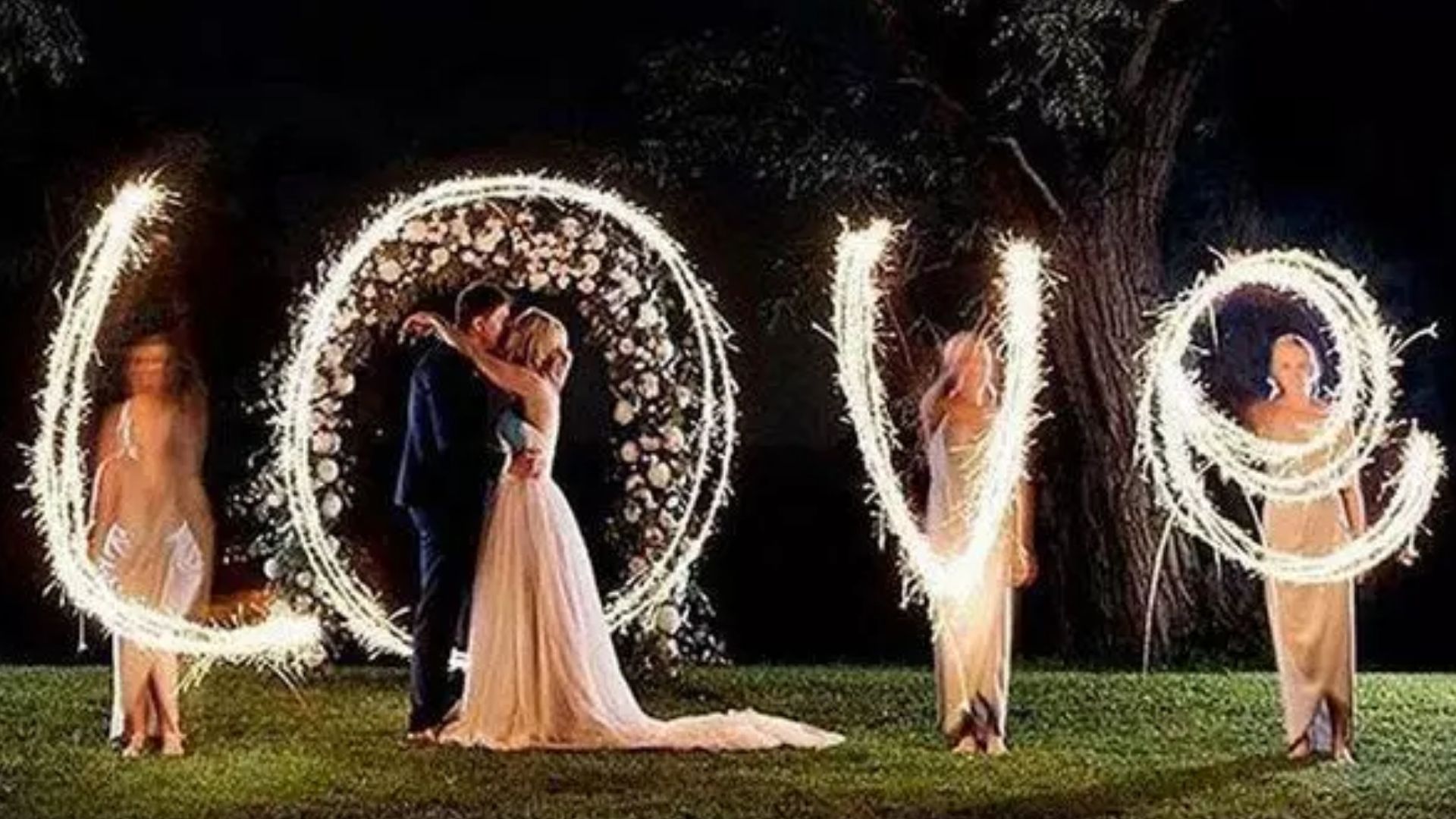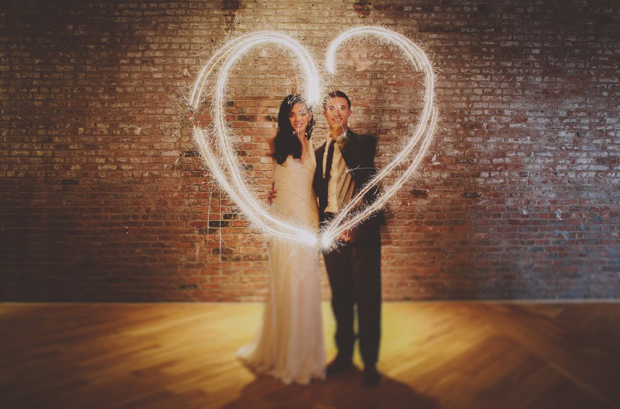 Complete Weddings + Events in Fort Lauderdale and South Florida Areas
If you're planning a wedding in Fort Lauderdale, FL, then you've landed at the right place! Now that you've said YES! to spending your life together, you have some exciting decisions ahead. At Complete Weddings + Events planning, wedding events are what we do best.  Complete Weddings + Events, Fort Lauderdale's leading provider of event and wedding photography, videography, lighting, DJ services & photo booth rental.