While 2020 gave us quite a few unexpected curve balls, many lucky couples were still blessed to be able to host the day of their dreams. 2020 weddings have come in all shapes in sizes, with varying regulations and adjustments to make these magical days quite the successful miracle. From micro weddings, to massive ones (prior to mid-March), we loved playing our part for every event! Despite the challenges, our Complete Weddings + Events team in Colorado Springs has been continually reminded on why we love what we do. Luckily, the happy feelings we have about helping couples throw the best day of their lives is mutual! Here is a recap our 2020 Colorado Springs wedding reviews from this year's most recent newlyweds!
 2020 Complete Weddings + Events Colorado Springs Wedding Reviews
"Chris was great! He was interactive and kept things flowing for me, so I didn't have to worry about anything. I got so many compliments for him from my guests." -Angela W., August 2, 2020
"Start to finish, Chris and his team (daughter) did an awesome job ensuring our desires and his service were aligned. They both went above and beyond the contract, more than once Chris himself offered to grab us a drink or just generally checked in to make sure all was well. As a DJ, Chris could read a crowd well and hit the desired tone all night. I would never hesitate to recommend Chris to a friend! – Steven S., July 14, 2020
"The whole Complete Wedding + Events crew we had on our special day was more than we could have asked for. If special moments were interrupted by our guests they made sure to recapture it without them in the way. Having all three vendors in one company helped the day go so smooth and I didn't have to stress one bit with their help!" -Jessica N. July 11, 2020
"We had a great experience! Very helpful with last minute changes to our wedding because of COVID-19 and couldn't be happier with the customer service. " -Randi G. July 4, 2020
"We used Complete Weddings + Events for our DJ, videography, and photo booth. They were so great! They communicated with us throughout the whole process and gave suggestions while also listening to what we wanted! We felt comfortable with them and that meant a lot to us. I would recommend them to anyone and everyone!!" Teresa W. July 2, 2020
"We loved that we had multiple services through one company! We used the videographer, photo booth, and the DJ. All three were awesome! They were respectful, personable, fun and made sure we were taken care of. The operator of the photo booth came to grab us to get a photo before he took it down since we were caught up in the whirlwind of the wedding and forgot to go over. The videographer took time to get special shots in order to make sure we had a beautiful video. The DJ kept us on the schedule we wanted and taught us some fun line dances! Would definitely recommend Complete. 10 out of 10!" -Jessica K. June 29, 2020
"Their communication was always prompt from the time we had exchanged information. You get set up with your own profile and you can put all of your information in and everything you want and don't want included in your services." -Courtney Y. June 14, 2020
"I purchased a package deal which included a DJ, a videographer, and a person to live stream the wedding. I loved that Complete had all those services under one "roof" so to speak. That made my daughter's wedding planning so much easier. All of the people Complete sent out to do the services did a top notch job. I don't have a single complaint! Thank you for helping us through the nightmare rollercoaster of Covid 19!!! Our wedding happened and was the most amazing, perfect day!  -Lee D. June 14, 2020
"Everyone was super helpful and flexible. The photographer and videographer were super funny and worked great together. They moved things along and made being out in 95 degree weather bearable! Complete as a whole went above and beyond making sure the day was memorable with things I didn't even think of. They know exactly what they are doing and are very professional. I'm excited to continue to work with Complete for our reception that is being held later this summer." Missy W. June 8, 2020
"I like that it is all exclusive, which means I only need to deal with one vendor for paying and communicating with. They have plenty of people on staff, so if an emergency did arise with someone that was supposed to work your event, they had backups! There is a peace of mind knowing that they have you covered!" – Katlyn V. March 25, 2020
"We got so many compliments from our wedding guests about our wonderful DJ! About 100 of our 250 guests did not show for the reception due to the coronavirus and I was super bummed. Our DJ picked up on this and told me not to worry because we were still going to have an awesome party. He had nearly all of the guests on the dance floor for the majority of the night, and did a couple of interactive things with some guests. I have not laughed that hard in a very long time! Thank you so much for making our reception great!" – Rebekah W. March 18, 2020
"My DJ and photo booth operators were absolutely amazing!! They really did help make the best day of my life even better! I can't imagine having gone anywhere else. Truly the best experience. I freaking loved them!! They were punctual professional personable and super fun! They did an excellent job with my eclectic family and I would invite them back any day!! Love love love them!!!" – Toni K. February 10, 2020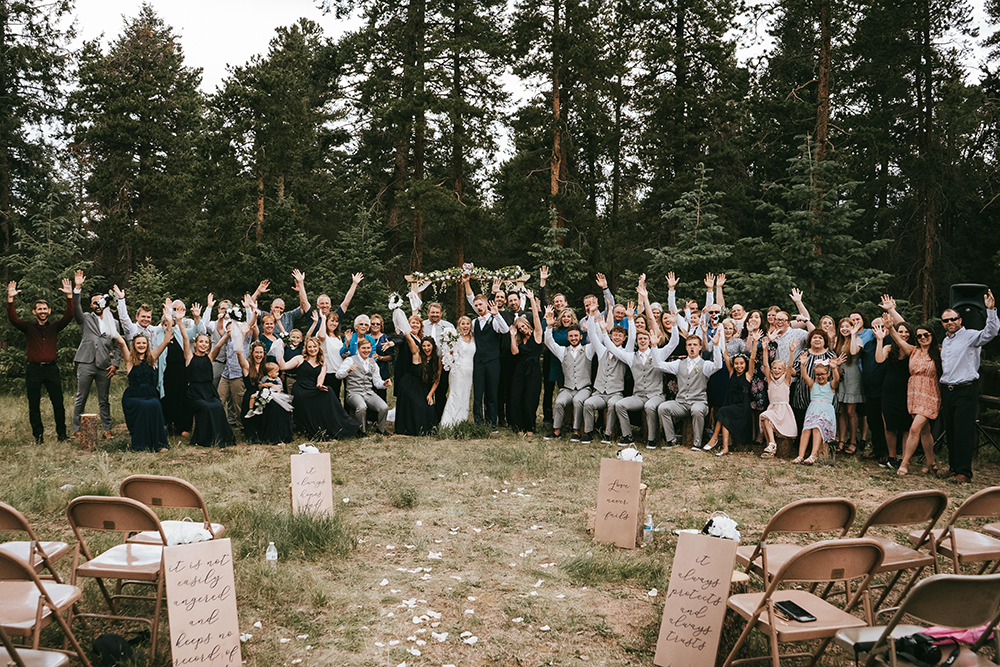 Contact us to begin creating your team of professionals that will make your wedding a memorable and enjoyable one, no matter what else 2020 or 2021 may bring!