Finding the Right Colorado Springs Wedding Photographers To Capture Your Big Day
Finding the top wedding photographers in Colorado Springs, CO for your big day starts with understanding what style you want in your final photos. You want a visual storyteller who has years of experience, and is professional and creative. The best photographers will work with you and your wants/needs to capture photographs of beautiful memories of your wedding day.
In addition to finding a talented, professional wedding photographer, you want to find somebody you get along with. You and your wedding photographer will spend a lot of time together leading up to and during the event.
Complete Weddings + Events hires Colorado Springs wedding photographers who are not only great at their craft but great at interacting with people. This means more often they can get the best shots and leave everyone in the room laughing and having a good time.
Event and Wedding Photography Colorado Springs
Complete Weddings + Events Colorado Springs photographers specialize in event and wedding photography. We have been taking event, wedding, and engagement photos for years because we believe well-done photographs take an event from good to spectacular. Our photography packages can benefit weddings along with lots of different events, including:
Weddings:
When you hire us to photograph your wedding, we know that this is a privilege and we take that very seriously. Our Colorado Springs wedding photographers make sure your wedding photos tell your love story and capture everyone celebrating with you on your big day.
Parties:
Birthdays, graduations, holiday parties, barbeques — we do them all! Grab those candid shots and take photos for your distant loved ones with an event photographer
Corporate Events:
While you may not think about having a Colorado Springs photographer at a corporate event, they can become a valuable marketing partner. The photos not only showcase the best side of your business, but they can also create marketing photos that help other people see it too.
Bar and Bat Mitzvahs:
Mark this important spiritual milestone with event photography. A special event photographer can take care of everything so you can be fully present.
This list could go on and on. We know that there are dozens of other events that you will celebrate. Contact us and we'll help you make the perfect plan for unforgettable event photography!
Colorado Springs Wedding Photography Packages & More
With so many services under one roof, your wedding planning just got easier! Mix and match our services and packages to meet your wedding or event needs and budget. The more comprehensive the package, the more money you'll save. Let's connect so we can build you your custom package.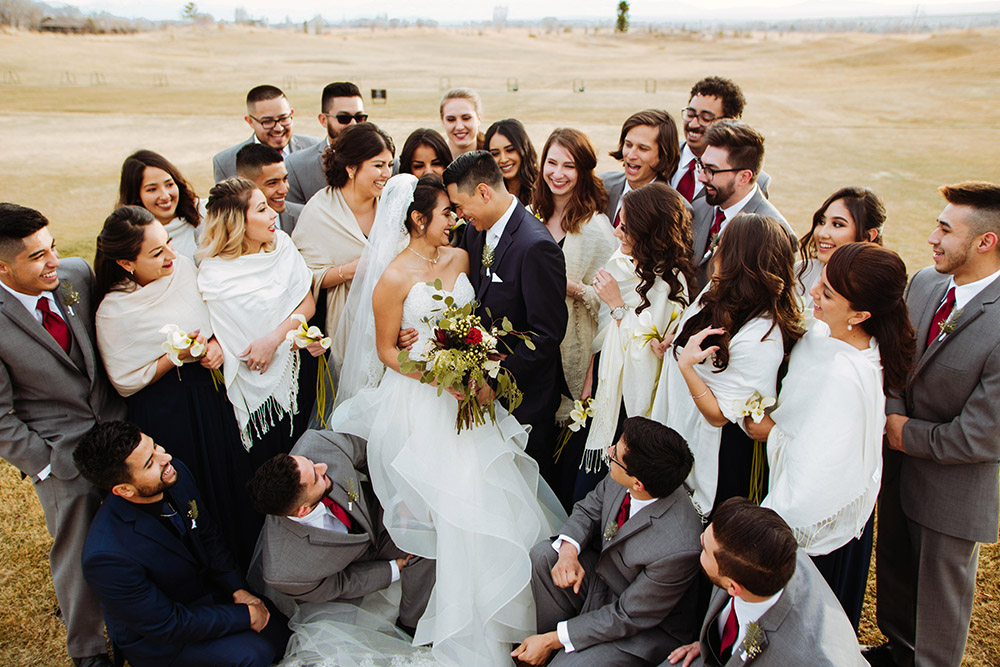 Best Places for Engagement Sessions and Wedding Photos in Colorado Springs, CO
Do you need help locating the best places to take wedding photos or engagement session photos around Colorado Springs, CO, and surrounding areas? Some suggestions include:
Garden of the Gods: This iconic park offers stunning red rock formations and mountain views as a backdrop for your wedding photos.
Cheyenne Mountain: A scenic drive to the summit of Cheyenne Mountain offers panoramic views of the city and surrounding mountains.
Pikes Peak: Another iconic mountain with breathtaking views, Pikes Peak is a popular spot for wedding photos.
The Broadmoor: This luxury resort features lush gardens, fountains, and elegant architecture for a picturesque setting.
Seven Falls: A series of cascading waterfalls set in a mountain canyon, Seven Falls offers a secluded and natural setting for wedding photos.
The Air Force Academy: The academy's striking architecture and beautiful grounds make for a unique and memorable setting for wedding photos.
The Colorado Springs Fine Arts Center: The art deco architecture and sculptures on the grounds make for a unique and elegant setting.
The May Natural Park: a picturesque park with a lake, a small waterfall, and a variety of trees and flowers.
Why work with Complete Weddings + Events?
Planning big events is fun and sometimes challenging. Finding someone you can trust to help you along the way is invaluable. At Complete Weddings + Events Colorado Springs, we want to be there for you.
Event and wedding photography is something we are experts at, and we always deliver the best quality and the best experience that we can. But we don't stop there! With lots of package options, we know that we can meet any of your photography needs.
Online photo gallery with a full print release so you can share and print your images.
Color and exposure-corrected images.
Optional second photographer to cover your event so that nothing gets missed.
Various photo print and album options to make sure you can enjoy your photos daily.
Hire a Wedding Photographer Colorado Springs, CO
We make event planning easy. Our wedding photographers work great with our team of videographers, DJs, and Photo Booth attendants. All of our event vendor services staff members are trained to work together to give you the best possible experience at your Colorado wedding venue.
Ask us about our Colorado Springs videography, DJ, and photo booth rental services too, and we look forward to connecting with you!
Related Articles: