Sometimes it feels overwhelming trying to pick out songs for some of the important parts of your big day! We tried to make that a little bit easier for you by creating a few lists. We've categorized top wedding entrance songs into three sections, from the old school classics, to new school hits. It includes some pop songs from the 90s and early 2000s in between! Our songs listed and more are also featured on your Spotify playlist: wedding entrance songs if you want to listen while you read on. Add them to your must play list for the big day!
Wedding Entrance Songs for the Bridal Party
Classic Entrance Songs
These are songs that are a crowd pleaser for any age group.  You can't go wrong with songs that never go out of style from classic artists like Frank Sinatra and Whitney Huston. These songs ooze good, nostalgic feelings to all your guests, of all ages! Check out the songs below, and add few of these into your must play wedding playlist. 
"You Make My Dreams (Come True)" Daryll Hall & John Oates (1981)

"Signed, Sealed, Delivered (I'm Yours)" Stevie Wonder (1970)

"Ain't That a Kick In The Head" Dean Martin (1960)

"All You Need Is Love" Beatles (1967)

"Ain't No Mountain High Enough" Marvin Gaye & Tammi Terrell (1966)

"You Make My Dreams (Come True)" Daryl Hall & John Oates (1981)

"I Wanna Dance with Somebody (Who Loves Me)" Whitney Houston (1987)

"This Will Be (An Everlasting Love)" Natalia Cole (1975)
Songs of the 90s & early 2000s
These hits from the 90s through 2009 might be great for your wedding party, and even though it's been about 20 years, you probably still know all the words! These are upbeat and easy to dance to, or for the wedding party to enter to, any of these are a great choice.
"Thunderstruck" AC/DC (1990) 

"This is How We Do It" Montell Jordan (1995)

"Hooked on a Feeling" Blue Swede, Björn Skifs (1992)

"Mambo No. 5 (a Little Bit of…)" Lou Bega (1999)
"I Believe in a Thing Called Love" The Darkness (2002)

"Save a Horse (Ride a Cowboy)" Big & Rich (2004)

"Crazy in Love" Beyonce featuring Jay-Z (2003)

"Dynamite" Taio Cruz (2009)

"Forever" Chris Brown (2007)

"I Gotta Feeling" Black Eyed Peas (2009)

"Down" Jay Sean, Lil Wayne (2009)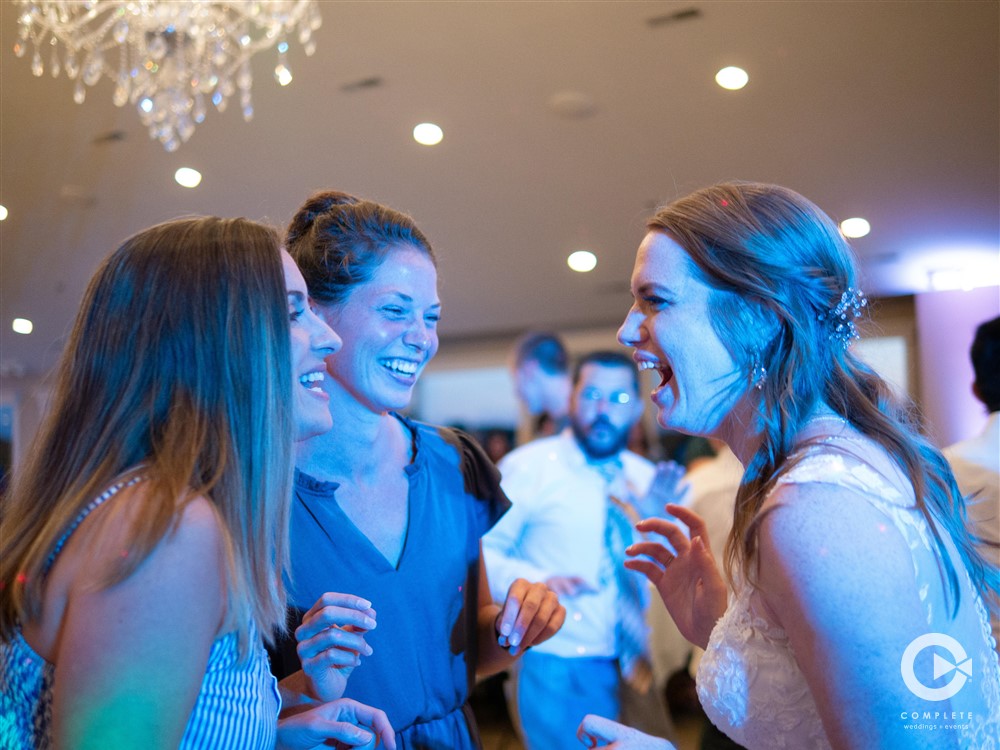 Entrance Songs of the 2010s and Beyond
Start the evening on a high note with more recently released songs from 2010 to 2021. This will set the tone for the night, and help get the celebration started. These radio anthems over the past ten years will help ignite energy in all at your wedding reception!
"Raise Your Glass" P!nk (2010)

"Marry You" Bruno Mars (2010)

"Country Girl (Shake It For Me)" Luke Bryan (2011)

"Love On Top" Beyonce (2011)

"Treasure" Bruno Mars (2012)

"I Want Crazy" Hunter Hayes (2013)

"Shut Up and Dance" Walk the Moon (2014)

"Fancy" Iggy Azalea, Charli XCX (2014)

 "Higher Love" Kygo, Whitney Houston (2019)
Find all these suggested songs and more on our complete Wedding Entrance Songs playlist on Spotify!
Complete Wedding Experts in Central Illinois
If you're planning a wedding, you've come to the right place. At Complete Weddings + Events, our team of photographers, videographers, DJs, and event consultants specialize in wedding services to make your day a success and make sure you're just worried about enjoying it. Contact us today to learn more about our wedding packages best for your special day!
Central Illinois' leading provider of event and wedding photography, videography, lighting, DJ services & photo booth rental.