One of the most cringe-worthy sentence to any experienced wedding vendor is, "my friend is actually DJing my wedding". Yikes! Look at our tips on why you should consider hiring a Legit DJ:
When an inexperienced friend DJs your wedding, you're most likely going to save money, but it could be at the expense of an amazing evening. DJs are a reason wedding receptions can sink or swim, and here are a few reasons you should consider a professional, Legit DJ.
Legit DJ Reception Requirements
First, what happens the friend's equipment isn't working properly or the friend has an emergency or gets in a wreck on the way to the wedding? Do they have back up equipment? Do they have a backup DJ for emergencies? Weddings are a one time, extremely important event. Just hoping everything goes perfect is not enough for a professional DJ.
Next, is the friend insured for the event? What happens if their equipment damages the venue or injures one of the guests? These are things we don't always like to think about but if ANY of the vendors do not have enough insurance coverage, you and your family can be liable for the damages.
Now to the actual DJing. A DJ is responsible for running the show all night long, including equipment and lighting set-up to the toasts, cake cutting, first dances, etc. Without a professionally trained wedding DJ, you may end up with someone who just enjoys music and is inexperienced in running a wedding. Honestly, they may be completely unaware their responsibilities go far beyond just playing great music! Professional wedding DJs know how to run the entire reception smoothly and will make sure the night you planned goes exactly how you envisioned.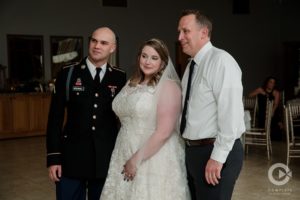 Command The Room
Along with running the order of events, a DJ must command a room so all your guests are on the same page in order to keep the night moving the way it was planned. By not knowing how to take control of a wedding reception, a DJ will likely end up shoveling off the responsibility of running things over to the bride and groom. It is, after all, the bride and groom's reception, and if the DJ who was paid to do it can't perform, then the pressure is put on the married couple to keep dinner lines, speeches, and first dances moving. At COMPLETE, we offer a variety of DJ personnel with different backgrounds and styles! Our DJs are experienced and are capable of bringing the party no matter the time or location of your event.
Emergencies
Medical emergencies, power outages, mix-ups with wedding vendors, uninvited guests… There still is no way to make wedding days immune to the accidents and craziness life throws at us. An experienced, professional DJ has been through many unfortunate situations and can power through any event with ease. This not only keeps you calm, but most of your guests won't even notice when you have calm, confident vendors moving things right along.
If you get a bad cake, you have a bad cake, but if you get a bad wedding DJ, you have a bad reception. It's well worth the money to get a good DJ, and make sure your wedding reception is the best you could imagine it to be!
Your DJ can also save your reception chapter video! If you hire your DJ and Videographer with COMPLETE, we can guarantee there will a backup source of audio during any toasts or impromptu speeches. When the drinks are flowing, a guest could decide to say something about you and your spouse. Videographers can only be ready for so many surprises. Our DJs will have a place on their mixing boards for an audio recorder to pick up those cherished moments that you would want to look back to with quality sound.
Complete Weddings + Events | Baton Rouge, LA
Planning your dream wedding or event should be simple and fun, and we firmly believe that having all our services under one roof makes planning easier for you. So relax. We've got this. Our job is to make this easy for you, your job is to enjoy the party! Complete Weddings + Events, Baton Rouge, and New Orleans' leading provider of event and wedding photography, videography, lighting, coordination, DJ services, event rental & photo booth rental.