How to Find the Right Wedding Photographer in Baton Rouge, LA to Capture Your Special Day
Amidst your wedding planning process, finding the best wedding photographers in Baton Rouge, LA starts with finding a photographer with both skill and style to photograph wedding and portrait-style photos. You want a visual storyteller who is professional and creative, and that will work with you to capture photographs that live up to your wedding day vision.
In addition to finding a talented professional, you want to find somebody that is easy to work with and whom you get along with. You and your wedding photographer will spend a lot of time together leading up to and during your wedding day, so it is important that you feel comfortable around them.
At Complete Weddings + Events, we carefully select photographers in Baton Rouge, New Orleans, and nearby locations who possess not only technical expertise but also an ability to connect with people. This combination ensures that your photographer can not only capture stunning photographs but also create a relaxed and enjoyable atmosphere for everyone involved.
What to Look For
A professional wedding photographer does more than just capture beautiful images. Yes, your photographer must have the ability to tell a visual story and have a keen sense of timing and positioning to capture the most memorable moments. However, they also need a balance of creativity, resourcefulness, and professionalism. Your wedding photographer will be working closely with the party planners, who may be under a lot of stress, so it's important that they have the skills to interact with everyone involved in your big day in a positive way.
Our photographers are skilled in all of these areas and will leave you with not only an amazing selection of photographs but wonderful memories of your wedding day.
Event and Wedding Photographers in Baton Rouge, LA
Our Baton Rouge photographers are highly skilled in event and wedding photography. We have been capturing special moments for years, recognizing that high-quality photographs can elevate any event to extraordinary. Not only are our photographers essential for weddings, but they can also add value to a variety of other events. Specializing in the Baton Rouge area, our top-rated photographers at Complete Weddings + Events are ready to capture your next big event:
Weddings
We understand that photographing your wedding is a privilege and we take that very seriously. Your love story and the people you are sharing your big day with are at the forefront of what we aim to capture. Complete Weddings + Events Baton Rouge wedding photographers are there to make sure your wedding photos highlight all of the smiles (and happy tears) from your special day.
Parties
Birthdays, graduations, holiday parties, barbeques — there is not a party that we cannot photograph! Grab those candid shots and take photos for your distant loved ones with an event photographer.
Corporate Events
While you may not think about having a New Orleans & Baton Rouge wedding photographer at a corporate event, they can become a valuable marketing partner. The photos not only showcase the best side of your business, but they can also create marketing photos that help other people see it too.
Bar and Bat Mitzvahs
Mark this important spiritual milestone with event photography. A special event photographer can take care of everything so you can be fully present. 
This list could go on and on. We know that there are dozens of other events that you will celebrate. Contact us and we'll help you make the perfect plan for unforgettable event photography!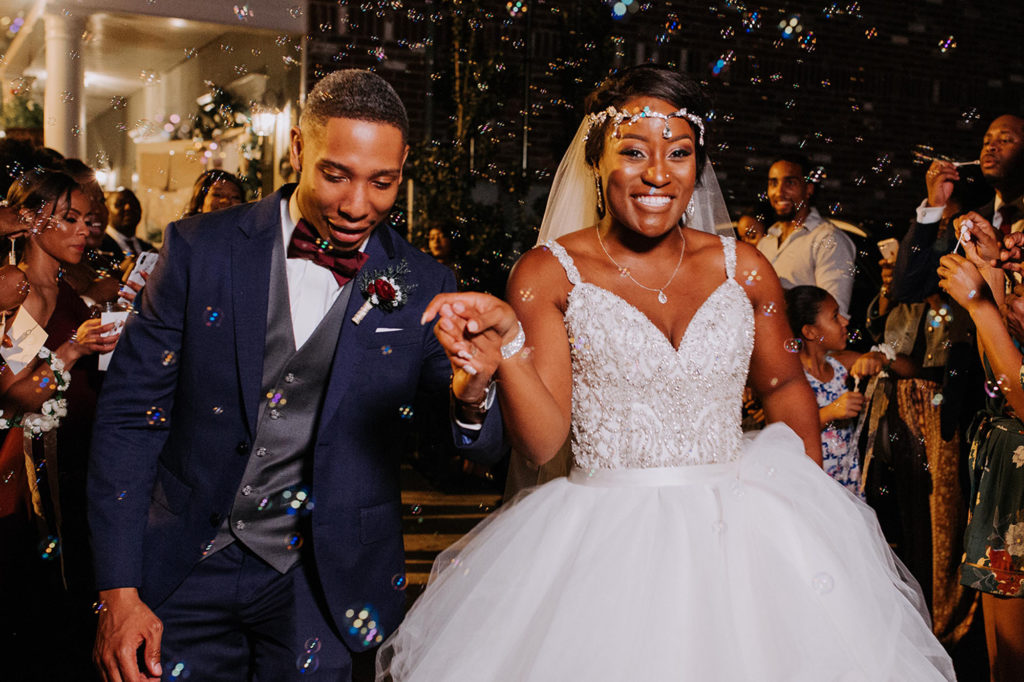 Wedding Photographers Baton Rouge, LA
Planning big events is fun and sometimes challenging. Finding someone you can trust to help you along the way is invaluable. At Complete Weddings + Events in New Orleans & Baton Rouge, we want to be there for you.
Wedding photography is what our photographers specialize in. We strive to capture every detail of your wedding day and deliver the best quality and the best experience that we can. That's why our clients highly recommend us to their friends and family for their big day. Just know, we don't stop there!
With lots of wedding photography and videography package options, we know that we can meet any of your photography needs.
Online photo gallery with a full print release so you can share and print your images.

Color and exposure-corrected images.

Optional second photographer to cover your event so that nothing gets missed.

Various photo print and album options to make sure you can enjoy your photos daily.
The Top Photographers for Your Wedding or Event
Don't risk missing the most meaningful moments at your event — Complete Weddings + Events handles wedding photography in Baton Rouge and surrounding areas. We have wedding and event planners waiting to chat with you about your next event and connect you with a photographer.
With skills that master both the art and science of photography and friendliness that make you feel right at home, our Baton Rouge wedding photographers capture the greatest moments of your special day. From the small details of your wedding venue and wedding dress to photos of the bride and groom's wedding party, our experienced photographers ensure no detail on your wedding day will be left out.
Best Places for Engagement Sessions and Wedding Photos in Baton Rouge, LA
We can help you locate the best places to take your wedding party or even options for engagement sessions around Baton Rouge and surrounding areas. Some of our favorite locations for wedding and engagement photos around Baton Rouge, Louisiana include:
The Louisiana State Capitol
The USS Kidd
The Louisiana Art & Science Museum.
The Louisiana Old State Capitol
The Baton Rouge River Center
The Louisiana State University
The Myrtles Plantation
The LSU Rural Life Museum
Arsenal Park
Capital Park Museum
LSU Burden Museum & Gardens
Baton Rouge Levy
LSU Campus
Complete Wedding + Events Baton Rouge wedding photographers are happy to travel to the place that is special to you!
Hire a Wedding Photographer in Baton Rouge
Partnering with us to find the right event or wedding photographer means that you can focus on the other parts of your day, confident that your photography is taken care of. We also offer videography, DJ services, and photo booth rental options to make any event you're planning extra special. Let us take care of the details for your momentous day!
Related Articles:
Customer Testimonials
"I was absolutely amazed at how well Complete worked together as a team at my wedding. I got married at the Baton Rouge Zoo and it was the first big wedding there. Everyone from Complete Louisiana was so on top of their game… DJ, PHOTOGRAPHERS, VIDEOGRAPHERS, & PHOTO BOOTH TECH. Working in the wedding industry I know It is a lot to think about when you are making sure an event goes off without a hitch. The guys and gals with Complete Louisiana really made me feel so taken care of at my wedding. I was able to relax and enjoy my entire day without stress. Thank you all for the tremendous job you did and for all your incredible talents. It was the best day of my life!" – Grace L. 

"The bundle packages work really well! The videographers and photographers worked together previously which really helps keep things smooth and on time for our ceremony and reception." – Benjamin S. 

"We could not have been happier with Complete Weddings and Events! We went through them for our photographer, videographer, and photo booth for our wedding. They were professional and answered any questions that we had. The quality of work was amazing, and we are so happy that we have such great things to remind us of our perfect wedding day. I highly recommend them!" – Alexandra W. 

"I'm so happy we went with complete for our wedding!! From the moment we booked with them, everything was perfect and easy–all of our questions were answered and they worked with us to create the perfect day that we envisioned. Ryan (our DJ) played every song we wanted and knew how to keep the guests on the dace floor. Our photographer (David) and videographer (Chase) captured everything beautifully and we are so satisfied with the final product. These guys did an amazing job, and we cannot thank them enough!" – Rachel M.