Finding the Right St. Louis Wedding Photographers
The best wedding photographers in St. Louis, MO are photography professionals who understand the people and culture that make up this diverse city, with the know-how to capture the best moments of your big day!
Complete Weddings + Events team of professional wedding photographers in Missouri have years of experience and are equipped to capture your love story. We guarantee they will exceed your expectations. Let us help you find a St. Louis, Missouri wedding photographer that blows you away and leaves you with high-quality photos of your wedding day.
How to Choose the Perfect Wedding Photographer in St. Louis, MO?
Not every event is the same, and a good wedding photographer knows that. Our expert wedding photographers can provide you with images that tell your story and capture your wedding recording important moments. This is no small job, and it is one we take seriously.
Each of the professional event and wedding photographers on our roster has honed their skills and is confident in their ability to shoot in any situation. As a master of their art, with a creative eye for detail, they deliver lasting memories that are ready for you to share with family, friends, and colleagues.
You want your St. Louis wedding photographer to not only be good at what they do but to be the kind of person you like being around. We know that you will spend a lot of time with your photographer at an event or wedding, so we make sure that we choose professionals who are fun people and the best artists in the industry.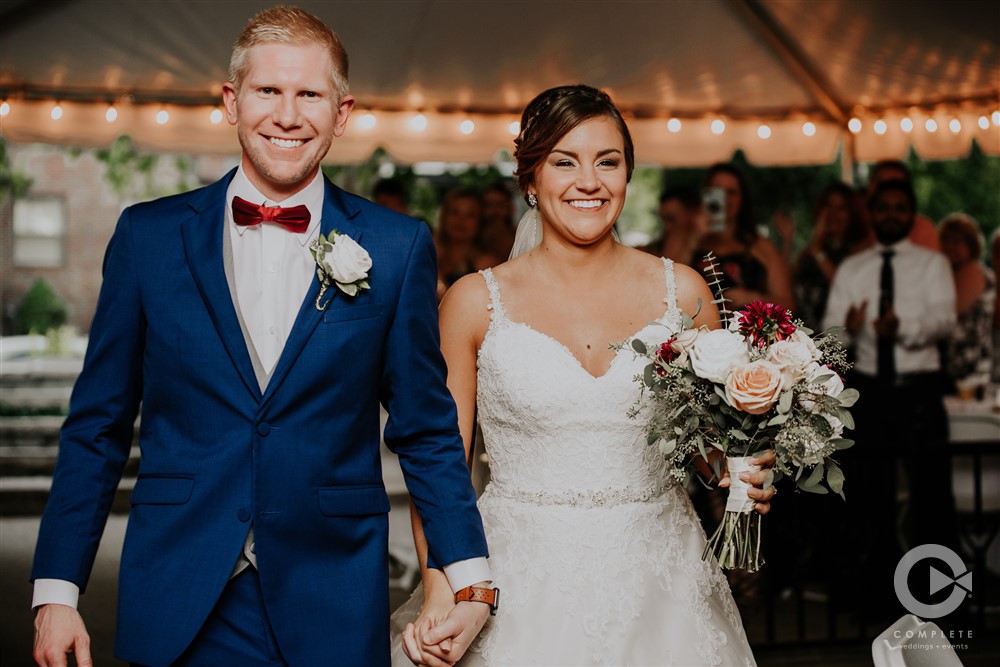 Event and Wedding Photography St. Louis, MO
Here at Complete Wedding + Events, we do more than just wedding photography. Every one of your special events deserves to have amazing staged and candid photos to mark its memory. With years of experience as a wedding photography company in St. Louis, we're proud to offer our event photography services for the following events:
Weddings
We love helping couples celebrate! Our job is to not only make sure that your wedding photography tells the perfect story of your love, but to be helpful, present, and useful on your big day.
Parties
Whether you are planning the Fourth of July bash of the season or celebrating a milestone birthday for your loved one, we love photographing them all. We never miss a chance to capture the smiles, the cake, and the celebrations at a great party.
Corporate Events
Companies are quickly seeing the value of hiring an event photographer for their marketing pieces. Showcase the best side of your organization and create business-boosting photos you and your clients, colleagues, and network will love.
Bat or Bar Mitzvahs
These coming-of-age events shouldn't pass without photos you can cherish yourself or send to loved ones unable to make it. A professional event photographer can take care of photographing every moment so you can focus on the ceremony.
Complete Weddings + Events can handle any event you can think of! If you're looking for a St. Louis photographer, contact us to see how we can help you preserve your memories with images that will last a lifetime.
Best Places for Wedding Photos in St. Louis
We can help you locate the best places to take your wedding party to or even options for engagement photo sessions in St. Louis and surrounding areas. Some suggestions include:
Forest Park
The Gateway Arch
Busch Stadium
Lemp Mansion
Missouri Botanical Gardens
Our St. Louis wedding photographers are happy to travel to the place that is special to you!
Why Choose A Complete Wedding + Events St. Louis Wedding Photographer?
Trusting your partner is essential to planning anything, including a great event. At Complete Weddings + Events, we strive to be that trustworthy person for you. We excel at wedding photography and promise to deliver the best quality and the best experience that we can. As the best affordable St. Louis wedding photographers, we love to go the extra step.
In addition to our event day services, we also offer:
Online photo gallery with a full print release so you can share and print your images.

Color and exposure-corrected images that are professional every time.

Optional second photographer to cover your event so that nothing gets missed.

Various photo print and album options to make sure you can enjoy your photos daily.
Complete Weddings + Events St. Louis, MO
If you are looking for the perfect St. Louis wedding photography partner, then we have you covered. For anything else you're wondering about, reach out and let us know how we can help. We also offer St. Louis wedding videography, DJ services, and photo booth rental options to take your event or wedding to the next level. We can't wait to connect with you!
Recent Articles: