Everyone knows that the Grand Entrance is the way to get the party started! Being introduced for the first time as husband and wife, seeing all of your friends and family welcome you, and of course, dancing it out on the way to your head table! Complete Weddings + Events has worked thousands of weddings, and some of the Best Songs for A Grand Wedding Entrance just don't go out of style. Check them out below!
Top 15 Best Songs for a Grand Wedding Entrance
Let's Get It Started – Black Eyed Peas
While this hit is well over 10 years old, that doesn't stop couples from choosing it as their entrance song! Not only does it have a catchy beat, everyone knows it and can get hyped up with it!
Uptown Funk – Bruno Mars
Is it any surprise to see this one on here? Not really! This hit took center stage in 2014, and we're still getting down to it. Even I had a entrance dance to Uptown Funk at my friend's wedding!
Gloria – Laura Branigan
This may seem odd to some of you, but if you've been anywhere in St. Louis since June, then you know that the Blues took home the Stanley Cup for the first time in history, and this song exploded onto the scene! It became the anthem for the Blues, and we're still hearing it today!
Can't Stop The Feeling – Justin Timberlake
While you may automatically think of Trolls when you hear this song, you can't deny that it's a bop! It's hard not to want to dance when this song comes on!
Marry You – Bruno Mars
Are you shocked to see another Bruno Mars hit on here? You shouldn't be! Everyone knows his music is some of the best around, and don't worry, this isn't the last song he'll have on this list either.
Bring 'Em Out – T.I.
Even though this is one of the older songs on our list, (debuted in 2004) we still hear it quite often at weddings. I mean, T.I. is telling everyone what to do, how could you not get excited to see that bride and groom?!
Sugar – Maroon 5
This song became an instant wedding classic when it first hit the scene in 2014, especially with the accompanying music video. Who wouldn't want Maroon 5 crashing their wedding?!
Best Day of My Life – American Authors
This song also came out in 2014, but took a little while to gain popularity. However, with its upbeat and catchy lyrics, it quickly became a great entrance song!
Sexy and I Know It – LMFAO
Are you a little surprised by this one? I sure am. It's a good song to jam to, but some people love it enough to make their Grand Entrance with it!
I Gotta Feeling – Black Eyed Peas
Not going to lie, I am so over this song, but some people aren't! Ten years down the road and people are still loving it! It's not as popular as some others, but it still earns a spot on our list!
24K Magic – Bruno Mars
What did I tell ya? We weren't done with him yet! We can't forget about 24K Magic, the most recent hit that took the radio by storm. Of course we don't work a wedding without hearing this one!
Thunderstruck – AC/DC
This one took me by surprise, but after I thought about it, it is a great song! It's possibly the oldest song we have on this list, but it most definitely goes down in history as a classic rock hit!
Shake Ya Tailfeather – P. Diddy feat. Nelly & Murphy Lee
Alright everyone, in all honesty, I don't think I've ever even heard this song ha! But hey, a lot of DJs have requests to play it for their Grand Entrance (which isn't surprising since Nelly is from STL!) so it made the list!
Shut Up and Dance – Walk The Moon
Anyone else tired of this song? No? Just me? Guess so, because it's one of the most reoccurring songs that we get requested for at weddings! Nothing gets the party started quite like this one!
Party Rock Anthem – LMFAO
We round out the list with one of the best dance songs to come out of the early 2010s! This song, without fail, continues to get people out of their chair and onto their feet to celebrate!!
Complete Weddings + Events | St. Louis Top DJs
St. Louis is a city known for its thriving art and community culture, and our DJs do a perfect job of emulating that; but sometimes, they need a little help. Whether that be with party favors for a school dance, or providing HD lighting for your reception hall, Complete as it all!
Learn more about the Complete Weddings + Events DJs and their experience of doing events in St. Louis. Don't hesitate to contact us with any question, big or small, about the benefits of having a DJ at your event, and what price range you can expect for your date!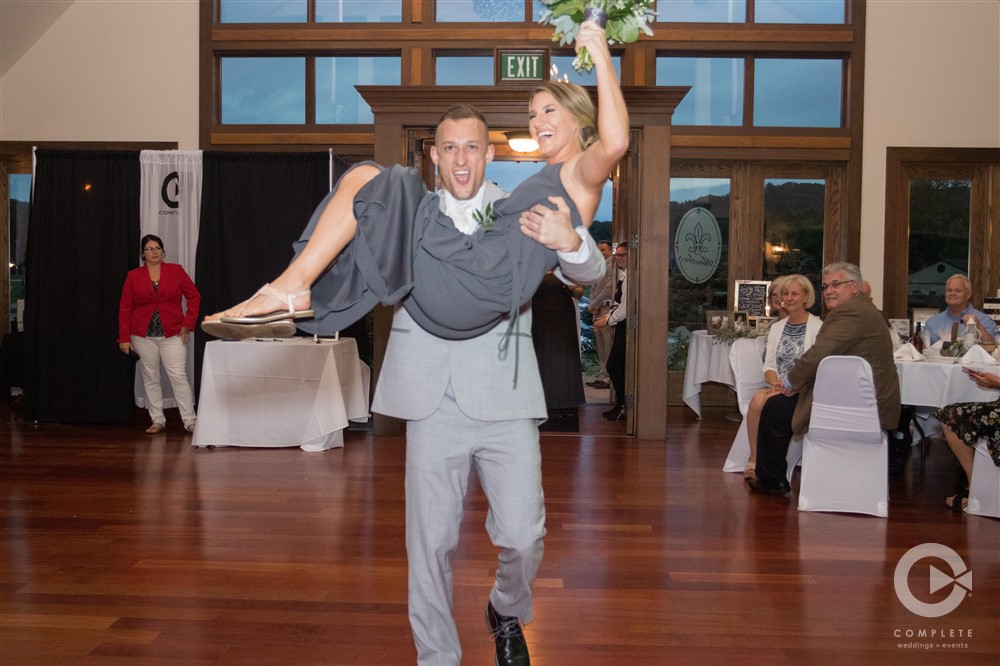 Want to make sure your reception starts off on the right note? (😉😉) Check to see how our Complete DJs make sure your wedding is absolutely rockin'! Needing someone to capture all that dancing? Our photographers and videographers can take care of that! Don't forget to have a photo booth to get all those hilarious photos of guests all throughout the night!